Commentary:
When PIMCO's CEO, Mohamed A. El-Erian, delivered his "Navigating the New Normal in Industrial Countries" at the Per Jacobsson Foundation lecture in 2010, he stated: "Our use of the term was an attempt to move the discussion beyond the notion that the crisis was a mere flesh wound… instead the crisis cut to the bone. It was the inevitable result of an extraordinary, multiyear period which was anything but normal." He was, of course, talking about the structural financial changes that were brought about by the 2007-2008 financial crisis. But those changes extend well beyond the field of finance. The "New Normal" is something that not only applies to the world of finance, it applies to every aspect of our lives. The financial markets were not the only things that were "cut to the bone," they are but a part of the anatomy that was affected.
Like so many other aspects of human existence, the nature of warfare has, too, found its New Normal. Though potential large-scale nation against nation conflicts still exist, today most societies have been forced to deal with terrorism and the potential threats from terrorism; and, to that end, defense contractors have had to adapt. One such company that has adapted well to those changes is Elbit Systems (NASDAQ:ESLT).
Company:
Elbit Systems is a developer and manufacturer of advanced, integrated high-performance defense electronics and electro-optical systems. The Company focuses on the design, development and manufacture of integrated command, control, communication, computer, intelligence, surveillance and reconnaissance systems for worldwide defense and homeland security applications. The company also provides programs for upgrading airborne, land and naval defense platforms, and it develops and manufactures systems and structures for the commercial aviation industry.
The company's major activities include:
military aircraft and helicopter systems;
helmet mounted systems;
commercial aviation systems

and aero structures;

unmanned aircraft systems;
naval systems;
land vehicle systems;
command, control, communications, computer and intelligence (C4I) systems;
electro-optic and countermeasures systems;
homeland security systems;
electronic warfare [EW] and signal intelligence systems [SIGINT]; and
various commercial activities.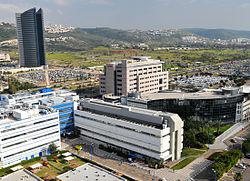 The Company was founded in 1966 and is based in Haifa, Israel. Elbit employs over 11,000 people worldwide and a large portion (46.72%) of the company is owned and controlled by the company's Chairman of the Board, Michael Federmann. Originally founded by Elron Electronic Industries as Elbit Computers, for the purpose of developing, designing and manufacturing mini computer systems, Elbit combined the expertise of Elron's electronic product design, manufacturing and management with the expertise of those who worked on special computer designs within Israel's Ministry of Defense-Research Institute. From there, Elbit steadily expanded into the development and production of logistical-support weapon delivery and navigation systems, which have been installed in most Israeli aircrafts. It also developed a combat avionics package for the IAI Lavi fighter aircraft, and a fire-control system for the Merkava tank.
In 1966, the company launched its first product, the Elbit-100 Minicomputer, and since that time it has evolved to become a multinational defense electronics company that serves customers in Asia, Europe, Israel, Latin America and North America.

As the nature of human malevolence and aggression has changed over the years, Elbit has worked to adapt to the changing needs of its clients. With regional conflicts and terrorist activities now the norm (or the New Normal), Elbit has seen an increase in demand for intelligence, surveillance, reconnaissance, including network centric information systems, intelligence gathering systems, border and perimeter security systems, unmanned aircraft systems, unmanned ground vehicles, remote controlled systems, space and satellite based defense capabilities and homeland security applications. Elbit has also seen growing demand for cost effective logistic support and training services.
The company's offerings are extensive, and for the sake of ease and simplicity (i.e. for the reader) I have borrowed from a page of the company's website. To get more on the company's offerings, simply click on an image and you will be directed to the appropriate Web page where the company's brochures are located.
| | | |
| --- | --- | --- |
| | | |
| Military Aviation | Electro-optics | C4I System |
| | | |
| Helmet Mounted Systems | UAS | Land Systems |
| | | |
| Communications | ISR | EW and SIGINT |
| | | |
| Homeland Security | Naval Systems | Training and Simulation |
In 2000, Elbit merged with El-Op (a company also controlled by Michael Federmann), a move which created the largest non-governmental defense electronics company in Israel. Following the merger with El-Op, Mr. Federmann and the company's CEO, Joseph Ackerman, launched an aggressive growth by acquisitions campaign whereby Mr. Ackerman operated under the doctrine that "one plus one must equal more than two," and, so far, the strategy has worked. Today, Elbit claims approximately 90 percent of Israel's nonstate-owned defense sector, and the company is still growing.
This past April Mr. Ackerman retired and was replaced by Bezhalel Machlis, 49, an executive vice president at the company who was handpicked by Mr. Ackerman. Mr. Machlis joined the company in 1991 and he holds a bachelor of science degree in mechanical engineering, a bachelor of arts degree in computer science from Technion and an MBA from Tel-Aviv University. He is also a graduate of Harvard University Business School's Advanced Management Program. Prior to his relationship with Elbit, Mr. Machlis served as an artillery officer in the IDF where he holds the rank of colonel (reserves). So, it would certainly appear that the company is in good hands.
Fundamentals:
For the FY ended 2012, Elbit generated $2.89 billion in sales (a 2.56% increase over FY 2011) and Diluted EPS rose 89.95% from $2.09 in FY 2011 to 3.97 in FY 2012.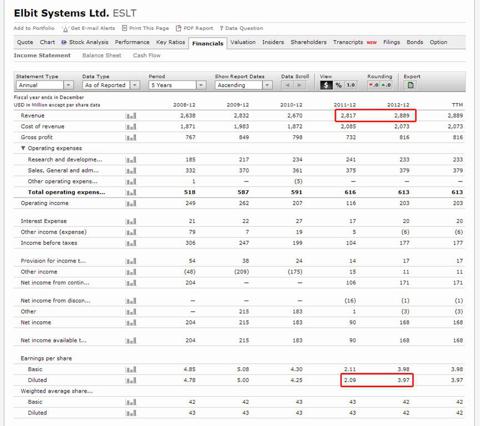 Elbit's net profit margin rose 81.56% in 2012 from 3.20 to 5.81, and its ROE jumped 81.10% from 9.68 to 17.53. Also noteworthy is the fact that ROIC rose 91.25% over the previous year's figure, which indicates that Elbit's acquisitions have been well managed.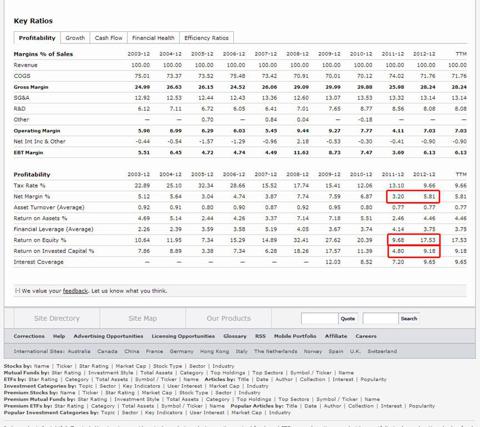 Technically:
Over the past six years, Elbit's stock price has experienced some wild swings, even though On Balance Volume remained relatively steady. Presently, it appears as though the stock's price is making a move back to the center of a very wide channel, somewhere around the $50.00 per share range.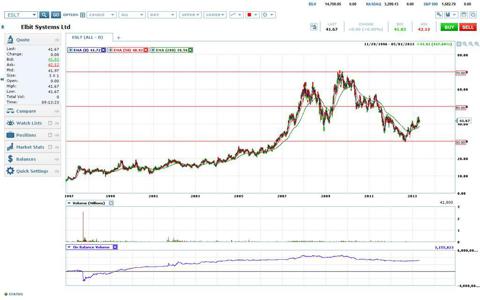 Conclusion:
Elbit operates in a business segment that will most likely be in high demand for the foreseeable future, and, at present valuations, the company looks to be a relatively "safe" investment (pun intended).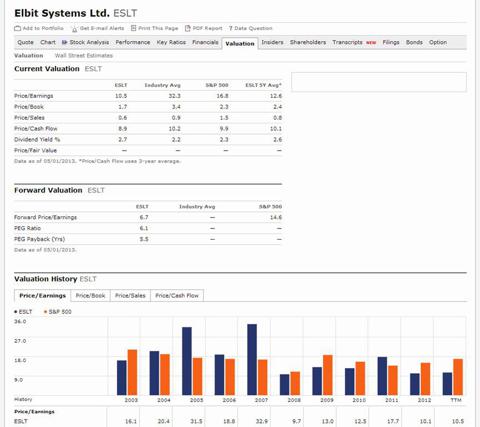 The company currently pays an annual dividend of $1.13, which equates to an annual dividend yield of ~2.7%. Its current Payout Ratio sits at a very comfortable 28.3%, leaving plenty of room for future increases.
Sadly, humankind's penchant for aggression has secured society's need for companies like Elbit, and though our nation's needs for large battleships and nuclear warheads may no longer be in focus, our needs for defensive and offensive systems will, I'm afraid, forever be one of the most basic and important factors of human needs.
Note: Information for this article was collected from Wikipedia.org, Morningstar.com, DefenseNews.com and from Elbit's website and from its 2012 Annual Report. Charting data was provided by optionsXpress.com.
Disclosure: I have no positions in any stocks mentioned, and no plans to initiate any positions within the next 72 hours. I wrote this article myself, and it expresses my own opinions. I am not receiving compensation for it (other than from Seeking Alpha). I have no business relationship with any company whose stock is mentioned in this article.