Cisco System Inc. (NASDAQ:CSCO) is the worldwide leader in the development of Internet Protocol-based networking products. After the double-dip in 2009, and 2011, Cisco has recovered about 50% of its price. However, it has not yet exhausted its potential for growth, having a fair value much higher than the current price. In addition, the substantial dividend may be easily maintained by the company and also increased in the coming years. Cisco is therefore very attractive for a medium- to long-term investment and also for inclusion in a portfolio for dividends.
The purpose of this article is therefore to provide indications of potential profits due to the increase of the price and the payment of dividends. To calculate the fair value, we have been employed two methodologies of fundamental analysis and, for greater safety, the results have been evaluated with sensitivity analysis and compared with analysts' consensus.
Fundamental Analysis
With regard to performing fundamental analysis, the Balance Sheets and the Profit and loss accounts over the latest three years have been considered.
From 2010 to 2012, turnover increased by 15.054% while the Gross Operating Margin rose from 11,194 to 12,667 million USD with a variation of EBITDA Margin equal to -0.46 points.
The Operating Profit grew by 9.83% to 10,065 million USD and net income reached 8,041 million USD (+4%).
The profitability indicators show an increase in ROI of 6.72 points to 53.22% and a decrease in ROE of 1.86 points to 15.67%.
From the financial point of view there was a decrease in the Debt-to-Equity Ratio, which went from -0.55 to -0.63, the result of a net equity of 51,301 million USD, and a net debt of 32,388 million USD.
Analysts estimate sales growth of approximately 5.50% for the next year, as shown in the following table.

Based on five years of prospective balance sheets as well as those from the previous three years, the Fair Value was calculated using the Discounted Cash Flow method and the result was verified using the Economic Value Added approach.
The prospective balance sheets were drawn up based on the following assumptions:
Sales growth from 5.5% to 3%

EBITDA margin of 28%

ROI from 54.52% to 58.87%

Cost of debt 1%

Constant Tax rate at 22%
Fundamental analysis, as described, calculates a Fair Value of around $25.37 per share, which, when compared with the current price of $21 (04/30/13), indicates that Cisco has a theoretical potential for growth of over 20%.
The target price average, estimated by analysts, is not very different from that calculated in detail through the analysis of fundamental data, as shown in the table below.

In other words, at the current price it is certainly a good deal since you can buy an asset worth about $25 for $21.
Sensitivity Analysis
We can estimate how the value of the company would change if our assumptions were optimistic. We focus on two of the most important financial parameters: the revenue and EBITA Margin.
We assumed a Sales growth from 5.5% to 3% and an EBITDA margin at 28%; now we want to calculate how the Fair Value would change if revenue and the EBITDA margin decreased or increased by 1% or 2%.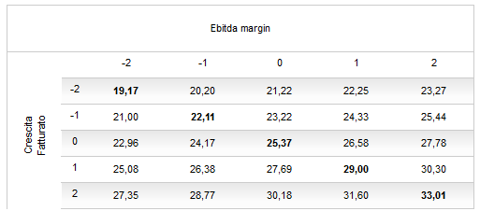 Based on the calculation, the best-case scenario indicates a rise in the Fair Value to $33, at worst it would drop to $19.17.

Dividends
The dividends of Cisco have been doubled between years 2011 and 2012, rising from $ 0.18 per share to $ 0.36 per share. The dividend paid in the first quarter of 2013 was $ 0.14 and $ 0.56 on an annual basis. The dividend yield is about 30.30% and the payout ratio is about 25%. So even if the dividend is quite high, it is sustainable over the years and still has a large margin of growth.
Technical Analysis
From the technical point of view, Cisco is in a long-term uptrend that began in the second half of July 2012. Starting from the current year, the price has narrowed its bullish channel that has been broken down on April 4. Currently it is therefore within a short period bearish channel that retraces inside the channel of long-term bullish, mentioned above. Considering the volumes traded, around the price level of $ 20.95, from the beginning of the year to date, have been accumulated many volumes. The price range around this level, constitutes a resistance which, to be exceeded, needs strength. But once broken, this level will provide a good base of support for a possible price recovery. Another level of resistance is constituted from the intersection between the long-term bullish channel and the short-period bearish channel. The price of this level is around $21.40. Then the price could go up to about $22 and after that it would require more volume to continue his ascent towards the price of Fair Value.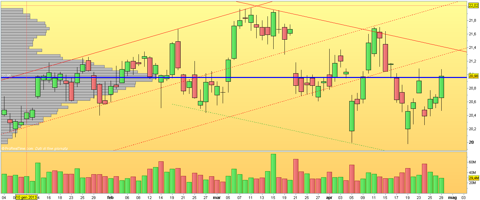 Conclusion
Cisco System Inc. is an excellent long-term investment. It has a fair value of about $ 25.37 compared with a current price around $ 21, so a potential growth of almost 20%. The dividend is quite good with a yield of 3.30%. It is sustainable and with significant growth potential. At present, the price is retracing, therefore it would be advisable to wait for a clear sign of recovery.
Disclosure: I have no positions in any stocks mentioned, but may initiate a long position in CSCO over the next 72 hours. I wrote this article myself, and it expresses my own opinions. I am not receiving compensation for it (other than from Seeking Alpha). I have no business relationship with any company whose stock is mentioned in this article.
Additional disclosure: The opinions in this article are for informational purposes only and should not be construed as a recommendation to buy or sell the stocks mentioned. Please do your own due diligence before making any investment decision.