There is certainly something about the Harley-Davidson (NYSE:HOG) brand. Even the Investor Relations website makes people want to "live the legend," even if that means doing so vicariously through stock ownership. In the end, though, regardless of brand appeal, a stock's worth is measured by the dollar returns to investors, and appears to be fairly valued.
HOG's Business
The company operates in two segments: the Motorcycles & Related Products (Motorcycles) segment and the Financial Services (Financial Services) segment. The motorcycle segment designs, manufactures and sells at wholesale heavyweight Harley-Davidson motorcycles as well as a line of motorcycle parts, accessories, general merchandise and related services. The company's products are sold to retail customers through a network of independent dealers. The company conducts business on a global basis, with sales in North America, Europe/Middle East/Africa, Asia-Pacific and Latin America.
The Financial Services segment consists of Harley-Davidson Financial Services [HDFS]. HDFS provides wholesale and retail financing and provides insurance and insurance-related programs primarily to Harley-Davidson dealers and their retail customers. HDFS conducts business principally in the United States and Canada.
Customer Demographics
The demographics of Harley-Davidson's customer base has been the subject of some concern looking forward but management has been successfully addressing the issue of an aging population by targeting "outreach customers," or customers outside of the typical Harley-Davidson purchaser demographic. Historically, the company's customer base has primarily consisted of Caucasian males, age 34+, but sales are actually growing faster young adults, 18 to 34; female riders; African-American and Hispanic riders than the company's traditional customer base. Couple that with the company's international expansion and I think the company has significant growth prospects.
How HOG Makes Money
Before investing in a stock, I think it's important to understand exactly how the company makes money. In HOG's case, when the company ships a motorcycle, it generates a receivable from the dealer or distributor. The dealer can finance the purchase through HDFS, or pay cash. HDFS also offers financing for retail customers. So, basically, when a bike is sold by the dealer, HOG pays the dealer, and again, has a receivable. The company has several options on how to monetize these receivables, but mostly appears to borrow using the receivables as collateral. This helps explain the significant level of debt owed by HOG, which is about 90% of annual sales, or about 55% of total assets. The company may, at times, also sell the receivables.
Q1 Earnings
Harley-Davidson recently announced Q1 results largely in-line with previous guidance. In short, that guidance is for:
Full-year motorcycle shipments of 259,000 to 264,000, up approximately 4.5% to 6.5% from 2012.
Gross margin between 35.25% and 36.25%.
Expectation for increased SG&A spending, but at a lower percentage of revenue through 2014.
Gross margin is one area where the company beat its guidance making 36.7% for the first quarter. Management explained this by saying that the new "surge" production capability at York worked better than anticipated. It was strange, though, because I got the feeling that there was more to the gross margin story than that.
When asked on the earnings conference call about foreign currency effects on cost of goods sold, the answer pretty much boiled down to, "it's not all that simple." Toward the end of the call, the question of ForEx sensitivity came up again, and the answer was simply "With regards to the ForEx sensitivity, well, we duly note your request." Well, maybe it's nothing. Maybe it really is just too complicated.
There is one other thing I want to cover concerning gross margin. The company uses LIFO (last in, first out) inventory valuation for virtually the entire inventory located in the U.S. Ordinarily this doesn't make much difference, although it does typically result in lower inventory valuations, while increasing COGS, thus reducing net income. In the case of a company that is reducing inventory levels, like Harley-Davidson, it results in temporary increases in gross margin, as the units that are accounted for as "older" (and possibly lower cost) are sold from inventory. This may have had an additional (positive) impact on HOG's gross margin.
One of the things I like about HOG is the company's focus on returning capital to investors. While the dividend payout hasn't been consistent, at times it has approached 50%. It is currently about 25%, giving a yield at the current stock price of about 1.5%. The company also has two separate share repurchase plans, with (as of December 31, 2012) a total of over 14 million shares still authorized for repurchase. HOG reported repurchasing 2 million shares during the first quarter of 2013.
Earnings Forecast
The earnings forecast was derived from historic data, analyst forecasts, company guidance, and some of my own judgment. The figures below show analyst forecasts, the assumptions built into my forecast, and my actual five-year forecast.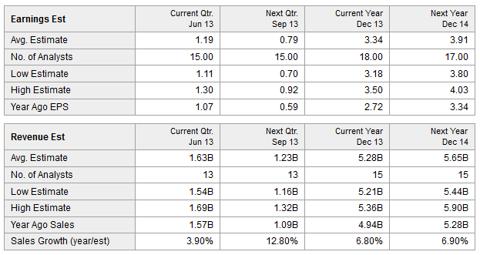 Source: Yahoo Finance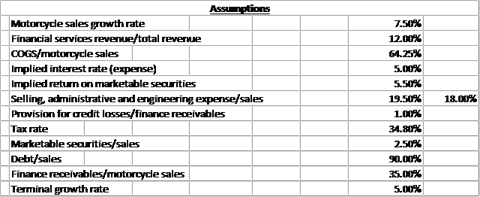 Source: Kirk DeBaun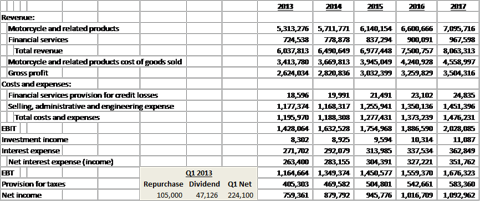 Source: Kirk DeBaun
Stock Valuation Method
The process I'll use to value Harley-Davidson's stock is basically a two-step process. The first step is to determine how the market is valuing the stock, and from that I'll derive a one-year price projection. The second step is to discount the one-year price projection at what I think the discount rate should be. This will give me a price under which the stock should generate a return sufficient to adequately compensate investors for the level of risk.
To determine how the market is valuing the stock, I'm using the residual income method. This method of valuation treats the cost of equity as an explicit cost. Subtracting the cost of equity from net income yields residual income. The value of the stock is the sum of the present value of future earnings plus the current book value of equity. The discount rate required to give a result equal to the current market price is assumed to be the market discount rate, or cost of equity. The figure below shows the residual income projection.

Source: Kirk DeBaun
The above forecast yields a market-determined discount rate of 10.1%, which results in the current market price of $54.73, and a one-year price target of $59.78. The one-year price target includes $0.63 in expected dividend payments for the remainder of 2013.
The risk-adjusted discount rate that I'm using is based on the capital asset pricing model (CAPM). For the risk-free rate, I'm using a one-year Treasury rate, about 0.20%, since the time frame I'm looking at is one year. The market risk premium is a matter of opinion, and my opinion is that it should be about 8%. Finally, Harley-Davidson's beta is reported on Yahoo Finance as 1.58. Putting all of this together yields a risk-adjusted discount rate of 12.8%. The result is a risk-adjusted value of $53.54 (including dividends). Because stock valuation is rarely an exacting science, I'll call Harley-Davidson fairly valued, even though the "fair value" is a dollar less than the current price.
Risks to this forecast include macroeconomic considerations (rising interest rates, low or negative GDP growth, foreign exchange fluctuations, rising commodity and component costs), and the company's failure to execute on its growth and cost-cutting strategies.
Sensitivity Analysis
I tested the sensitivity of the one-year price projection to both revenue growth and gross margin. The results are shown in the tables below. The highlighted rows are the numbers used for the one-year price target.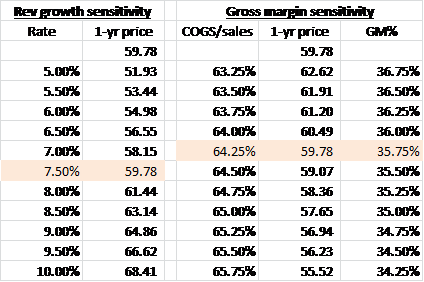 Source: Kirk DeBaun
To put these numbers in perspective, a 0.5% difference in the projected revenue growth rate results in a roughly 3% change in the one-year price target. Similarly, a 0.25% difference in gross margin results in an approximate 1.2% change in the one-year price target. This sensitivity to small changes in the projection are exactly the reason to use a risk-adjusted discount rate.
Conclusion
Despite the recent run up in price, I believe Harley-Davidson is currently fairly valued. With the company's focus on returning capital to shareholders through dividends and share repurchases, I expect HOG to be a good long-term investment.
Sources: Company SEC filings on Edgar, earnings call transcripts, historic stock prices on Yahoo Finance, HOG's Company Profile on Yahoo Finance. Opinions expressed, unless otherwise noted, are my own.
Disclosure: I have no positions in any stocks mentioned, and no plans to initiate any positions within the next 72 hours. I wrote this article myself, and it expresses my own opinions. I am not receiving compensation for it (other than from Seeking Alpha). I have no business relationship with any company whose stock is mentioned in this article.