Is it just me or does it seem like the good old days of biotech are back? With monster moves from Dendreon (NASDAQ:DNDN) and Map Pharma (NASDAQ:MAPP) based on positive phase 3 data, buyouts of IDM Pharma (IDMI) by Takeda and Cougar Biotech (CGRB) by JNJ and FDA approvals for Vanda Pharma (NASDAQ:VNDA) and United Therapeutics (NASDAQ:UTHR), it looks like a good time to start buying ahead of important news flow.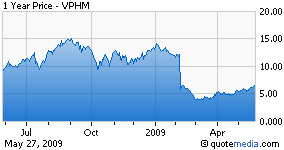 One stock that I think has the potential to move higher is ViroPharma (VPHM). On June 3, 2009 the FDA is scheduled to make a decision whether or not to approve ViroPharma's orphan drug Cinryze for acute attacks of hereditary angioedema (HAE).
In October of 2008, Cinryze was approved for routine prophylaxis (prevention) against HAE attacks in adults and adolescents, which I believe makes the chances for approval in acute setting of HAE much more probable. One other point that makes this approval even more important is the fact that the orphan drug status that Cinryze would carry with FDA approval would also keep a competing drug from CSL Behring off the market for seven years, the length of time a company benefits from orphan drug status .
That's why I'm looking for $10 a share with approval, but back to $5 with a non approval.
Disclosure: The author is long VPHM