Normally when searching for buy ideas, AFG narrows its list of potential investment opportunities using several powerful proprietary variables including valuation, economic margin, management quality, earnings quality and others. Using AFG's valuation variable (value score) as a stand-alone screen, ValueExpectations has shown portfolios that have gone on to earn outstanding returns. We first posted a blog "High Value Score Stocks: S&P 500" in December of 2008 using only AFG's valuation variable - Value Score. These companies (DDS, S, NOV, MTW, SII, WFR, CHK) were identified as having the highest value score within the entire index. Since release, that portfolio has outpaced the S&P 500 by over 71% as of May 26, 2009.
With the success of the first high value score stocks blog, we released a second portfolio in a blog posted on May 7, 2009. This portfolio consists of S&P 500 High Value Score stocks (as of May 7, 2009) and so far it has been outperforming the S&P 500 (performance results will be released in our next performance update blog in a few weeks).
Due to user feedback, we decided to release a list of the top 15 value score stocks from the Russell 2000.

Top 15 AFG Value Score Companies - Russell 2000 (ex. Financials)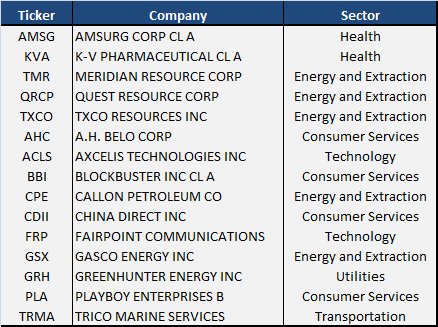 An attractive default AFG valuation is a great place to start when looking for potential investments as our valuation techniques have proven successful through time at identifying mispriced securities and helping our clients identify investment opportunities resulting in outperforming their chosen benchmark.
Applied Finance Group's (AFG's) Value Score defined - Value Score represents the percentile rank of the percent to target (deviation between AFG's current default target price and stock's current trading price). A Value Score of 100 is the most undervalued and 0 is the most overvalued company in the universe.