The share price of Caterpillar (NYSE:CAT) has dropped by 14% over the past three months and is currently trading near its 52-week low. In my view, investors should consider buying the shares on weakness as the chance for an upside is much greater. There are five reasons supporting my opinion.
1. Caterpillar's trailing P/E multiple of 11.4x is now trading at a 37% discount to the same multiple of the S&P 500 Index, which stands at 17.9x (see chart below).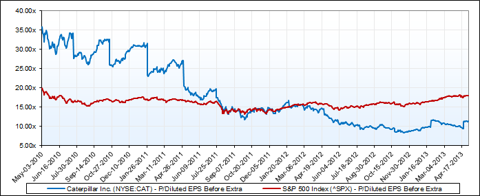 The significant market discount presents a great buying opportunity provided that 1) Caterpillar shares were trading at a market premium prior to mid-2011, and the current market discount is near its three-year maximum, which is at 41%; 2) Caterpillar's five-year consensus estimated earnings growth rate at 11.0% is notably above the average estimate of 8.2% for the S&P 500 companies; 3) the stock now offers a 2.8% dividend yield, which is slightly above the S&P 500 average yield at 2.5%; and 4) the company has been able to generate a double-digit return on equity (currently at 29.6%) over the past 10 fiscal years, which is markedly above the market average.
2. Due to the price weakness, the stock's dividend yield has increased to 2.8% (see chart below).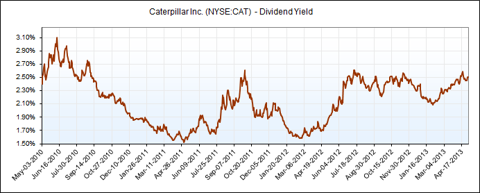 Under the current low-interest market environment, I believe such a yield level would generate a solid demand from institutional investors as the average yield for Caterpillar's primary competitors in the heavy equipment sector is much lower at 1.6% (see chart below). By looking at the historical yield trend shown above, there has been a resistance yield level at above 2.5% since 2011.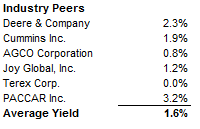 3. The trend of share price also sends out a buying signal. Over the past 12 months, there has been a support level at $80, and the stock is currently trading near the supporting zone (see chart below).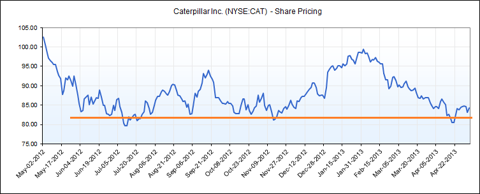 4. On the qualitative side, JP Morgan upgraded its rating for the stock from neutral to overweight on April 23 (sourced from Thomson One, Equity Research). I tend to agree with the broker's belief that most of the downside risk has been priced in and the risk-reward profile favors a buy rating. The broker also cited upbeat China excavator sales data as another key reason for the rating upgrade:
We recently received updated China excavator sales figures for March, which were up 257% sequentially (though still down 6% YoY). CAT gained market share during the month, as its excavator sales were up 20% YoY, significantly outpacing the market; CAT's market share in March was ~25% vs. 21% in March '12 (we note that this may be attributable to mix and/or dealer actions). However, this is encouraging news, as it suggests that despite volatility in macro data in China, a solid selling season may be at hand, which we view as necessary to bring down the significant amounts of excess inventory in the channel in the region.
5. Sell-side analysts are generally bullish on the stock. Of the 22 stock ratings compiled by Thomson One, there are five strong buy and nine buy ratings. The average one-year price target at $97.80 is 16% above the current share price. Given the fact that Caterpillar shares should command an approximately 13% cost of equity based on the capital asset pricing model, the risk-reward appears to be favorable (see chart below).

Bottom line, Caterpillar appears to be an attractive buy as the shares are trading near the bottom valuation and the underlying market demand (i.e. the Chinese market) is recovering. I recommend acquiring the shares directly at this price level. Investors may also consider selling out-of-money options for a better margin of safety.
All charts are created by the author and all financial data used in the charts and the article is sourced from S&P Capital IQ unless otherwise specified.
Disclosure: I am long CAT. I wrote this article myself, and it expresses my own opinions. I am not receiving compensation for it (other than from Seeking Alpha). I have no business relationship with any company whose stock is mentioned in this article.