On March 31, 2013, the Chinese Government confirmed the presence of a new strain of bird flu, that being H7N9. Since that time, and as of the date of writing this article, there have been 127 confirmed cases resulting in 27 deaths. The most recent World Health Organization's Disease Outbreak News was posted on their website on April 29th, at which time there had been 126 confirmed cases resulting in 24 deaths. Over this time frame, the growth in confirmed cases has been fairly consistent, as per the chart below: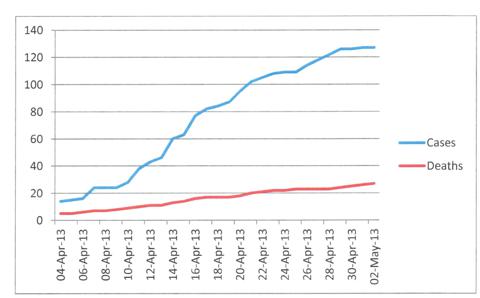 There are a number of very disconcerting issues related this particular strain of bird flu that make it worrisome:
1) While there are several reports that "most" of those who have become infected had direct contact with infected birds, there is no known cited source for such a conclusion. The WHO updated its FAQ's on April 30th, and, according to Question 7, they are still unable to say with any certainty that most cases came in direct contact with infected birds.
2) The number of confirmed cases has grown over the first 30 days in dramatic fashion comparative to H5N1 in 2005/2006 and since
3) Unlike the pandemic related to swine flu H1N1 in 2008 which had a mortality rate in the 0.2-0.6% range, the current mortality rate of H7N9 appears to be approximately 20%
4) While the WHO has continually said there is no evidence of "sustained" human to human transmission, Dr. Michael O'Leary of the WHO confirmed that " . . of the many hundreds of people who were in close contact with the H7N9 patients, all the care-givers, neighbors, family members, and so on, there are only a very few cases where these contacts have become ill as well." He confirmed this fact on April 19th, so it can be assumed he was basing his statement on investigations that had taken place over the weeks preceding the press conference. As such, there had been fewer than 60 confirmed cases forming the basis of his statement, of which at least a "few" were human to human. Given the absolute rarity of human to human transmission found in the more than 600 world-wide confirmed cases of H5N1 over the past several years, it is worrisome that a "few" of the first 60 cases were human to human already.
5) Unlike H5N1 which impacted those under 35 more severely than elderly, H7N9 has been impacting all ages and severely impacting elderly. This is important because, if elderly are being impacted, it speaks to how little our human immune systems have built themselves up to combat this new strain.
6) So far, chickens, ducks and captive bread pigeons are being blamed for transmission of the disease. Those infected who have not come in direct contact with these birds are estimated to have contracted the disease from coming in close proximity to them while at a fresh market where live poultry would have been for sale. As such, unlike H5N1 where "direct" contact was the key to infection, simple "proximity" to diseased poultry can seemingly cause infection with H7N9. Perhaps one of the reasons for the rapid spread versus H5N1.
7) Once H5N1 infected a bird, symptoms became readily apparent often ending in the birds death. Not so with H7N9 which can seemingly be carried by an infected bird without showing itself, thus making it extraordinarily more difficult to detect a carrier of the disease.
So how does any of this have anything to do with Novavax (NASDAQ:NVAX)?
I have been following Novavax since late fall 2005 when the world experienced the scare associated with Avian Flu strain H5N1. At that time, Novavax had been transitioning itself into a vaccine development company over the two preceding years, led by then President and CEO Dr. Rahul Singhvi. The company had developed a proprietary methodology of creating vaccines using Virus Like Particles, or VLP. While the science involved differed dramatically from other vaccine development technologies at the time, (predominantly egg-based), what made it most interesting was the short time required to develop and manufacture a vaccine using VLP, which was under 12 weeks from the time of mapping the strain. Comparatively, it can take more than 6 months to produce an egg-based vaccine against the same strain.
In August of 2005, Novavax first reported preclinical results for a potential pandemic flu vaccine relating to the H9N2 strain. Given the apparent ability of VLP technology to develop immunogenic vaccines against flu strains, it came as no surprise that, in late fall 2005 when Indonesia was hit with a new clad of H5N1, Novavax shares went through the roof, going from under $1.00 in mid-August of 2005, to over $8.00 by mid-March 2006. It helped that NVAX was announcing strategic collaborations and partnerships in February of 2006, thus adding fuel to investors fire, hoping NVAX would be called upon by Government to develop vaccines in the event of a pandemic. While great for day-traders and short-term investors, the run-up was unfortunately all hype for any long-term investors hoping to hold NVAX shares through to the ultimate development and FDA approval of a marketable pandemic flu vaccine. Over the following three years, the share price slowly retreated to pre-H5N1 levels, reaching $0.85 by February 2009.
Again in 2008, and well into 2009, the world once again had a legitimate threat from a flu outbreak, this time H1N1. While not nearly as deadly, the spread of the virus was substantial enough to have the WHO actually deem it a pandemic. Again, Novavax was focused on by investors due to their vaccine development technology. Unlike in 2005/2006, NVAX had actually gone through a great deal of clinical testing on both H5N1 and seasonal influenza vaccines, completing Phase I and Phase IIa trials of various types on both by the time of the H1N1 outbreak. In addition, Novavax had announced strategic partnerships with Cadila Pharmaceuticals of India and GE Healthcare to develop pandemic influenza vaccines. While they had made great strides, the company was still not in a position to profit from any type of pandemic influenza. Despite this fact, investors once again bought into the hype, (partially brought on by NVAX's publication of pre-clinical trial results relating to H1N1 in April of 2009), which pushed the price per share to over $6.00 by August of 2009.
Fast-forward four years to today. What has changed that would make Novavax any more capable of profiting from a potential pandemic than in 2008/2009? Well, a number of things:
1) In late 2009, Novavax conducted a pivotal study, in partnership with Avimax Laboratories of Mexico, wherein they tested safety and immunogenicity of their VLP vaccine against H1N1 on 1000 healthy adults using three separate doses. The results were resoundingly positive. As such, Novavax had now proven safety and immunogenicity of their VLP based vaccines for H5N1, H1N1 and seasonal influenza on humans across several separate Phase I and II studies.
2) In February 2011, Novavax announced a licensing and manufacturing agreement with LG Life Sciences (LGLS) for predominantly the South Korean market as it related to Novavax's VLP based influenza vaccines. Under the agreement, LGLS was to provide up-front capital and milestone payments, as well as royalty payments once any vaccine was commercialized. It was quickly becoming NVAX's strategy to regionalize their manufacturing and commercialization efforts to better position themselves for any future pandemic in the event they would be called upon by any country's government to quickly develop a vaccine.
3) In March of 2011, Novavax announced a seasonal and pandemic influenza vaccine development contract with the US Department of Health's Office of Biomedical Advanced Research and Development Authority (BARDA). Under the terms of the contract, Novavax would receive $97M over the first three years, throughout which time the company would be responsible for conducting three additional clinical trials of their VLP pandemic influenza vaccine using different adjuvents, a phase II dose ranging trial and a phase III registration trial for their seasonal influenza vaccine, as well as being responsible for the development of a manufacturing facility capable of producing finished vaccine within 12 weeks and at least 60M doses within 6 months of a pandemic declaration. Clearly Novavax was being taken seriously by the US Government and had proved the legitimacy of their technology.
4) In April 2011, the company announced a change in leadership, appointing Stanley Erck to the position of President and CEO, the same position he had held at another vaccine development company, (Iomai Corporation), from 2000-2008. The change signaled Novavax's seriousness in not only managing the BARDA contract, but in establishing a solidified strategic direction for the company, something that had been lacking for years on end.
Since the BARDA contract was announced, Novavax has:
a) Completed a Phase II seasonal influenza trial under the contract and is about to begin another phase II dosing trial.
b) Completed two clinical trials of their pandemic influenza vaccine using two different adjuvents.
c) Secured a suitable manufacturing facility and are very near to having it fully set up to meet the requirements of the BARDA contract
As a result of the above, Novavax recently announced that BARDA had conducted an in-process review and decided progress to date was sufficient to continue under the terms of the contract.
Novavax presented a corporate update on May 1, 2013 at the Needham Annual Healthcare Conference held in New York. In discussing BARDA's goals in supporting NVAX, Stanley Erck explained that BARDA wanted four things:
a non-egg based system of producing pandemic influenza vaccines
a vaccine having a robust immunogenic response
a vaccine that could be developed using an adjuvent that would reduce the dosage required while still achieving a high immunogenic response
a vaccine that can be manufactured quickly (comparative to current egg-based vaccines)
Novavax meets all four of these requirements. In fact, with the adjuvent, NVAX's vaccine had seroconversion and seroprotection rates of 87% to 100% at all doses, including a 3.75ug dose, which represents an extraordinarily high immunogenic response.
What investors may find interesting is on page 27 of the slide presentation where two extremely important points were made:
1) Novavax's avian influenza antigen is as, or more, immunogenic than any other similar antigen described in any published material to date
2) Their pandemic influenza vaccine has met regulatory immunogenic criteria for accelerated approval in the event of a pandemic, both in the US and Europe
Given the BARDA contract, clinical trial results, manufacturing readiness, (which should be fully completed within the next several months), and their qualification for accelerated regulatory approval, investors may want to consider NVAX as part of their investment portfolio this time around. Unlike in 2005/2006, and again in 2008/2009, NVAX is no longer hype. The company could definitely be in a position to profit from H7N9 in the event this influenza strain continues to spread.
In the meantime, however, NVAX has implemented what will be a much more lucrative long-term strategy than they had 3 years ago, that being the development of a vaccine for Respiratory Syncytial Virus (RSV). While a flu pandemic would certainly be profitable, a company should not depend on such an event for its financial future. As such, NVAX has chose to focus on a virus which currently has no available vaccine, yet there are more than 12 million RSV related illnesses across the world's largest markets each year, including more than 3 million in the US alone. Each year in the US, there are 75,000 to 125,000 hospitalizations of infants due to RSV and 175,000 hospitalizations for elderly, (leading to approximately 14,000 deaths).
Novavax partnered with PATH on the development of the vaccine and has so far completed a phase I study in healthy adults, have reported top-line data for a phase II clinical trial in women of child bearing age and have fully enrolled their phase I trial for healthy individuals over the age of sixty, which will be starting in the coming weeks. Given the very positive safety and efficacy profile of the vaccine to date, it would appear Novavax is on its way to the first approved vaccine treatment for RSV. Although ultimate approval based on phase III studies and an NDA submission to the FDA should not be expected anytime before 2015, it should be noted that the possibility of more than $1B in annual revenues associated with such an approved vaccine is not out of the question.
Beyond their more focused and sustainable strategy, NVAX, due to partnerships with PATH and BARDA, as well as the timely issuance of shares, have enough cash to get them through to 2015. As such, there should not be any near-term dilutive share offerings.
So, does NVAX present a much better investment now than ever before . . . without question. When investors flocked to NVAX in 2005/2006 due to H5N1, then again in 2008/2009 due to H1N1, the gains were based on hope, not tangible value. This time around, Novavax is a much different company and in a much more advanced phase of development. If H7N9 continues to escalate, it is not at all improbable that the US Department of Health or any other foreign government agency would call upon Novavax to quickly develop and manufacture a suitable vaccine on an accelerated basis. As such, as news continues to come out of China, I would look to NVAX for a potential investment. Given the current price-point and recent pull-back, I really don't see a great deal of downside, even for long-term investors who see the value in their RSV vaccine development. In the end, their current market cap only sits at a very minimal $325M and could potentially reach over $1B in the coming 18-24 months just on the valuation associated with RSV alone, meaning a share price over $6.50. If a pandemic scare becomes more realistic, and as evidenced in the past, the price will get to $6.50 much, much sooner, only this time, it would be deservedly so.
Disclosure: I am long NVAX. I wrote this article myself, and it expresses my own opinions. I am not receiving compensation for it (other than from Seeking Alpha). I have no business relationship with any company whose stock is mentioned in this article.