For years, Apple (NASDAQ:AAPL) was held up as a sort of latter day Achilles: unbeatable, unstoppable, an avalanche of a company. Wall St. analysts were caught with their pants down when Apple's Q3 earnings blew past guidance and overcompensated by drastically raising their Q4 projections, despite conservative guidance. When iPhone 5 weekend sales failed to meet these inflated projections, these same analysts were caught off guard yet again.
The following back-of-the-envelope calculations estimate Apple's current breakup value. While the method I've chosen is a kissing cousin to SOP, I've decided to merge the company's software and hardware divisions under the umbrella of "iOS Ecosystem" and "OS X hardware," respectively, thereby avoiding the messy and impractical divorce of the iPod, iPad and iPhone into competing divisions.
Apple is worth...
Its brand.
Its iOS ecosystem.
Its cash.
Its OSX division.
Its real estate.
Its patent portfolio.
minus debt.
Brand: According to a survey by UK-based Brand Finance, Apple remains the World's Most Valuable brand as of February, 2013. Estimates for the value of Apple's brand run the gamut, from $76.57 billion (Interbrand) to $87.1 billion (Forbes) to $183 billion (Millward Brown). Whatever the true figure is, it's not $0. That's $58.8 billion higher than Samsung (OTC:SSNLF) and $35.17 billion higher than Google (GOOG). If we take Forbes as the mean estimate, then we can assume that Apple's brand is currently worth around $78.39 billion. ($87.1 billion, minus 10%, for the hit to Apple's brand due to both the Maps Affair and heightened competition.)
Ecosystem: Apple's customers still have as much of their own personal money invested as ever. It's the same addictive relationship that drives Facebook (NASDAQ:FB), with this caveat: Apple's users have more skin in the game. You'd know that if you've ever paid for an expensive iOS-only financial app, or if you've sunk any money into upgrading iOS hit games like The Walking Dead or Plague. The switching costs are huge.
App revenues doubled since year-ago quarter, with 800 new app downloads every second by users in 155 different countries. Cumulative app downloads have surpassed 45 billion, while payments to developers reached a cumulative total of $9 billion. To put the icing on the cake, iTunes logged 23 billion separate transactions in 2012 alone. The chart below breaks down iTunes revenue structure.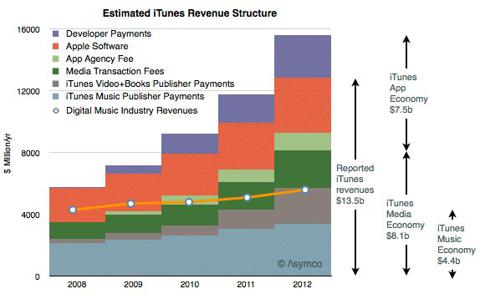 (Source: Asymco)
Assuming a break-up estimate of 4x annual revenues, the intrinsic value of Apple's ecosystem is $54 billion.
Cash: Apple currently possesses around $12.053 billion in cash, $27.054 billion in short-term marketable securities, $105.55 billion in long-term securities, for a total of $144.54 billion, and is projected to reach $170 billion by year's end. Let's assume for the sake of argument that Apple never makes another dime after this year. Roughly $43 billion of that has already been taxed, and is located in the U.S. Assuming that the rest is repatriated at a 35% tax rate, the result is $125.55 billion.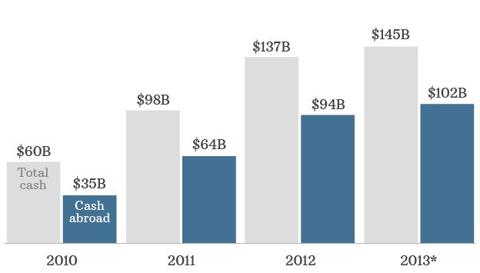 (Source: CNN Money)
OSX Hardware: Apple's Desktop and Notebook divisions contributed $7.55 to the company's EPS in 2010, $6.77 a share in 2011, and $4.13 in 2012. If we assume a $4.13 EPS and a P/E ratio similar to that of Hewlett-Packard (NYSE:HPQ) (5.77), we get a valuation of $23.83 a share, or just shy of $22.4 billion.
Real Estate: Apple's plant, property and equipment is currently valued at $15.026 billion, including 17.3 million ft. of retail space.
Patent Portfolio: Apple has the most powerful patent portfolio in consumer electronics. According to IEEE Spectrum's 2012 Power Patent Scorecard, the strength of Apple's patent pipeline is matched only by Japanese-based Ibiden Co., a high tech materials company whose primary products include plastic packaging substrates that protect semiconductors from dirt and electric shock.

(Source: IEEE Spectrum)
Apple has since augmented its patent portfolio with 1,024 Nortel patents.
The best measure of the value of all patent portfolios is the price that users of a competitor's product would pay to use those features. Apple was required to produce precisely this information during its celebrity trial vs. Samsung. A survey conducted by John Hauser, a professor at the MIT Sloan School of Management and witness for Apple, concluded that Samsung's customers would be willing to pay an additional $100 for a smartphone or $90 more for a tablet that had features described in Apple's '915, '163 and '381 patents.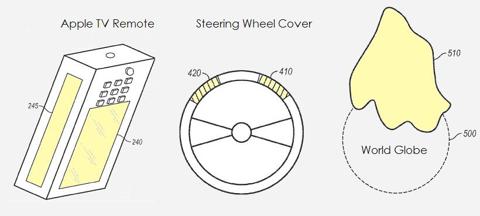 (Source: Patently Apple)
That's a little over $13 billion, assuming a static consumer base and a 2 ½ year refresh cycle. The rest of Apple's patent portfolio, including the Nortel patents, would fetch at least another $7 billion even at fire-sale prices; I therefore estimate the break-up value of Apple's patent portfolio to be around $20 billion.
Debt: $17 billion. In its first debt sale since 1996, Apple was able to successfully tap the debt markets for extremely low rates, including $4 billion of 1.076%, 5-year notes with a relative yield of 40 basis points, $5.5 billion of 2.415% 10-year securities at 75 basis points, $3 billion of 3.85%, 30-year bonds at 3.883%. It also issued three-year debt at 0.511%, and floating-rate bonds that mature in three and five years at rates of 0.05 and 0.25 percentage point over the three-month LIBOR. As we see, the interest rate on Apple's short and intermediate term debt is lower than the dividend Apple currently pays on its stock, which means that Apple's buyback essentially mostly pays for itself. However, we'll play it conservative and deduct $17 billion from Apple's after-tax cash hoard.
Premature Burial
The decline and fall of a tech company isn't a run: It's a slow, steady jog. One day, you wake up and find yourself owning a company that's been mothballed, even though every drop looked like another opportunity to buy on dips.
That's exactly what happened to Microsoft (NASDAQ:MSFT), Yahoo (YHOO) and Nokia (NYSE:NOK) investors, and the result is either dead money, or loss of capital. The problem is that this analogy doesn't fit Apple. In two years, it might. It just doesn't right now. It's too forward-looking. Think about it: If there were a product out there that was widely believed by the majority of middle-to-high end consumers to be superior to the iPad or the iPhone, you wouldn't have to go digging through quarterly earnings reports to find it. You'd know. Disruptive products are, almost by definition, very LOUD affairs.
Apple isn't just going to drop its crown in the gutter. Someone has to take it.
Conclusion
Is Apple worth more dead than alive? According to our back of the envelope calculations, the answer is: "Almost." In fact, the current break-up value for Apple, Inc. clocks in at roughly $298 billion, or $317.86 per share. That's only a 29% discount to Apple's current share price, with no dividend increases, share buybacks, or new products to speak of. Factoring the effect of the dividend increase and share buybacks at par debt increases Apple's break up value to roughly $336 per share, a 24.86% discount.
Nevertheless, I realize that this analysis is by no means standard or complete. Nor was it intended as such. Rather, my purpose was to illustrate how many hoops that Apple bears have to jump through in order to make an intelligible counterargument via a simple thought experiment, using minimal assumptions and publicly available data.
Until the naysayers are able to defend their predictions that "Apple is going to zero!" with equally few assumptions, my advice to investors is to assume that it's noise pollution, and hit the MUTE button accordingly.
Disclosure: I have no positions in any stocks mentioned, and no plans to initiate any positions within the next 72 hours. I wrote this article myself, and it expresses my own opinions. I am not receiving compensation for it (other than from Seeking Alpha). I have no business relationship with any company whose stock is mentioned in this article.