In like a lion, out like a lamb. It's a saying typically used to describe the weather in March. But it could also be used to characterize the trend we saw in global exchange-traded product (ETP) flows as we transitioned out of March and into April.
Year-to-date flows into global exchange-traded products have reached $79.9 billion, outpacing the $66.3 billion of inflows gathered in that same period last year. But global ETP flows slowed in April to $10.3 billion as investor sentiment cooled given less positive economic growth forecasts.
The month's $9.5 billion of flows into fixed-income ETPs and $9.6 billion of flows into stock funds were offset by $8.7 billion of outflows from gold ETPs. Lower U.S. inflation expectations, a disappointing Chinese GDP report, and rumors of potential gold reserve sales by distressed European countries triggered the largest gold spot price decline in 30 years.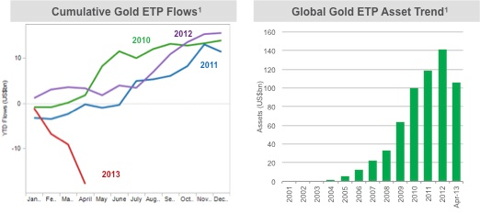 This cautious investor mindset was also reflected in fixed-income ETP flows. These funds attracted $9.5 billion in April, the best performance since May 2012, with U.S. Treasuries funds leading the way. U.S. Treasuries garnered $2.2 billion of inflows despite a continued environment of persistently low yields. Short maturity funds also remained a focus, gathering $5.6 billion, although it's worth noting that other maturities fared well for the second straight month after a slow start to the year.
Meanwhile, global stock funds took in $9.6 billion, which was down from $18 billion in March, despite the S&P 500 remaining near its all-time high. U.S. large-cap stock funds swung to outflows mid-month on the heels of lackluster reports on U.S. and Chinese economic growth, but finished the month in positive territory with inflows of $1.7 billion. Investor preference for developed markets over emerging also continued, albeit at a slower pace than prior months with $3.5 billion in outflows for April among ETPs offering emerging-market equity exposure. Within developed markets, ETPs offering exposure to Japan equities led the way, taking in another $4.8 billion in new assets for the month.
In an interesting development, non-market-cap-weighted funds have captured 42% of equity ETP flows year to date. That is more than two times their share of equity assets. A big driver of this growth is investor demand for dividend income funds, with these ETPs attracting $3.4 billion of flows in April -- a new record monthly high. Also driving this growth into non-market cap weighted funds -- flows into minimum volatility funds. The concept behind these funds is that they track indexes that seek to capture the broad equity market exposure of a particular market segment -- like emerging markets or global stocks -- with a reduced amount of volatility. This focus by investors on non-market-cap-weighted funds is a trend we are keeping our eye on and will delve into in more depth in a future article.
Sources: Bloomberg, BlackRock.
Disclaimer: There is no guarantee that minimum volatility funds will attain a more conservative level of risk, especially during periods of extreme market conditions.