Earlier today it was announced that the United States Patent and Trademark Office (USPTO) finalized their decision to reject certain claims on Vringo's (VRNG) '420 patent. This follows an earlier, non-final, decision by the USPTO to invalidate the respective claims back on September 25, 2012. Google (NASDAQ:GOOG) got exactly what they asked for today:

For all intensive purposes, claims 1-9, 11-13, 16, 24, 26, and 29-36 do not matter in this case, because they are not claims that were deemed to be infringed upon in the trial. However, claims 10, 14, 15, 25, 27, and 28 were: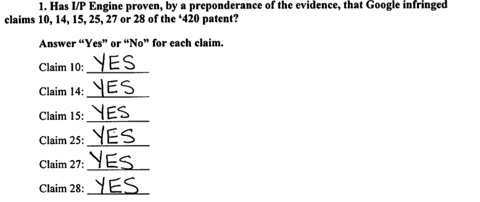 This means that Google was found by the USPTO to have not infringed upon these claims because they are not valid. Vringo now has two months to devise a response to the re-examination to prove the above claim(s) is/are valid and/or can appeal the findings to the Patent Trial and Appeal Board (PTAB).
For everyone wanting to suddenly run to the exits, not so fast. Only one infringed claim on either one of the patents ('664 and/or '420) is needed to justify a remedy (past damages, future royalties, lump sum, etc.). According to the jury's verdict, Google infringed upon Claims 1, 5, 6, 21, 22, 26, 28, and 38 of '664. Now, a similar re-examination is going on within the USPTO to determine the validity of the '664 patent, as a re-examination was ordered pursuant to three potential Prior Art items (Bowman, Culliss, and Lashkari) on March 7, 2013. Similar to '420, Google is trying to invalidate all claims on the '664 patent, which would, from first glance, render them not liable by the USPTO: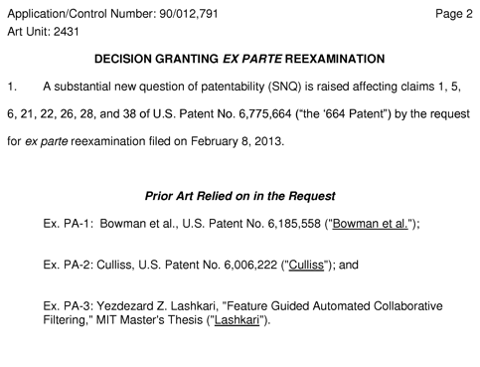 Google initially filed for an ex parte re-examination of the '664 patent on 11/18/2012 but the three items above were not determined Prior Art on 1/17/13. However, on 2/8/2013, Google applied for a new re-examination request based on five previously unconsidered Substantial New Questions of Patentabilities (SNQs):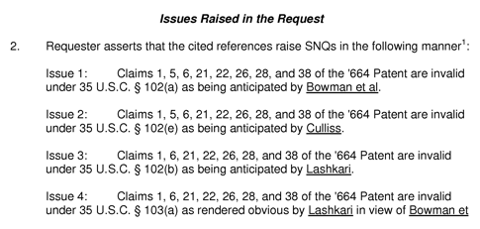 If you want to see what the actual SNQs entail (I won't go into it here), do this:
1. Go to http://portal.uspto.gov/external/portal/pair/
2. Enter in CAPTCHA
3. Type in 90/012791 as the Application Number
4. Click "IMAGE FILE WRAPPER" (one of the clickable tabs in the middle of the page)
5. Select RXREXO- Determination - Reexam Ordered (starts in detail on p. 8)
Vringo, per their PR linked above, expects both the initial and the updated patent re-examinations to be grouped into one proceeding. If the USPTO works as fast as they did for '420 (I would be surprised), we will hear something material within the next coming weeks either giving an initial claim rejection (not final) or affirming '664's validity (which would exonerate Vringo and make Google unquestionably liable), not counting appeals.
There is another substantive development concerning SNQs that is very relevant to the USPTO's re-examination of '664 (p. 1107, second paragraph):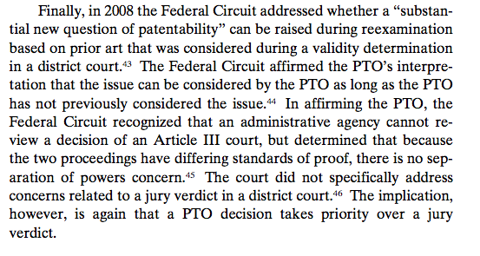 (Footnote 43 is from In re Swanson, 540 F.3d 1368, 1374-79 (Fed. Cir. 2008); more coverage on this here.) The Re-examination Clause of the 7th Amendment of the United States states that no fact tried by a jury shall otherwise be re-examined in any Court of the United States. Obviously, the Fed Circ upholding the USPTO's judgment concerning validity over the jury's finding of validity during trial is a direct contradiction. More on this below.
USPTO v Federal Courts
For argument's sake, let's say the USPTO interprets Bowman, Culliss, and Lashkari as Prior Art and fully rejects Claims 1, 5, 6, 21, 22, 26, 28, and 38. Let's also discount all the potential appeals and cross-appeals from the USPTO to the Federal Circuit (which also handles USPTO appeals in addition to US District Court appeals [where VRNG v GOOG is likely headed upon final ruling from Judge Jackson]).
What would happen if the USPTO deemed the combined 14 claims of '420 and '664 invalid in this case?
The true answer is, no one knows. Fellow SA writer Jesse San Nicolas does a good job analyzing the Fed Circ's decision on the Baxter International, Inc case, where the Federal Circuit did not change the jury's verdict regardless USPTO's decision. However, the Federal Circuit has not come up with "clear legislature on the relationship between patent litigation and patent reexaminations." I point you to Translogic Tech., Inc. v. Hitachi, Ltd., where "it appears to show that a finding of invalidity in the Patent Office can trump a validity finding and an infringement judgment from a district court." In this case, the Fed Circ ended up upholding the USPTO's findings over the District Court's (also listed here, p. 1106 middle of page.)
What Does This Mean?
Today's news did not have a huge effect on the stock price because it doesn't mean anything right now. Google has one piece of the puzzle; they need the second to potentially be found not liable (findings of all infringed claims of '664 to be invalid by the UPSTO.) They very well could mention the invalidation in their [822] Response brief, though, as a desperate attempt at delaying further. If the above happens, it's quite literally up to the Fed Circ's discretion on which way they elect to rule. Obviously, there is a loophole between the correlation of the courts and the USPTO. There are directly contradicting precedents both ways, with both the jury's findings and the USPTO's findings being upheld. Of course, Vringo said they already plan on appealing today's decision, and will undoubtedly do so if '664's infringed claims are found to be invalid, which is/would delay the process even further. All in all, another stop on the Vringo crazy train, which could develop into something very serious (or very positive) down the road.
Disclosure: I have no positions in any stocks mentioned, and no plans to initiate any positions within the next 72 hours. I wrote this article myself, and it expresses my own opinions. I am not receiving compensation for it (other than from Seeking Alpha). I have no business relationship with any company whose stock is mentioned in this article.