Canadian auto parts manufacturer Magna International Inc. (NYSE:MGA) has had a stellar start to 2013. The stock has surged from under $50 to $60.76, just off an all-time high. The company hiked the quarterly dividend from $0.28 to $0.32 (~2% yield) continuing a trend of consistent increases. Despite a more than 20% run to start off the year, I believe Magna is still undervalued and maintains significant upside potential this year and beyond.
Company Profile
Aurora, Ontario, Canada based Magna is one of the largest auto parts manufacturers in the world with approximately 119,000 employees, 313 manufacturing operations and 88 product development, engineering, and sales centers in 29 countries.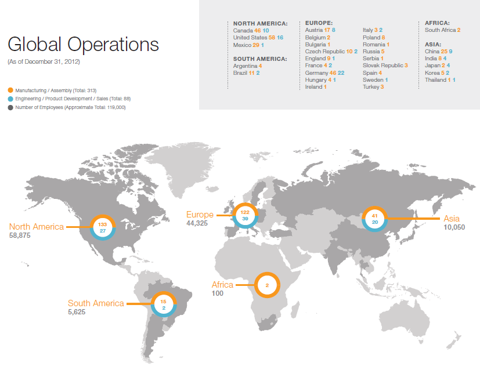 Source: http://www.magna.com/investors/financial-reports-public-filings
Although the company supplies parts to all leading OEMs, it remains heavily dependent on six main customers: General Motors (NYSE:GM), Ford Motor Company (NYSE:F), Chrysler LLC (FIATY.PK), Bayerische Motoren Werke AG (OTCPK:BAMXF), Volkswagen AG (OTCPK:VLKAY) and Daimler AG (OTCPK:DDAIF). Magna's capabilities include body & chassis systems, power-train systems, exterior systems, interior systems, seating systems, closure systems, fuel & battery systems, electronic systems, roof systems, hybrid & electric vehicle systems, and vehicle engineering & contract assembly.
Management
Long gone are the days of founder Frank Stronach's questionable forays into horse race tracks and gambling (not to take anything away from a formidable man who built the company from the ground up). CEO Don Walker has done a stellar job since taking the reins. He has been with Magna since 1987 and successfully led the company out of the financial crisis to record sales already exceeding pre-crisis levels. In search of efficiencies, he is pushing an examination of the product portfolio which should be concluded by the end of this year that will look at reducing the number of product areas to 25-30 from 35-40. Sales growth outside of traditional markets has been solid the past couple years and management has pledged to focus on building market share in areas where the company has strong products through a combination of acquisitions and continued Greenfield expenditures.
While I rarely criticize executive compensation when companies produce results (and frequently do when they don't), I can't help but call some of the past compensation excessive. During Mr. Stronach's tenure Magna was consistently under fire in this regard, with him receiving hundreds of millions in pay and as much as $50 to $60 million some years. Shareholders rightfully questioned several decisions that were made while he owned only a small portion of equity (as low as 4%) but continuously controlled the majority of voting power. In 2010 Stronach ceded control of the company in an oft-criticized but necessary deal that saw the dual class capital structure eliminated for a payment of nearly $1 billion. The pay, however, has continued and although he no longer sits on the board, in 2012 Mr. Stronach received $47.3-million. Fortunately, he has been slowly withdrawing completely from the company and as of next year will no longer receive a profit sharing bonus. With that weight removed, the rest of the executive compensation, while high, at least is largely performance based with the bulk of pay coming in the form of profit sharing. Mr. Walker's total compensation of $16.9 million in 2012 is far more reasonable than past excesses and is indicative of the company's transition to more legitimate corporate governance.
Recent Financial Performance
2012 was a record year for Magna in terms of both sales and net income. Sales increased 7% year over year to $30.84 billion. Net income increased $411 million to $1.43 billion (~40%). EPS increased 45% to $6.09 for 2012 compared to $4.20 for 2011.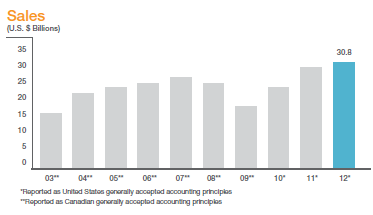 The company invested a record $1.9 billion in the business focusing on expanding in high growth regions including Asia, Eastern Europe and South America. Magna acquired Verqaltungs GmbH (a manufacturer of vacuum, engine and transmission pumps), the remaining 50% of STT Technologies (transmission and engine pumps), BDW Technologies Group (a structural casting supplier) and the controlling 27% interest in Magna E-Car Systems.
On top of a 78% jump in the dividend the past two years, the company continues to buy back shares. The board extended its Normal Course Issuer Bid expiring in November 2013 to an additional 12 million shares, 5.2% of the outstanding Common Shares.
Regional Performance
Europe
While European sales remain soft, the company experienced a significant turnaround in 2012 after a loss in 2011. Sales increased by $153 million to $12.71 billion despite a decline in vehicle production in Western Europe. Improvement at underperforming operations resulted in Adjusted EBIT of $165 million compared to a $22 million loss in 2011.
The company will continue restructuring in Europe during 2013 and expects a related charge of $150 million. OEM customers continue to close plants in Europe and this trend will likely continue to weigh on Magna's European sales. It could be some time before there is significant improvement in Europe, but the ongoing restructuring should minimize losses and position the company well for a gradual European recovery.
North America
As a result of higher light vehicle production in North America, sales increased 10% from 2011 to $16.34 billion, while Adjusted EBIT increased 11% to $1.52 billion.
Rest of World
Sales jumped 31% to $1.84 billion. Asian performance dragged on results. An adjusted EBIT loss of $28 million lagged 2011's $56 million EBIT profit. The weakness was largely the result of 3 factors - costs from facilities under construction in Asia and South America, operating inefficiencies, and the integration of acquisitions. All of these are typical of rapid expansion in new markets and I expect to see improvement in the near term.
Outlook and Valuation
Since November 2012, Magna has increased its forecasts for sales twice and now expects growth as high as 8.3% for 2013. In early March, the company increased expectations to between $32 billion and $33.4 billion compared to $30.84 billion in sales for 2012 with operating margins steady. This would represent an acceleration from the 7% growth achieved last year.
While Magna's projections already represent impressive growth, I believe they remain conservative. For years Magna's portfolio of products has been overweight the light-truck segment. The company has been working to diversify away from this dependence and has been very successful in doing so. However, light-truck sales still appear to account for a disproportionate amount of Magna's business. I believe truck sales will continue to surge as companies and individuals who put off purchases during the financial crisis have left the trucks on America's roads older than ever. American pick-up sales through March were up 9%. In April, the big 3 all saw sales surge with Dodge's Ram trucks up 49%, Ford's F-series up 24% and GM's pick-up sales up 23%. The combination of built up demand and improvement in the economy, particularly rising home prices, should continue to spur sales. Small businesses and contractors have begun buying again and many have little choice but to replace aging trucks. Redesigned and more fuel efficient trucks from all of the major manufacturers should also help draw buyers. In my opinion better than expected pick-up truck sales combined with an expanding presence in other segments will help propel Magna to outperform the next couple of years.
Magna's valuation is close to the industry average, however, looking at projected earnings and potential growth, it remains significantly underappreciated relative to peers. The company trades at less than 9.5 times consensus 2013 earnings and I believe that these estimates remain conservative. Growth is expected to continue at a similar pace in 2014. With Magna's impressive product portfolio and exposure to top brands and new vehicles in growing markets the company should be trading at a premium to its peers. The company sports a healthy balance sheet with $1.5 billion in cash and has demonstrated its willingness to return capital to shareholders through the dividend and buybacks. I expect continued dividend increases that are certain to please shareholders.
Closing Price (5/2/2013): $60.76
Market Cap: $14.18 billion
Trailing EPS: 6.09
Trailing PE: 9.91
Forward EPS (consensus): 6.42
Forward PE (consensus): 9.46
Forward Yield: ~2.11
Risks
Magna operates in a competitive industry with pricing pressure by the OEMs. Any further deterioration in Europe and restructuring/downsizing charges could weigh on earnings. Sales will be largely dependent on the performance of the company's six largest customers (the big 3, BMW, Volkswagen and Daimler). The biggest risk will continue to be the cyclical nature of the automotive industry that will depend on an improving economy.
Bottom Line
Magna has become a well-managed, shareholder friendly company positioned excellently in a growth industry. I expect upside pressure to both company and analyst estimates in the near term as the auto industry continues to show strength. Magna will report first-quarter results on May 10. Consensus estimates are ~$1.43 per share and are likely to prove low. As such, I believe even near all-time highs the stock remains a conviction buy.
Disclosure: I am long MGA. I wrote this article myself, and it expresses my own opinions. I am not receiving compensation for it (other than from Seeking Alpha). I have no business relationship with any company whose stock is mentioned in this article.