I began a journey of 15 European cities over 22 days on May 1st, with the first stop being Copenhagen. Although the journey is recreational, you're never off the clock in the world of finance. One never knows where the next great investing opportunity will be found.
As I began researching investment opportunities in Denmark, I came across a relatively new ETF launched January 25th 2012 and decided to investigate it further. The name of the ETF is MSCI Denmark Capped Investable Market Index Fund (BATS:EDEN), and since inception it has returned 33.37%, has a yield of 1%, and is relatively unknown averaging just 4,000 shares traded per day.

This represents an outperformance of the S&P500 of a little over 11%, not including dividends.

Taking a longer term view of the Danish stock market, the OMX Copenhagen is on its way to regaining the high of just over 500 prior to 2008.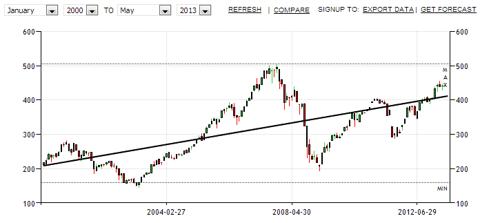 Source: Trading Economics
Keep in mind that this ETF won't track the OMX Copenhagen exactly, as it uses a capping methodology that limits the weight of any single component to a maximum of 25% of the underlying index, as well as limits the sum of components that individually constitute more than 5% of the weight of the underlying index to 50%. This means that this ETF will end up with far more small cap Danish stocks than what would be in the OMX Copenhagen.
Although the yield isn't impressive, the capital appreciation is, making this ETF worthy of a more detailed review.
The Resilient Danes
Out of the major countries in Europe, Denmark's unemployment rate is only outstripped by the Netherlands and Germany as reported by Eurostat. This trend is confirmed by Google Trends, which shows that the search for "job" in Denmark (job is the same in English and Danish) has been trending downward, although has spiked recently.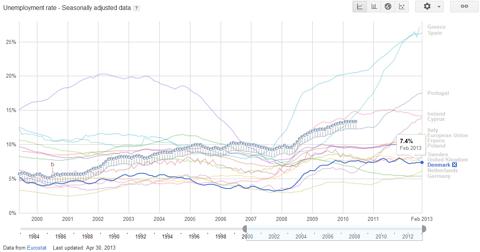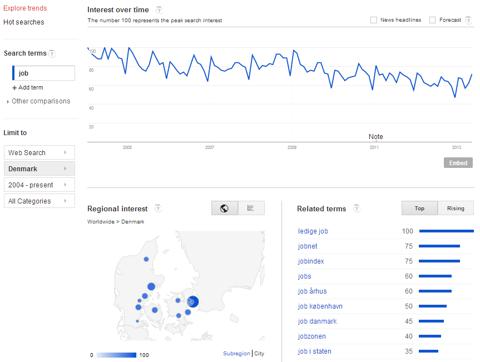 This unemployment rate listed by Eurostat for Denmark sounded oddly high, so I further investigated the numbers and it turns out that the unemployment rate listed by Eurostat is wrong. In fact, Denmark's unemployment rate is 4.4% as of May 2nd according to Statistics Denmark. This doesn't appear to be a definitional error either, as both numbers were described in terms of the percentage of unemployed workers divided by the total labor force. In any event, relatively speaking it shows how Denmark is performing, and I've emailed Eurostat advising them of their error.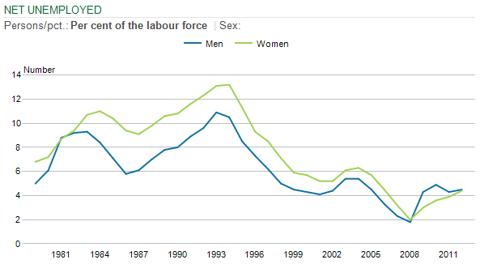 This outperformance widens even further when looking at the unemployment rate of those younger than 25. This is a key metric for social stability, as the 25 and under crowd can be rambunctious when their hands are idle. It's also worth noting how amazingly high this number is in other European countries such as Greece and Spain, which boast unemployment rates of individuals younger than 25 at 60% and 55%.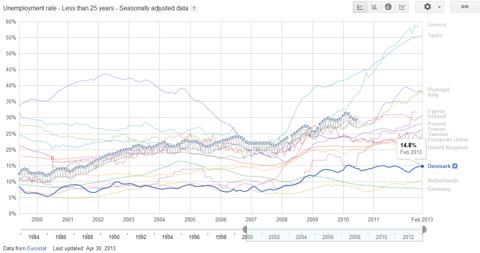 In terms of their GDP growth rate, Denmark is middle of the pack at 1.4%, slightly outperforming the EU average of 1.3%.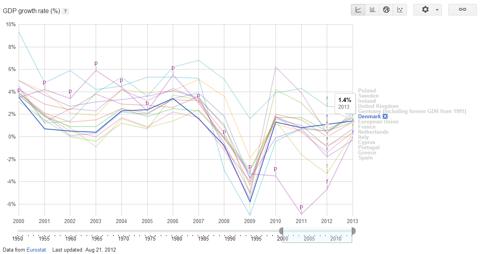 That being said, in GDP in Euro per inhabitant, Denmark leads the pack at €43,000.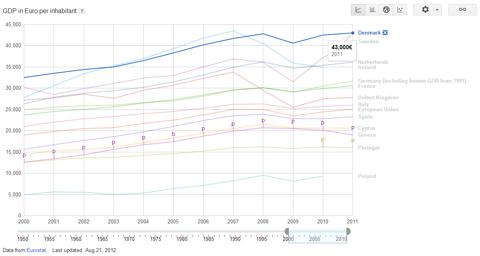 The downturn in 2008 affected the Danish far less than many of their European counterparts, as their debt to GDP ratio of 45% only trails Sweden in the region, and is far less than other perceived safe havens such as Germany.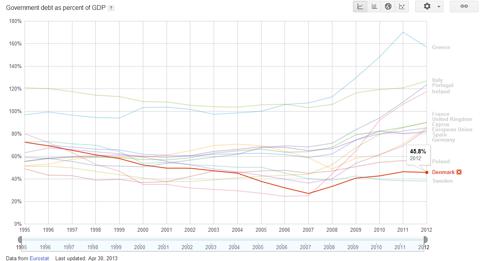 They have been running deficits as of late though, with 2012 budget deficit of 4%. This a trend to keep an eye on.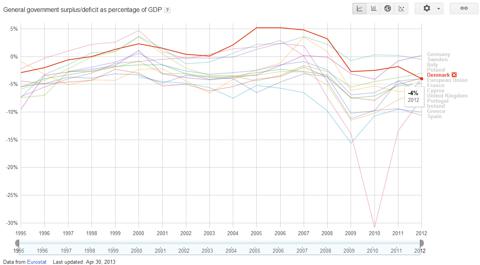 Focusing on government debt and deficits misses the largest threat to Denmark though, that being the gross debt to income ratios of households. One of the costs of a large welfare state is low savings and high leverage rates of households. This is especially true in Denmark, which boasts the highest debt to income ratio of all of Europe.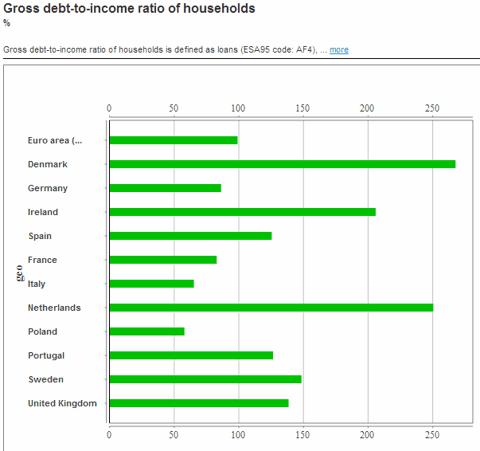 Source: Eurostat
Therefore, although the government didn't mortgage Denmark's future to sustain economic growth, Denmark's households did. This is a common theme with nations that didn't suffer as large an economic collapse in 2008, but were forced to mirror the monetary policy of the US and Europe, such as in my birthplace of Canada. Percentage of income wise debt payments have stayed the same, but more debt has been taken on due to the lower interest rates.
But the data had more surprises in store. In Canada, household debt to income has continued to grow, but in Denmark, households have already begun deleveraging. In addition, household debt to income didn't increase drastically in 2008, but rather in the boom times of 2004 and 2006.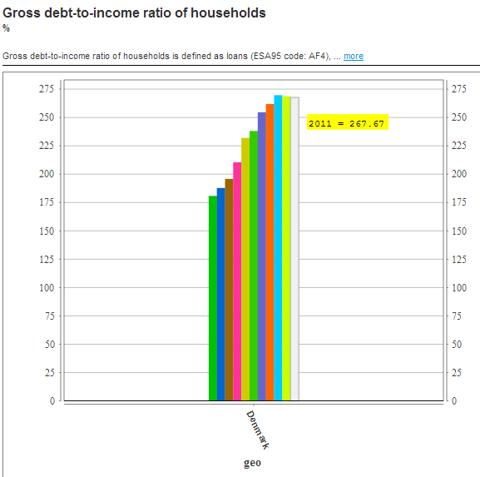 Source: Eurostat
The Danes fix their exchange rate to the Euro, and with inflation below trend and a low debt to GDP ratio, there is little chance of this changing in the near term. These two metrics are relevant with regards to predicting monetary policy as inflation is the key metric that central banks target and high debt to GDP nations have an incentive to monetize their debt via the printing presses, which the Danes are unable to do in Euro terms with a fixed exchange rate.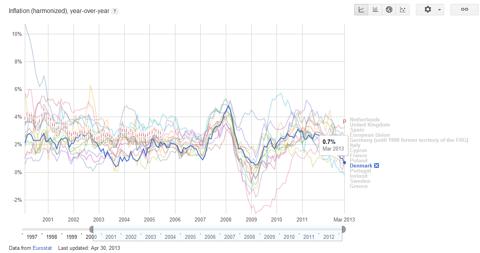 With regards to trade, the Danes have benefited greatly from the weak Euro that they peg to, with a current account balance of 5.01% in 2012, which the IMF forecasts to be maintained going forward.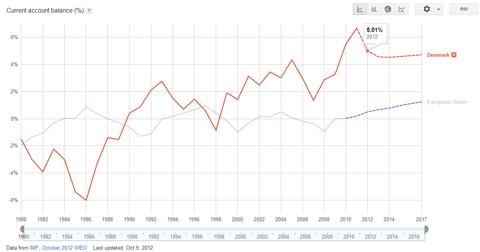 In conclusion, Denmark is perceived to be a very well-run country with solid fundamentals. The data back largely backs this up, with one exception, household debt to income. As interest rates rise in the future, the Danes will have to cut back on leverage and thus cut back on spending. This will have significant repercussions economically.
What you're buying in EDEN
Price is what you pay, value is what you get. What exactly do you get with EDEN?
As expected due to the weighting methodology of EDEN, this ETF has a diverse size of companies within it.

Source: ETF Database
This exposure to smaller cap companies provides greater upside to this ETF, as smaller cap companies have greater growth potential.
With regards to sector breakdown, EDEN is also diverse, with the largest weight in Health Care.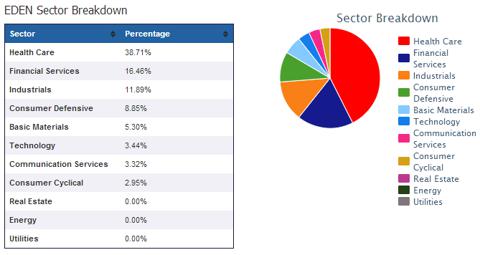 Source: ETF Database
Given the aging nature of Europe, and the world's population, being overweight health care could be viewed as a positive. In addition, there is no real estate, energy or utilities exposure in this ETF. The lack of real estate exposure is a plus in Denmark, as there is a property slump in the country which has driven down house prices to 2005 levels. The lack of energy and utility companies helps explain the low dividend yield.
The expense ratio is low at 0.53%.
Is EDEN a buy?
Denmark has been a post 2008 star in terms of unemployment, GDP, trade and stock market performance. The largest threat on the horizon is the household debt to GDP ratio, but the fact that households are already starting to address this imbalance despite interest rates continuing to be at record lows is an encouraging sign. This could be due to initiatives at the household level or banks tightening up credit, but what is key is despite this tightening of credit, the stock market has continued to perform well. Also, the largest trading partners of Denmark are in the EU, so as their economies recover, Denmark will benefit.
I expect Denmark to continue to perform well, and from my observations around Copenhagen, there is little cause for concern. That being said, I think there are better opportunities in the Eurozone which are offering better yields such as the Euro Stoxx 50 ETF (NYSEARCA:FEZ) and will wait until there is a dip in EDEN before considering buying.
Disclosure: I am long FEZ. I wrote this article myself, and it expresses my own opinions. I am not receiving compensation for it (other than from Seeking Alpha). I have no business relationship with any company whose stock is mentioned in this article.