DreamWorks Animation SKG, Inc. (NASDAQ:DWA) has recently put up some impressive numbers. On April 28, the company announced earnings for the first quarter and the stock rallied 25% immediately. The stock has held the gains firmly and it's perhaps even more impressive that DWA has rallied an additional 15% since the first day of trading following the announcement.
The first quarter was the best Q1 in company history with revenues coming in at $263.5 million and net income of $62.3 million. Earnings per share was $0.68 after adjustments compared to just 26 cents last year. The performance was largely due to the blockbuster hit Madagascar: Escape 2 Africa. As of the date of the announcement, the feature had raked in $595 million in box office sales worldwide. This is truly an impressive feat considering trends in consumer spending.
Box office and video sales could turn out to be an a-typical retail segment this year as the entertainment medium could be considered a "trade down" play for troubled consumers. Instead of taking a trip to the beach, sending the kids to summer camp, or other large-scale summer plans, more families are opting to stay home and make the most of the time in their home town.
As parents go crazy and kids get cabin fever (I speak from experience here) the need to get out of the house could cause traffic at the box office to pick up. At the same time, video sales should also be strong as kids seem to want to watch their favorite movies ad nauseum. I can't tell you how many reruns of Finding Nemo have gotten at our house.
The business of animation - or movie production of any kind - can be very much like the biotechnology business. Typically companies will expend significant development costs in order to produce a product that will hopefully realize blockbuster returns. The business can obviously be risky, but returns are enormous when a product is successful.
But unlike the biotech field, there is no competition with generic products which can dog medical drug companies. Imagine spending 5 years developing and 3 years testing a new treatment. After putting $50 million into the project, the company could only have 12 years remaining to realize profits on this treatment. After that, the competition can come in and reproduce the same drug without any significant development or testing expenses.
Animators like DWA, however can often develop a franchise that lasts for generations and continues to pay dividends to shareholders long after the idea was generated. Imagine what the "mickey mouse" franchise is worth today!
DreamWorks has spent a significant amount of time developing some very successful franchises. It should be noted that the Bee Movie and Flushed Away which were developed in 2006 and 2007 actually provided meaningful revenue for the company in the first quarter 2009. So as these franchises become well known and loved by children and adults, the long-term payoffs can be enormous. Factor in sales of action figures, stuffed toys, royalties from theme parks and more and pretty soon you have a perpetual line of strong revenue.
Looking at the financial stability of the company, it's impressive to see DWA with $260 million in cash and just $70 million in "borrowings and other debt." Now there are additional liabilities which come through the normal course of business, but the cash on hand gives DWA plenty of strength and flexibility. The company is actively repurchasing shares which is an indirect way of returning capital to shareholders. Year to date, DWA has repurchased 2.3 million shares at an average price of $20.20.
The stock is currently trading in the upper $20's with expected earnings of $1.52 for this year and $1.99 for 2010. While the multiple may be high compared to many retail names, I think it is better to compare DWA to successful biotech companies with similar cash-flow opportunities. A multiple of 25 would not be unreasonable given the potential for another blockbuster release coupled with the stability of current earnings off its established business lines. With this multiple, it would seem reasonable to expect a price as high as $50 in the next 12 months.
DWA is certainly a candidate for the ZachStocks Growth Model which is currently realizing returns significantly above the market. DreamWorks has a market cap a bit above our typical investments, but with the growth potential over the next several years, the potential for a strong return rivals any small-cap growth company.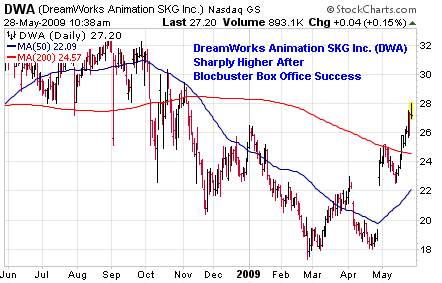 Disclosure: Author does not have a position in DWA