If you're reading this article, then you either already know what has happened to AVEO Pharmaceuticals (NASDAQ:AVEO) over the last few days, or you are horribly lost on the internet. For those who missed the Oncology Drug Advisory Committee, here's a brief summary of what happened to AVEO: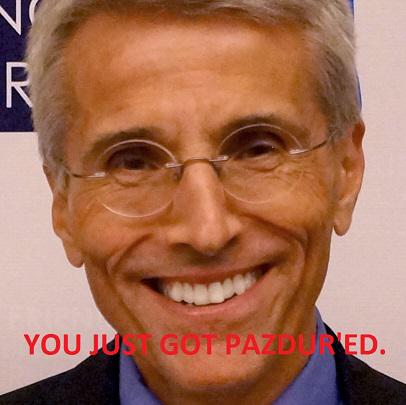 That's Dr. Richard Pazdur, the Chief of Oncology at the FDA. He spoke out vehemently against the approval of tivozanib without another Phase III trial. Vehemently may be an understatement.
The FDA's treatment of AVEO has been harsh, and its performance at the ODAC underscored that. However, I stand by my decision to hold call options through the ODAC meeting. If nothing else, the risk to reward ratio was very favorable, mainly because I did not get involved until after the briefing documents were released. The 30% avalanche in stock price post-briefing documents created a situation that can be very advantageous to call buyers: One, the premium on the options dropped dramatically; two, the short interest increased dramatically; three, nobody really expected a positive outcome. That being said, the fear of the FDA disregarding a positive recommendation from the ODAC would've tempered some of the rise, had the panel actually voted that way.
So, where does AVEO go from here? Let's back up for a minute. What's a tivozanib, and why should you care?
Renal cell carcinoma is a particularly nasty cancer. It is the most common genitourinary cancer, and also the most lethal. Unfortunately, it can be very asymptomatic, leading to an increased chance of metastases by the time the diagnosis is made. It is estimated that 250,000 people are diagnosed each year, and 100,000 die.
VEGF (vascular endothelial growth factor) inhibitors (like tivozanib, AVEO's flagship drug) basically work by starving the tumor. These types of solid cancers require a lot of blood flow to grow, and VEGF is a primary signal protein used in the development of new blood vessels. Block the signal protein, stop the development of new blood vessels, and you can prevent the progression of the cancer. However, angiogenesis, the creation of new blood vessels, can only be inhibited for so long, and the cancer will eventually spread.
Here's a quick recap of the TIVO-1 study results:
Based on independent radiological reviews, tivozanib demonstrated a statistically significant improvement in PFS with a median PFS of 11.9 months compared to a median PFS of 9.1 months for sorafenib in the overall (Intent To Treat) study population (HR=0.797, 95% CI 0.639 - 0.993; P=0.042). Objective response rate (ORR) for tivozanib was 33% compared to 23% for sorafenib (p=0.014). The efficacy advantage of tivozanib over sorafenib was consistent across subgroups in the study.

In patients who were treatment naïve for advanced RCC (70% of total study population), tivozanib demonstrated a statistically significant improvement in PFS with a median PFS of 12.7 months compared to a median PFS of 9.1 months for sorafenib (HR 0.756, 95% CI 0.580 - 0.985; P=0.037). This is the longest median PFS reported to date in treatment naïve advanced RCC patients in a pivotal study. In the subpopulation of patients who were pretreated with systemic therapy including cytokines (30% of total study population), tivozanib demonstrated an improvement in PFS with a median PFS of 11.9 months compared to a median PFS of 9.1 months for sorafenib.

Study results demonstrated favorable tolerability as evidenced by a distinctively low rate of dose interruptions and reductions. The most common adverse event (all grades/≥grade 3) for tivozanib was hypertension (T: 44%/25% vs S: 34%/17%) and for sorafenib was hand-foot syndrome (T: 13%/2% vs S: 54%/17%). Other adverse events included diarrhea (T: 22%/2% vs S: 32%/6%), fatigue (T: 18%/5% vs S: 16%/4%), and neutropenia (T: 10%/2% vs S: 9%/2%). The rate of dose interruptions due to adverse events was 18% for tivozanib compared to 35% for sorafenib (p<0.001).The rate of dose reductions was 14% for tivozanib compared to 44% for sorafenib (p<0.001).
TL;DR: It works better than sorafenib with less side effects (excluding hypertension).
Sounds pretty encouraging, right? It should; I took that directly from a company press release. Be that as it may, the PFS and tolerability are vastly improved versus the control arm. (Cue the comment section debate about the chosen comparator...I can hear the angry clicking from here.) The information that was absent at the time of this release was the overall survival rate. On a whole, the OS medians between the tivozanib and sorafenib arms were within two weeks of each other, but the patients in the control arm lived longer (28.8 months for tivozanib, 29.3 months for sorafenib):

Therein lies the first problem. So, what happened?
We don't know, because crossover happened- and it happened a lot. Control arm patients who were not responding well to sorafenib were allowed to switch over to different treatment options. Some 53% chose to, and most of them took tivozanib. Only 17% of the tivozanib patients moved on to different treatment. This creates an obvious problem: How can you generate an accurate assessment of the overall survival impact of tivozanib, if more than half of your control patients also took the drug?
In addition to that, the FDA took issue with the fact that 88% of the study participants were from Central or Eastern Europe (hence the headline of this article). Company executives explained this as being a result of a lack of patients to recruit in North America due to multiple ongoing studies by other companies.

The FDA indicated at the ODAC that the data from the study "confounded" them, and had been discussed internally for many months. (Although I am fairly certain that the FDA exists in a tear in the space-time continuum, where days inside become months outside. This is the best explanation I have for Amarin's (NASDAQ:AMRN) lack of an FDA exclusivity decision, as well.) Quite frankly, it's my opinion the FDA never had any intention of allowing AVEO to get marketing approval for tivozanib without another Phase III study, and put the onus on the ODAC to do the dirty work. I've seen enough dog-and-pony shows to recognize one.
I find myself asking this simple question: What does the FDA expect to find with another study? There are obviously no answers to be had from the TIVO-1 study anymore. I find the two week difference in overall survivability to be statistically insignificant. The only thing that gives me pause is that the higher number of deaths in the tivozanib arm (vice the control) that can be attributed to progression of the disease: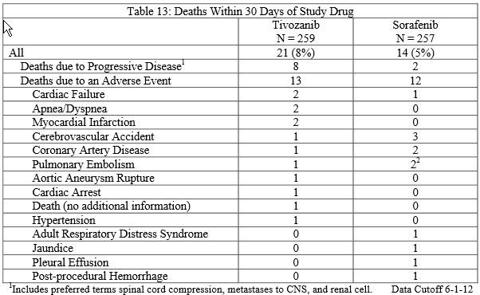 However, I find it highly unlikely that tivozanib is making the cancer worse, and I expect the next trial (assuming there is one, which I think is a pretty fair assumption at this point) to support this.
It should be noted that AVEO has more than one cancer drug under development. I'm not going to delve into those at this time, but if you are considering a move on AVEO, it would behoove you to be aware of its other drug candidates.
The bottom line is this: I believe that AVEO screwed up by allowing crossover in its Phase III trial. I also believe that the company acted in line with what I consider proper business ethics, and it backfired in the worst way possible. It is quite a quandary that companies must deal with when testing new drugs: Do you allow patients who are not benefiting from the control arm to switch to the developmental drug? Would you deny them the chance at a better or longer life? The other side of that argument is this: Do you risk the drug being denied marketing approval due to the results being "confounded" by the trial design? Not from a financial standpoint, but rather, from the standpoint that now tens of thousands of patients, instead of a hundred crossovers, are not able to receive a potentially better treatment for an often fatal condition? I do not envy the company's position, and I do not know what I would do in that scenario. However, I can assure you that management did not think that the study design would lead to such an outcome as we have seen. We have the benefit of hindsight, and armchair quarterbacking is unproductive and unfair.
Now, the reason anyone is really here: How does one trade this moving forward? As I previously stated, I held May calls through the ODAC. I also covered my losses in their entirety by trading the bounce play. I now hold October calls. I believe that the reset button has been pressed on the AVEO stock price, but not on the company. AVEO still has a very promising drug candidate, with more in development. Astella owes up to $1.3B in milestone payments on tivozanib in the event of eventual approval. Astella's next move means a lot in the near term, assuming that AVEO doesn't pull off a Hail Mary and get a post-approval trial recommendation from the FDA. If Astella really believes in the potential of tivozanib and the other candidates, it could buy the whole company for 50-75% less than the potential milestone payments. (Please do not trade off this idea!) The company has a lot of cash, but a serious amount of cash burn. AVEO is going to need money, so beware secondary offerings, but if you see one, that's a potential entry point for the serious longs, with serious patience. As for me, I'll keep playing the outside chances. I like the high-risk, high return, low capital commitment that comes with OTM calls on AVEO. I see downside to this company in the near term, but the potential return on long puts or shorting is outweighed by the upside risk. Just my thoughts, make your own decisions.
Finally, a piece of advice (and final Casablanca reference) for AVEO management: When moving forward, "Don't bring up Moscow. It's poor salesmanship." Good night and good luck.
Disclosure: I am long AVEO. I wrote this article myself, and it expresses my own opinions. I am not receiving compensation for it (other than from Seeking Alpha). I have no business relationship with any company whose stock is mentioned in this article.