Citrix Systems (NASDAQ:CTXS), provider of products for un-tethering people from their desktop computing platforms, has developed and/or acquired a broad array of products and as a result the company is looking ripe for harvesting by a larger company. The company has a number of very large partners such as Cisco (NASDAQ:CSCO), Microsoft (NASDAQ:MSFT) and Hewlett-Packard (NYSE:HPQ), any of which could be a prime candidate for making an acquisition. Historically, when a company matures to the point of Citrix, some larger company decides to acquire them, so it would not be a surprise to see Citrix acquired at some point in the near or near-to-distant future.
In the most recent quarter, the company reported total revenue of $673 million, representing a year-over-year growth rate of 14%. As proof of maturity, David James Henshall, CFO, Principal Accounting Officer, Executive Vice President of Operations and Treasurer, noted in the company's Q1 2013 earnings conference call held on April 24, 2013, that the company closed more than 41 transactions for more than $1 million with sales in a wide array of areas such as technology, healthcare and financial services.
Citrix is a global company and had year-over-year revenue growth of 17% in the Americas, 9% in EMEA and 15% in the Pacific region.
After recently acquiring Zenprise, Citrix immediately took advantage by working with companies such as Hewlett-Packard, CSC (CSC), Atos and Fujitsu for rolling out new solutions based on Zenprise's XenMobile (renamed from MobileManager to XenMobile after the acquisition) which enables companies to provide mobile device management.
Mark B. Templeton, CEO, President and Director of Citrix, noted in the Q1 2013 conference call that macroeconomic conditions pushed some larger desktop deals out to the next quarter. Additionally, Mr. Templeton also noted the company has been taking market share with respect to enterprise and providers in cloud networking.
The stock price is down for the year and is near its previous support level in the $60 range as shown below: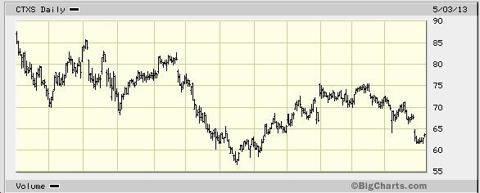 While not cheap, the company's Price-to-Earnings (P/E) ratio of 33 and Price-to-Sales (P/S) ratio of 5.6 are not out of the range for consideration as an investment, since the company is growing very rapidly in several high-growth technologically related market segments. With the stock near its previous support level, potential for being acquired and a potentially good Q2 earnings report due to deals in Q1 being pushed out to Q2, this could be a good time to consider a long investment in the company. Since the P/E and P/S ratios are pretty expensive, a protected position will be considered such as the married put stock option strategy. With expensive fundamental ratios, any bad news could result in a dramatic plunge in stock price, so it's good to have some protection.
The married put stock option strategy positions an investment for unlimited upside with limited downside. A married put position can be entered by purchasing a put option against a long position in the stock. The expiration month for the put option is typically selected several months out in the future in order to reduce the per-day cost of the put option "insurance."
Several potential married put positions were found for Citrix with option expiration in September of 2013 as shown below: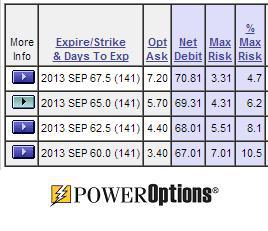 The married put position using the 2013 Sep 65 put option looks attractive, as it has a maximum potential loss of 6.2%, so even if the price of the stock goes to zero, the maximum loss which can be sustained is 6.2%. The details for entering the Citrix married position are shown below:
Citrix Married Put Position:
Buy CTXS stock (purchased or existing)
Buy 2013 Sep 65 put option for $5.70
A profit/loss graph for one contract of the Citrix married put position is shown below: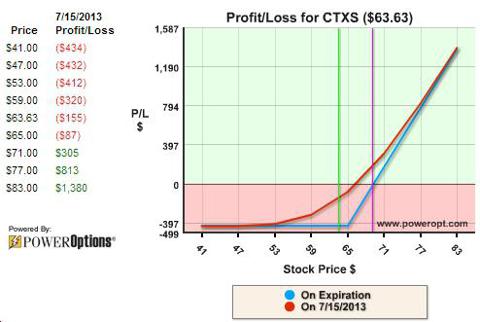 For an increasing stock price, the value of the married put position also increases. For a stock price below the $65 strike price of the put option, the value of the married put position remains unchanged. And, if the price of the stock increases to above the $65 strike price of the put option, then income methods for receiving income and reducing risk can be applied as taught by RadioActiveTrading.com.
Look forward to hearing your comments below!
Disclosure: I have no positions in any stocks mentioned, and no plans to initiate any positions within the next 72 hours. I wrote this article myself, and it expresses my own opinions. I am not receiving compensation for it (other than from Seeking Alpha). I have no business relationship with any company whose stock is mentioned in this article.