Green Dot (NYSE:GDOT), a Pasadena, CA-based company, is a leading provider of prepaid MasterCard (NYSE:MA) and Visa (NYSE:V) debit cards. Green Dot products are sold in more than 60,000 retail locations including drug stores, grocery stores, convenience stores, and discount department stores. The company also has a discounted offering available exclusively through Wal-Mart (NYSE:WMT).
Recent Earnings Results - April 30, 2013
Green Dot reported Q1 earnings of $0.42 share, which was $.05 better than the Factset consensus estimate. Non-GAAP revenues rose 7.8% year-over-year to $155.8 million versus the $143.2 million consensus. The company guided earnings in-line to a range of $0.95-$1.20, but raised its revenue guidance to $525-$550 million, up from $510-$540.
Key Takeaways
Investors were particularly impressed with this quarter's earnings results given the fact that Green Dot was facing the headwinds of increased competition, new risk controls, and a decline in tax refund volume. Despite the difficult environment, several of the company's key metrics demonstrated improvement:
Direct deposit accounts increased 12% YOY

Non-GAAP revenue per active card increased 13%

Cash transfers increased 11%

Purchase volume per active card increased 7%

Wal-Mart revenue was up 11%
Green Dot shares soared more than 13% on the earnings results. Given the positive results, Compass Point upgraded the stock to a BUY from Neutral. Analyst Doug Greiner views the recent revenue strength as evidence that Green Dot's business model has not been derailed by increasing competition. He thinks the shares are cheap at 8.6X his estimate and also mentioned the company as a potential takeout candidate.
Similarly, KBW analyst Sanjay Sakhrani conceded that Green Dot "appears to be coexisting with American Express' (AXP) Bluebird product fairly well". He also highlighted the fact that Green Dot has faced competition at essentially all its retail locations for 5 to 12 months now, and still managed to generate strong revenues. Goldman Sachs reiterated its Neutral opinion on the stock, but raised its price target from $14 to $15.
New Competition
According to a 2012 industry analysis by IBIS World, the prepaid debit card industry consists of 116 companies, generating approximately $3 billion in revenue, and growing at a rate of 43.8%. A Federal Reserve study showed that prepaid cards were the fastest growing method of non-cash payment. Mercator Advisory Group, a consulting firm, predicts that Americans will put $202 billion on reloadable cards this year alone.
There have been several new entrants into the market over the last year. American Express rolled out its BlueBird program at Wal-Mart stores which competes directly with Green Dot's Wal-Mart Money Card. Green Dot shares lost more than 20% of their value back in October when the AMEX announcement was made.
Green Dot derives more than 60% of its revenues from its Wal-Mart cards. Mercator Advisory Group estimates that a total of $7-$9 billion are loaded onto Wal-Mart Money Cards which charge a $3 fee. Amex's Bluebird card has a lower fee, but it is only accepted by the 6.2 million merchants in the U.S. that accept American Express. That compares with 9.2 million each for MasterCard and Visa, according to a Nilson Report.
In addition, there are multiple competitive offerings at nearly all Green Dot retail partner locations. There have also been aggressively promoted new prepaid offerings from big banks such as JPMorgan Chase (NYSE:JPM), Bank of America (BAC), Citigroup (C), US Bancorp (USB) and Wells Fargo (WFC). The big banks hope to leverage their existing customer base in order to gain market share.
The other aspect attracting the big banks is that typically these customers are "low touch". They are comfortable serving themselves through mobile banking. According to Chase's Head of Consumer Banking Ryan McInerney, it costs 40% less to serve its Chase Liquid prepaid card customers, than clients with a checking account.
There are also many niche players. For example, Justin Bieber is the new spokesperson for the BillMyParents card. Television host and personal-finance author Suze Orman also has her own branded card. Music executive Russell Simmons' Rushcard Live card is actually a Green Dot product in disguise which charges higher fees.
New Risk Controls & Weak Tax Refund Season
One of the other headwinds Green Dot management cited during the quarter were the additional costs associated with enhanced risk controls such as multi-factor authentication (screening) and portfolio monitoring. As a result, the transaction approval rate declined approximately 10% year-over-year. The enhanced screening methods also put downward pressure on reloads, active cards, and overall revenue. Management had also guided that they had been expecting a weaker/delayed tax refund season to negatively impact Q1 comparisons.
The Attraction of Prepaid Cards?
Critics of prepaid cards argue that customers are being charged to use their own money. However, there are many reasons why consumers are flocking to these cards.
Aftermath of credit recession - According to the Federal Reserve Flow of Funds report, credit growth in America declined from its peak level of 9.6% in 2006 to a negative 2.2% in 2010. It remains at those levels today due to a consumer aversion to credit, lack of credit available due to more stringent lending standards, and lower demand due to fewer credit-eligible borrowers.

Bank fees - A whopping 89% of the checking accounts offered at the 12 largest U.S. institutions involve bank fees. Fees, combined with a low-interest rate environment, make checking accounts less desirable. Consumers are trying to avoid banks entirely. Prepaid debit cards allow the consumer to avoid both credit card and bank fees such as monthly account fees and overdraft charges.

Ease of use and general availability - Prepaid cards are available at 60,000+ retail locations, including Wal-Mart, Target, drug stores, supermarkets, and convenience stores. The cards can be reloaded at the store or online. The cards can also receive direct deposits such as paychecks and government transfers. Green Dot cards are part of the network of over 22,000 MoneyPass ATMs.
Target Market
According to the company's 2010 Annual Report, Green Dot targets consumers living in household's that earn less than $75,000 annually across four consumer segments:
Never-banked- households in which no one has ever had a bank account
Previously-banked- households in which at least one member has previously had a bank account, but no one has one currently
Under-banked

- households in which at least one member currently has a bank account, but that also use non-bank financial service providers to conduct routine transactions like check cashing or bill payment
Fully-banked- households that primarily rely on traditional financial services
Green Dot Cards and Fees
According to the company's Q1 Earnings Call Supplemental Materials, Green Dot is positioned #1 in prepaid, #1 in total active customers, and #1 in total reloading customers. The company is seeing reloaders being retained for an average period of 12 months and direct deposit customers for an average period of 20 months. More than 80% of the firm's revenue is derived from reloading customers. The company argues these retention levels equate to a higher quality customer mix.
Typically, Green Dot card purchasers pay $4.95 for a card and then a $5.95 monthly fee. ATM use at a MoneyPass ATM location is free. There is no fee to reload a card with direct deposit. There is a $4.95 reload fee at retail locations or using a MoneyPak.
Get the card

Online (card has no value until loaded)

No fee

In a retail store (includes initial cash load)

Up to $4.95

Monthly Charge. Have this charge waived in any billing cycle when you load at least $1,000 or make 30 purchases in any billing cycle. 2

$5.95
USE AND RELOAD THE CARD

Direct Deposit your paycheck or government benefits

No fee

Add cash at participating retail locations with Swipe Reload at the register or with a MoneyPak

Up to $4.95

USE ATMs AND GET CASH

Withdrawal or balance inquiry at MoneyPass@ ATMs

No fee

Non-MoneyPass ATM withdrawal

$2.503

Non-MoneyPass ATM balance inquiry

$0.503

Bank teller cash withdrawal

$2.504
Other

Replacing a lost, stolen or damaged card

$4.95

Transaction fee for purchases with merchants outside the U.S.

3%

Other optional services may be available

Fees vary
Green Dot offers prepaid Visas and MasterCards, Online Shopping Cards, Express Bill Pay Cards, Prepaid Student Cards, Visa Prepaganda, Prepaid NASCAR cards, Prepaid AARP cards, and a Sallie Mae My Flex Card. The company also offers a MoneyPak product which facilitates the transfer of funds to other entities such as PayPal.
GoBank
This summer, Green Dot is expected to be launching a mobile-only bank platform called GoBank. GoBank is a two year work in progress for Green Dot that started with its purchase of a Utah bank back in 2011 and the acquisition of the mobile app developer Loopt in 2012.
One unique aspect of the venture is that account holders will be allowed to pay a voluntary monthly fee between $0 and $9, depending on what they think the service is worth. GoBank is targeting people under 40 who have an iPhone or Android smartphone and are dissatisfied with their bank. It will be supported by a network of more than 40,000 free ATMs.
Because of the voluntary fee structure, it is difficult to estimate the revenue potential of the venture, but it does offer a possible area of future growth for Green Dot. In addition to account fees, GoBank will make money by collecting from merchants for GoBank debit card usage. There are also other value-added revenue drivers such as the purchase of custom debit cards and float income.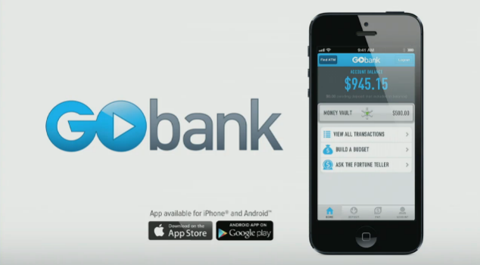 Conclusion
Despite a very challenging environment this last quarter, Green Dot managed to execute well in Q1, to the surprise of many of its skeptics. It remains to be seen if Green Dot will see further market share attrition given the number of new entrants to the prepaid debit card space. Green Dot will likely continue pursuing its niche partnership strategy (NASCAR, AARP, Sallie Mae, Rushcard Live) in order to demonstrate product differentiation relative to its peers.
The company itself expects a $100 million headwind which it has already factored into its guidance to account for continued competition and negative risk control effects. Another potential drag on revenue is that Wal-Mart commission rates are slated to increase beginning on May 1, in-line with contractual obligations.
Most analysts are not modeling a material impact in 2013, from GoBank's expected summer launch. If GoBank does grow quickly, the company will have to keep plenty of cash on hand to meet capital requirements. That means no return of cash to shareholders.
One additional item of note: the stock has been a rumored take-out candidate since another large competitor, NetSpend (NASDAQ:NTSP), received an offer to be acquired in February by global payment solutions provider TSYS (NYSE:TSS).
The remainder of the year will be quite critical for Green Dot, and not without its challenges. But as a market leader in the growing prepaid debit card space, the company represents an interesting opportunity to cash in on that trend.
Disclosure: I am long BAC, C. I wrote this article myself, and it expresses my own opinions. I am not receiving compensation for it (other than from Seeking Alpha). I have no business relationship with any company whose stock is mentioned in this article.
Disclaimer: The opinions expressed above should not be construed as investment advice. This article is not tailored to specific investment objectives. Reliance on this information for the purpose of buying the securities to which this information relates may expose a person to significant risk. The information contained in this article is not intended to make any offer, inducement, invitation or commitment to purchase, subscribe to, provide or sell any securities, service or product or to provide any recommendations on which one should rely for financial, securities, investment or other advice or to take any decision. Readers are encouraged to seek individual advice from their personal, financial, legal and other advisers before making any investment or financial decisions or purchasing any financial, securities or investment related service or product.
Information provided, whether charts or any other statements regarding market, real estate or other financial information, is obtained from sources, which we and our suppliers believe reliable, but we do not warrant or guarantee the timeliness or accuracy of this information. Nothing in this article should be interpreted to state or imply that past results are an indication of future performance.