Intel (NASDAQ:INTC) recently announced it will launch its Haswell processors at the Comdex 2013 show in Taiwan on June 4. Haswell, the codename of Intel's new 22 nanometer processor microarchitecture, is capable of running almost anything from tablets to Ultrabooks to powerful desktops and servers. Intel said:
In approximately 3,337,200,000,000,000 nanoseconds, Intel will reveal all there is to know about the highly anticipated 4th generation Intel® Core™ processor family. The new family of processors will surpass old technology expectations and usher in a host of striking new designs with incredible performance and extraordinarily long battery life.
Intel's financial results have been battered as the global PC market continues to shrink while business and consumers are fast adopting mobile devices like smartphones and tablets. However, the good news for investors is that Intel has been fairly quick in repositioning itself with Haswell to capture a large pie in the mobile space. On top of that, Intel's dominance in datacenter coupled with an expected PC comeback later this year will provide additional strength to Intel's stock.
Intel to Stage a Turnaround with Haswell
Haswell, the successor to Intel's Ivy Bridge architecture, will be launched in three major forms:
Desktop version

Mobile/Laptop version

BGA version
Haswell is a "tock" in Intel's tick/tock cadence, which implies it's a new microarchitecture, not a die shrink (tick). With Haswell, Intel is poised to challenge Advanced Micro Devices (NASDAQ:AMD) and Nvidia (NASDAQ:NVDA) in the mainstream graphics market. In a real-world performance, Haswell threatened Nvidia's competitive advantage in graphics when it registered a performance 18% faster than Ivy Bridge in Hitman at 1366×768, but 50% faster in DiRT 3 at the same resolution. According to a recent report, "Haswell's low-power, 10W TDP ULV parts will challenge the price/performance ratio of AMD's second-generation Brazos SoC (codenamed Kabini) as well as any ARM-based Windows 8 notebooks that companies like Qualcomm (NASDAQ:QCOM) might bring to market."
Intel's Haswell Assault on ARM
Intel believes that with Haswell and other next generation processors, especially beyond 22 nm, it will eventually take the lead that currently ARM Holdings (NASDAQ:ARMH) may have in low power processing.

Intel took its time to wait for sub 22 nm nodes to be breached before declaring war on ARM in low power processing. Intel has its line of sight all the way up to a 5 nm process. Intel's first 14 nm processor Broadwell, the "tick" version of Haswell microarchitecture, will be introduced sometime next year to make a final assault on ARM. Meanwhile, for ARM, Moore's Law seems to be slowing down with foundry supply drying up at lower cost.
Haswell in PCs
Intel is predicting a turnaround in its PC and datacenter units by the end of 2013. PCs aren't becoming obsolete at all. In fact with Windows 8 enabling touch they're going to be reinvented. If tablets can become so popular, why not slick and light notebooks or Ultrabooks, which are way more efficient? After all they're nothing but slightly extended versions of tablets with keyboards. During the latest earnings call, Intel CFO Stacy Smith said:
I think that as the OEMs start looking at new form factors that they can design around our new chips (Haswell in particular and maybe Bay Trail) and Windows 8 enabling touch, the explosion and form factors and competitiveness of that platform is going to be substantially different at price points down into the [$300] or $400 range enabling touch. We didn't have that last year. So you go into the prime selling season with new products, new technologies, new form factors, and new capabilities that up to now [had] unapproachable price points.
Haswell in Mobility
Intel is looking to expand its reach in the fast growing smartphone and tablet markets by introducing energy-efficient processors. Intel's mantra for success going forward will be to drive down the power consumption of its x86 chips in both the Core and Atom platforms. The 22 nm Haswell systems-on-chips (SoCs) will offer the greatest leap in power efficiency from one generation to another, Intel said.
Stephen Belanger, an analyst with Technology Business Research, said in a research note that Intel's more energy-efficient processors -- including Haswell, Bay Trail and the Clover Trail+ Atom chips -- will help the company better compete with ARM. "However, sales of the next generation of Intel-powered PCs will be threatened by weak demand and uncertainty surrounding Windows 8 adoption," he added.
Microsoft (NASDAQ:MSFT) recently launched its Haswell powered Surface Pro tablets, while Hewlett-Packard (NYSE:HPQ) and Dell (DELL) are also planning to introduce a standalone tablet or a tablet with a keyboard based on Haswell. Haswell's mobile performance kick is remarkable -- with 40 execution cores in GT3 combined with an on-die frame buffer -- Haswell certainly has more power than any other SoCs.
Haswell in Datacenter
Stacy Smith reminded investors that Intel forecasts "double-digit" revenue growth for the datacenter group and "low single digits" revenue growth for the PC group in 2013. Analysts at FBR Capital recently issued a broad overview piece on the emerging datacenter technologies such as microservers and software-defined networks (SDN). Despite this, they feel Intel has bright prospects in datacenters, they seem to be worried if ARM enables many chip competitors in servers:
Intel has acquired a series of strategic assets (including Fulcrum Micro, Wind River, McAfee, and Infineon), enabling the company to more deeply penetrate the datacenter over the next decade. Intel's addressable market moves beyond computing solely and into storage, switching, security, and specialty network equipment. Overall, Intel's portfolio of acquisitions seeks to enable commoditized hardware platforms, while leveraging its value proposition in x86 processing driven by Moore's law. Despite our enthusiasm for Intel's entrance into new markets, we remain somewhat tempered overall, as the coming threat of 64-bit ARM server processors is likely to cede some portion of Intel's 95% server CPU share.
With Haswell, Intel will replace the low-voltage Xeon E3 server chip this year. The company will launch its second-generation Atom SoC this year, the 22 nm Avoton, which will include an integrated network fabric. The datacenter is currently a $50 billion market in terms of sales each year and will grow steadily for at least another decade. Intel's dominance in this market should provide a firm floor to its stock.
Intel's Valuation and Projected Share Price
Now I will focus on how Intel's top and bottom line could be impacted after the launch of Haswell and other next generation processors. For top line, the general expectation is that Intel's datacenter group would grow at an average 20-25% rate, while the PC group is expected to grow at low double digits. In mobility, Intel could make an amazing comeback with a 30-40% revenue growth.
DCF Analysis: I assume Intel will generate free cash flow at a CAGR of minimum 20% from 2014 for the next three to five years, after the launch of its 14 nm Broadwell processors. Intel plans to launch 14 nm Skylake in 2015 and 10nm Skymont in 2016, which will result in huge cash flow growth.
Key inputs into the DCF valuation:
FCF (Free Cash Flow) Growth: 20%

WACC (Weighted Average Cost of Capital): 11%

Long-Term Growth: 4%
Using the inputs stated above, I arrive at an intrinsic value of $46.60 per share for Intel.
Relative Valuation: In terms of PE multiple, Intel is currently trading at a significant discount compared to its peers.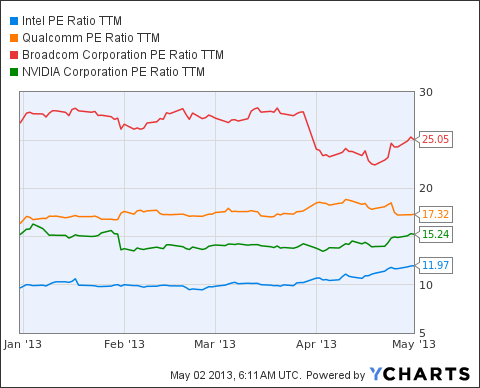 INTC PE Ratio TTM data by YCharts
An average 14% earnings growth from 2014 up to 2018 will boost Intel's EPS close to or beyond $3, although I believe that's pretty conservative. A PE multiple of 15 could lift Intel's share price close to $45. The following table shows Intel's projected share price based on an annual EPS growth of 14%.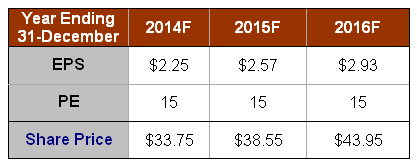 Conclusion
Intel's stock has seen a small rally in the last few days, which I believe is the beginning of something big. A long-term uptrend is certainly a possibility right now and investors are advised to buy the stock on dips.
Disclosure: I am long INTC. I wrote this article myself, and it expresses my own opinions. I am not receiving compensation for it (other than from Seeking Alpha). I have no business relationship with any company whose stock is mentioned in this article.