The early stages of bull markets are characterized by stock prices rising in the face of bad news. It is generally accepted that the majority of individual investors are led astray by the negative news flow that accompanies a trough in market prices, selling rather than buying, because they are looking in the rear view mirror, so to speak. That mirror is reflecting current-day reality, while the markets look forward. Hence, a wedge grows between reality and the perception that tomorrow will be better, which is reflected in rising stock prices. For this reason, the market has always been considered a discounting mechanism, bottoming, and then beginning to rise, prior to the economy showing measurable signs of improvement. This wedge closes as the real economy eventually does improve, along with the news flow, validating the prior run-up in market prices.
The same psychology has historically impacted investor decision-making at market tops, as increasing amounts of money flow into the stock market as it approaches its highs. Even after the market has peaked, it is commonplace to see a positive news flow that is validating the prior run-up in market prices. These positive data points are what economists consider lagging indicators. Stock market valuations typically begin to erode well before the news flow turns sour. Again, this phenomenon leads to a wedge between the reality of the present day and the market's perception of what tomorrow will bring, as market prices decline. This wedge or gap eventually closes as the economic fundamentals deteriorate, and the cycle begins anew.
There is always a debate among investors as to where we stand in this cycle. What has many investors perplexed today, and for good reason, is that they are caught between the jubilation of rising stock prices and the apprehension that reality has not kept pace with the stock market's advance in recent months. It seems as though the cycle has been broken. Most investors understand this to be the result of monetary policy. Through the implementation of its quantitative easing (QE) program, the Fed is using what has historically been a discounting mechanism, the stock market, as a catalyst to achieve its objectives.
There are some investors who see no wedge at all. They believe that the reality on the ground is keeping pace with the gains we see in the stock market. Then there are those who recognize that a wedge exists, but they are confident that this gap will close in coming months with improvements in the economic data, believing in the efficacy of current monetary policy. They remain undeterred when the preponderance of economic reports falls short of estimates. To the contrary, these disappointments are viewed as good news because they suggest that the current monetary stimulus that is fueling paper wealth will continue for a longer period of time or be increased. Others, like me, not only see a wedge between perception and reality, but also see it widening, believing that at this stage in the cycle there should be no wedge at all. At a minimum we should be seeing a diffusion index of economic data improving commensurate with the rise in stock market valuations, but that is not happening.
Stock prices tumbled on May 1 following a barrage of disappointing economic reports. After abysmal survey results for the Texas manufacturing index and the Chicago business barometer, the ISM manufacturing index for April fell below expectations, declining to 50.7. A similar measurement of US manufacturing strength for April, provided by financial data firm Markit, revealed that factory activity was the weakest it has been in six months. We also learned that construction spending tumbled 1.7% in April to a seven-month low, when it was expected to rise .6%, and that vehicle sales for the month of April fell to a pace of 14.9 million on an annualized basis, when they were anticipated to be at a run rate of 15.3 million. Then the ADP employment report indicated that the US economy added just 119,000 private-sector jobs in April, which was below consensus expectations of 155,000. Lastly, the Thompson Reuters/PayNet Small Business Lending Index showed small businesses reduced their borrowing for a fourth month in a row. More troubling from this report was the fact that delinquencies on outstanding loan balances rose for the first time in more than three years. This was a lot of bad news for investors to digest over just a 48-hour period, and it was not surprising to see the market indices decline by more than 1% on Wednesday.
What was surprising was to see the market recover these losses and eke out a new high the very next day on the basis of a decline in weekly unemployment claims. Some may suggest that the ECB's rate cut was a factor, but the Euro Stoxx 50 index closed barely in positive territory at the end of the day. I'll grant that this claims number was the lowest figure since January 2008, one month after the last recession began, but this brings me to another point. Employment is a lagging indicator, meaning that it has little value in predicting economic activity. In fact, if claims last bottomed in early 2008 as the stock market was rolling over, how are we to interpret the same good fortune today? Over the past week we have continued to see the wedge widen with the balance of economic reports showing further deterioration as the stock market grinds higher.
I found little comfort in Friday morning's payroll employment report. The Bureau of Labor Statistics (BLS) reported that the US economy created 165,000 jobs in April, meeting a consensus estimate that had been lowered substantially over the prior few days. There were no manufacturing jobs created and the economy lost 6,000 construction jobs. Instead, we gained 38,000 new positions in bars and restaurants, 30,000 sales people in retail stores and 31,000 new temp positions. The discouraging trend in demographics continued, with Americans in the 25-54 age group losing 16,000 positions, while those over the age of 55 gained 79,000 positions. Finally, the BLS calculation included 193,000 jobs through its birth/death adjustment.
How long this wedge between perception and reality can be maintained is hard to say, considering we are in uncharted territory in terms of the current monetary experiment. I believe it took form in earnest six months ago, shortly after the Fed began its latest liquidity blitzkrieg (QE3) in mid-September, and it has been widening ever since. If rates of economic growth and corporate profitability accelerate moving forward, then they will likely validate the stock market gains we have seen over this period. If rates of economic growth and corporate profitability continue to deteriorate moving forward, which is what I expect to see, then I believe perception will realign with reality in the form of a decline in stock market valuations that could easily return the S&P 500 (NYSEARCA:SPY) back to the levels where it found support last November. Either way there will be a regression to the mean and the wedge will close. It always does.
One new and very significant dose of reality that market perceptions will have to contend with moving forward is the lack of corporate revenue growth and its implications for employment. Approximately half of the S&P 500 constituents reported first-quarter earnings through April 25, as can be seen in the chart below, with more than 57% missing revenue estimates.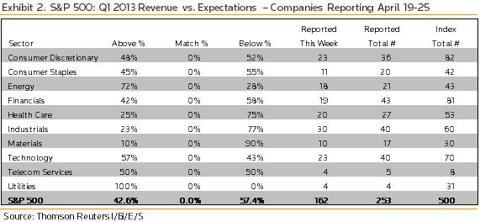 By the end of that week, with 271 S&P 500 companies having reported, that number had risen to 62%. What investors should be most concerned about is that the aggregate revenue figure for the S&P 500 at that point reflected a decline in revenues of nearly 1.5%. Companies don't hire when revenue growth slows, but when revenues decline their focus shifts to reducing expenses, which eventually means eliminating jobs rather than creating them. A decline in corporate revenues is what I would consider a leading indicator, because after revenues decline companies begin to cut costs in order to preserve profitability. One of the last steps corporate managements take to cut costs is to lay off workers, but by this time profits are already declining and share prices reflect this reality. Investors should not take their cues from employment statistics.
As the stock market has levitated these past six months, common sense would dictate a continuation of the rise in long-term Treasury yields that began last November, confirming a strengthening of the US economy. Chairman Bernanke suggested in January that rising long-term yields would be an indication that his program is working. Instead, yields have fallen precipitously since March, returning to the lows we saw last November. It appears that the Treasury bond market has closed the gap between perception and reality.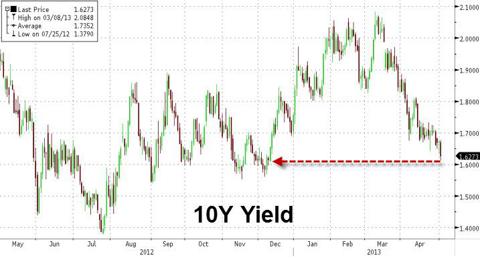 This is an exceedingly difficult time for investors. I think now is a better time to be harvesting gains rather than planting seeds. Wall Street is the ultimate lagging indicator. It will perpetuate the bull market as long as is humanly, or algorithmically, possible. It will do so with ever escalating price targets for the benchmark indices and overly optimistic forecasts for the real economy, because an increase in financial asset values and positive fund flows are its life's blood. This makes Wall Street Chairman Bernanke's best friend, as the Fed continues with QE for the remainder of 2013, accomplishing little more than the reflexive response of the equity market to its daily transactions, while hoping to perpetuate the illusion that things are getting better for most Americans, and that the confidence that such wealth creates, even though it eludes most, will lead to some benefit to the real economy. Ignore the central banker who sits on your shoulder whispering, "Buy, buy, buy." Be patient. Weigh the high-frequency economic data and monitor the market's reaction to it in order to determine in which direction this wedge between perception and reality closes. The days of reckoning lie in the months ahead.
Disclosure: I have no positions in any stocks mentioned, and no plans to initiate any positions within the next 72 hours. I wrote this article myself, and it expresses my own opinions. I am not receiving compensation for it (other than from Seeking Alpha). I have no business relationship with any company whose stock is mentioned in this article.
Additional disclosure: Lawrence Fuller is the Managing Director of Fuller Asset Management, a Registered Investment Adviser. This post is for informational purposes only. There are risks involved with investing including loss of principal. Clients of Fuller Asset Management may hold positions in the securities mentioned in this article. Lawrence Fuller makes no explicit or implicit guarantee with respect to performance or the outcome of any investment or projections made by him or Fuller Asset Management. There is no guarantee that the goals of the strategies discussed by will be met. Information or opinions expressed may change without notice, and should not be considered recommendations to buy or sell any particular security.