In late November, 2012, I made a list of my homebuilder picks for 2013. I combined valuation, price changes, and short interest to build the list. Almost 6 months later, it is time to review how this list is performing.
First here is a key for the ticker symbols used in the rest of this piece: Beazer Homes USA Inc. (NYSE:BZH), DR Horton Inc. (NYSE:DHI), Hovnanian Enterprises Inc. (NYSE:HOV), KB Home , Lennar Corp. (NYSE:LEN), MDC Holdings Inc. (NYSE:MDC), Meritage Homes Corporation (NYSE:MTH), PulteGroup, Inc. (NYSE:PHM), Ryland Group Inc. , Toll Brothers Inc. (NYSE:TOL), TRI Pointe Homes, Inc. (NYSE:TPH).
Last year turned out to be a banner year as the market well-anticipated a bottom in the housing market. I designated that year as one to buy homebuilders on the dips in anticipation of a bottom in 2013, but I was not bullish enough. Last year's favorite (and this year's #4 pick), KBH, is this year's clear winner so far. KBH has gained 52% year-to-date as it trades close to a 5-year high. KBH has gained 257% since the end of 2011. HOV is the only homebuilder to beat KBH since the end of 2011 with a 295% performance since then. Ironically, HOV is also this year's worst performer. It is the only homebuilder with a negative year-to-date performance. Last November, I concluded that 2013 would be a year to get picky with homebuilders, and the chart confirms such is the case so far. Despite strong correlations across the prices of most homebuilders, the range in performance is quite wide with much of the divergence starting in late February. The legend in the chart below lists homebuilders in descending order of year-to-date performance to make it easier to sort out all the lines.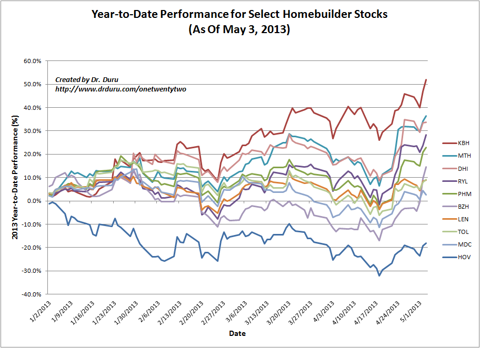 Year-to-Date Performance for Select Homebuilder Stocks (As Of May 3, 2013)
Source: Prices from Yahoo!Finance
My favorite pick for this year, MTH, is currently in second place for year-to-date performance. I covered the last earnings call in "Meritage Homes Remains A Top Pick As It Fires On All Cylinders ." However, my second pick, MDC, has traded down for the year at times and is just barely even after reporting earnings last week. I will cover those earnings soon as it seems that MDC is not exposed enough to the hottest markets relative to the better performers. My third pick, TOL, is also a laggard this year with "only" a 9.2% year-to-date gain. TOL was dinged particularly hard after the federal government's sequester kicked in, threatening TOL's concentration of homes in Northeastern areas heavily dependent on government spending. However, since this sequester so far have proven more of an "inconvenience" than a roadblock to the stock market and the economy, I have to believe that TOL will play strong catch-up at some point this year. Finally, PHM, my fifth pick, is doing OK with a performance right in the middle of the pack.
Short interest has largely continued its momentum from last year. For the most part, trends going into the end of 2012 have continued through 2013. Shorts are continuing to pile into HOV and BZH. They have done little in DHI and RYL. The mass exodus continues for the rest. Only MDC has seen a recent resurgence in short interest, but I suspect that will subside after last week's earnings did not provide any bearish news. The charts below show the ratio in shares short as of April 15, 2013 (the latest data available) relative to shares short as of December 30, 2011. The first chart shows those homebuilders whose ratios remain over 1.0, and the second chart shows those homebuilders whose ratios are below 1.0.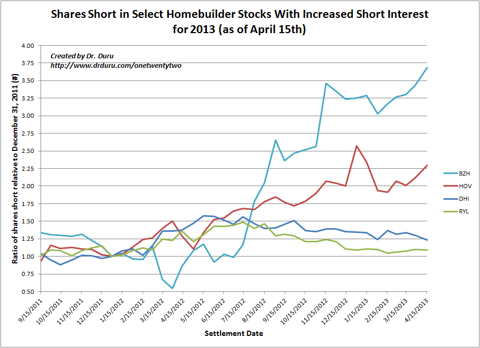 Shares Short in Select Homebuilder Stocks With Increased Short Interest for 2013 (as of April 15th)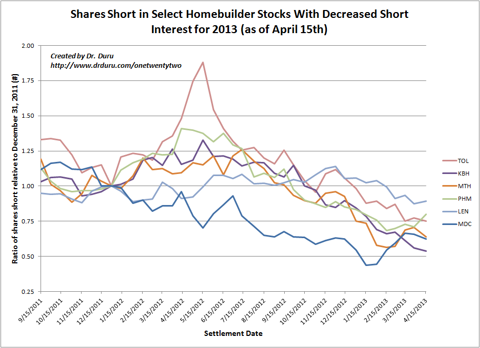 Shares Short in Select Homebuilder Stocks With Decreased Short Interest for 2013 (as of April 15th)
Source for charts: NASDAQ Short Interest
Last year, I assumed that a sharp decline in short interest would correspond to relatively strong price performance and a presumption of bullish earnings performance. This assumption has definitely held true for KBH which is not only his year's top performer but has also seen the sharpest drop in short interest. KBH was one of the most shorted homebuilders probably because skeptics who doubted the housing recovery assumed that KBH's heavier than average debt-load would cause it to suffer greatly in a new housing reversal.
However, the overall correlation between the short ratio and the change in price remains elusive. Across all homebuilders, there is essentially no correlation with a -0.15 reading. Even after removing the stock with the largest price change, HOV, the correlation only goes to -0.47. So, the correlations are at least pointing in the direction I would expect - a decline in short interest corresponds generally to a higher stock price - but clearly there is more to the price gains in homebuilders than short-covering and/or the reluctant acceptance by bears of future improvements in the fundamentals.
It turns out that the inverse correlations between the short ratio and the fundamental ratios are much stronger: trailing price-to-earnings (P/E), price-to-sales (P/S), and price-to-book (P/B). These inverse relationships are particularly strong after removing the stock with the highest value for a given fundamental ratio: -0.82 for P/E, -0.72 for P/S, -0.62 for P/B. These relationships might seem surprising since it seems that bears should go after the most expensive stocks. However, it seems these stocks are expensive for a reason. That is, their future prospects are relatively better than the rest of the pack. KBH is a bit of a straddler in this regard as it has one of the lowest P/S ratios at 0.76 but also one of the higher P/B ratios at 3. As I have mentioned in previous pieces, we should expect the ratios to be high at the beginning of a recovery as prices soar in anticipation of better times while the ratios compare the stock price to the poorer performance in the past. By the end of this year, valuations should start to normalize.
TPH gets a special mention with regards to short interest. The company went public in January of this year, so I cannot include it in the above charts. Bears have gone right to work on the stock. They started with 838K shares short as of February 15, 2013. In just two months, that number increased 127%. Meanwhile, TPH is down slightly from the closing of its first day of trading and still up about 10% from its $17 IPO price. Its valuation is sky-high at a P/E of 239, P/S of 7.6, and P/B of 4.2. Since TPH started in the middle of the recession and has a high concentration of business in the hot markets of California, it is hard to call it a recovery play in the same spirit of the other homebuilders that suffered directly through the crash of the housing bubble. In my earlier piece on TPH, I estimated that valuations will look reasonable if current growth rates continue. In other words, TPH is already priced for performance; the bears are likely gathering around waiting for just one misstep that would more than likely send the stock tumbling (and, in my opinion, set up a great buying opportunity).
For those interested, I have placed the tables relating short interest to prices and fundamental ratios in a Google spreadsheet.
Overall, 2013 should continue to be a year to be picky. The most attractive homebuilders are those in the hottest markets, growing margins, containing costs, and able to deliver inventory as pent-up demand increases. The top homebuilders for this year fit that description. Going forward, I will be looking most closely at the potential for the laggards to play catch-up. I need to play a bit of catch-up myself as I continue to wait patiently for the opportunity to begin rebuilding my exposure to homebuilders.
Be careful out there!
Disclosure: I have no positions in any stocks mentioned, but may initiate a long position in TPH, MDC, MTH over the next 72 hours. I wrote this article myself, and it expresses my own opinions. I am not receiving compensation for it (other than from Seeking Alpha). I have no business relationship with any company whose stock is mentioned in this article.