In a previous article on SeekingAlpha published on January 2, 2013, I provided a discussion of dividend stocks. This article will take a look at some great performing stocks that were highlighted in one of those articles. It will look at how and why the price has gone up since then, what dividend the stocks currently pay, and potential catalysts for continued positive performance.
In that previous article, the prices of those stocks that pay dividends that also were trending higher in price at the time were presented. Those were found using a stock screen to potentially identify stocks that could continue that trend higher. I would like to revisit three of those four stocks here and those include U.S. Ecology Inc. (NASDAQ:ECOL), Oiltanking Partners LP (NYSE:OILT), and Universal Health Realty Income Trust (NYSE:UHT).
The following is a chart of these three stocks' performances from January 1, 2013, through the current time that this article is being written on May 3, 2013, and it compares them against the performance of the S&P 500 for that same time period.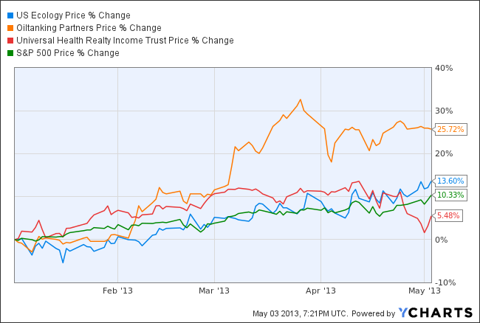 ECOL data by YCharts
The average price increase so far this year of the three companies above is 14.93%, compared to the 10.33% return from the S&P 500 index. Considering dividends, the outperformance is slightly higher than that.
U.S. Ecology has performed well so far this year, with its stock price increasing by 13.6%. It currently pays a dividend yield of 2.7%. Its earnings for the quarter ending in March of 2013 came in at .32 per share, compared to the consensus analyst estimate of .25 per share. The expected 5 year annualized growth rate for the company is 7%. Its full year results for 2012 set a record for the company. Record earnings for the company and beating analyst expectations are two large factors which explain its price increase. If it is able to continue that momentum and build on it, we could see further price increases in the future.
Oiltanking Partners had the best year so far out of all of these companies discussed. A company director was reported to have invested $237,000 in the company in April. Insider purchases are a good sign that the company's own people believe the future is bright. It also recently increased its distribution amount to partners (shareholders). It is doing well in its industry, and increased strong performance, along with increasing its distribution amounts (which currently yield 3.1%), can support further possible stock price increases.
Universal Health Realty Income Trust currently pays a healthy dividend yield of 4.5%. It recently reported earnings per share of .27. The adjusted funds from operations came in at .71 per share compared to .69 in the year ago period. REITs as a whole have had a good year so far, and if this continues, it bodes well for this company. If it can continue to grow earnings and pay out more to shareholders, that helps too. Some REITs have been spinning off companies to shareholders, and this could potentially create value for shareholders if this company gets in a position to be able to do that.
Thank you for reading this article. Before deciding whether or not to invest in these stocks, please conduct your own research and due diligence.
Disclosure: I have no positions in any stocks mentioned, and no plans to initiate any positions within the next 72 hours. I wrote this article myself, and it expresses my own opinions. I am not receiving compensation for it (other than from Seeking Alpha). I have no business relationship with any company whose stock is mentioned in this article.