Stocks continue to march higher despite general consensus that the world economy teeters on the precipice of recession, or worse, financial ruin.
Alas, it's hard to be a bear when stocks are front page news each day the Dow Jones Industrial Average hits a new all time high. That sort of publicity, of course, is precisely the moment to become bearish.
That isn't to say I don't think stocks will outperform other asset classes during this cycle, I just get concerned when return starved investors are forced to buy stocks because cash and bonds throw off paltry interest cash flow. Surely, if money flows into stocks with little regard for valuation, overvaluation will occur at some point, and risk will continue to mount.
Fed Chairman Ben Bernanke and his colleagues appear to not have the first idea regarding the outlook of the broader economy. Who can blame them? If injecting the economy with $85 billion a month of bond purchases weren't enough to obfuscate the natural functions of an economy, the Fed indicated at its last meeting that it could increase or decrease the program based on "as the outlook for the labor market or inflation changes." That's Fed Speak for "who the hell knows."
One can envision a situation where the developed economies undergo significant inflationary pressure, thereby depreciating their fiat currencies and making exports more attractive relative to emerging economies. It's worked wonders for Japan's stock market, when it became clear Prime Minister Abe would win the election, and push for an inflationary policy.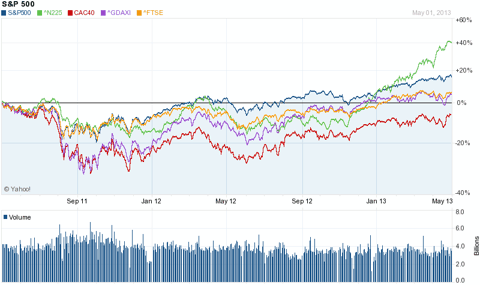 But Japan's equity market outperformance is a mirage, caused by intervention by the Bank of Japan and investors speculating on the outcome (i.e., higher share prices). Investors don't seem to mind though, an appreciating stock market makes them feel wealthier. And once timid retail investors catch the euphoria of stock market wealth, they will likely jump in with both feet. As George Soros posited in his Theory of Reflexivity, self-reinforcing mechanisms lead to a boom and bust cycle. When investors see past the mirage, it will likely be too late.
Based on the chart above, investors should start bargain hunting in France; the CAC 40 index has underperformed other markets considerably. For bargain hunters, some French multinationals appear to offering compelling value, even after the run up in global equity prices.
To say the least, we are certainly in uncharted territory, with a bifurcated economic experience around the world post-2008 global financial crisis. Developed economies saddled with debt continue to grow at a lackluster rate while emerging economies continue to increase output at a high rate. Because of the uncertainty the unbalanced recovery has caused, continued turmoil will lead to opportunities for value investors with steely resolve.
The Portfolio Protection Playbook
So that begs the question: as a risk-averse, value investor, should one play the boom / bust cycle if they can identify the manifestations of the Theory of Reflexivity? Because like any poker player knows, "you don't lose what you don't put in the middle, but you can't win much either."
My answer: raise some cash, pick your spots, be vigilant and, as always, maintain a contrarian approach. I suggest the following actions to be able to maintain an opportunistic approach to the markets.
Raise Some Cash
A healthy cash balance in a portfolio is a good thing. What investors give up in yield and short term capital appreciation, they gain in safety, reduced volatility and opportunity to deploy assets on one's own terms. For cash can be funneled into other asset classes at moment's notice at little transaction cost, capitalizing on irrationality of the market pricing mechanism. This is where individual investors have an edge against institutional investors, it doesn't matter what quarterly performance is because investors don't need to appease mutual fund investors; rather, self-directed individual investors / retirement savers should focus on total risk-adjusted return over a long-term time horizon.
Focus on Themes
Efficiency Facilitators:
The focus on cost savings continues. Corporations and consumers continue to be "resourceful" in this new economic paradigm. Being resourceful does not mean being parsimonious. However, businesses and consumers are evaluating price and value in everyday purchasing decisions. Outfits who offer solutions for customers to be more resourceful stand to benefit.
Under this theme, NCR (NYSE:NCR), Amazon.com (NASDAQ:AMZN), ViaSat (NASDAQ:VSAT), EchoStar (NASDAQ:SATS) and SolarCity (OTCPK:SCTY), appear poised to outperform.
NCR makes transaction processing more efficient, meanwhile undergoing a transformation to a higher margin software-as-a-service (SaaS) operating model, and is resolving certain "legacy issues" related to its pension liability, both causing the equity to trade at depressed levels; Amazon.com, enables efficient customer experiences, both in retail and for enterprise customers; ViaSat and EchoStar both provide high-speed broadband services to rural areas via satellites, enabling web efficiency over current offerings; SolarCity allows homeowners to reduce their utility charges with little or no upfront cost based on its innovative financing model.
If you believe in the efficiency facilitation theme, all these companies may be worth a closer look.
Infrastructure:
If you travel around the country much, you will see a noticeable difference in the level of construction activity. You probably see it in the local area around where you live. It's a theme that will likely pick up steam, especially as credit remains easy and rates low in conjunction with upgrades and repairs to existing infrastructure, and build out of new homes / infrastructure as new households form across the world.
One French company that looks interesting at current price levels is Lafarge (OTCPK:LFRGY), a world leader in cement and other building materials. It's an ancillary play on the infrastructure build out theme, as a supplier to contractors around the world. Headquartered in France, it only generates 20% of its sales in Western Europe. Lafarge appears like a way to 'sneak into emerging markets' at a low valuation because of its 'guilt-by-association' headquarters location. Because of this, Lafarge appears, at first glance, undervalued relative to its peers, including Vulcan Materials (NYSE:VMC), Cemex (NYSE:CX) and Martin Marietta Materials (NYSE:MLM) which trade on US exchanges. Investors should note, however, that Lafarge is a conglomerate with many different assets and moving parts. Homework is required, here is a good place to start [PDF].
Capital goods makers Caterpillar (NYSE:CAT), Terex (NYSE:TEX) and Manitowoc (NYSE:MTW), all of which should benefit from the infrastructure build out theme, continue to be on my watch list. After a significant run up in price for each stock, I think it's prudent to set limit orders beneath today's prices and wait for better entry points. The market may just hand over the businesses at better prices than they are being offered today.
Similarly, global construction and engineering firms will likely benefit from a more robust infrastructure sector, including Fluor Corporation (NYSE:FLR) and Jacobs Engineering Group (NYSE:JEC). Both of these names have had significant run ups, and trade at fairly rich multiples of current earnings. Should the business continue to expand coincident with a pull pack in the stock price, a compelling value may unveil itself.
Media / Content:
In my view, content creators / owners are generally undervalued. After years of being hurt by piracy, many content owners are now finding new ways to monetize content via low cost digital distribution platforms. According to Vivendi's latest Annual Report:
The new digital revolution has given rise to new global and local distribution platforms, which have completely changed the content and media industries. These platforms offer services that are transforming consumption patterns to the benefit of users: everything is available, anytime, anywhere and without restriction.
In addition to generally being undervalued, the sector is undergoing many value unlocking catalysts, whereby media conglomerates are breaking up the businesses between faster growing film and television assets, and slower growing newspapers and magazines.
News Corp. (NASDAQ:NWS) (NASDAQ:NWSA), for example, is breaking up its business effective June 30. Investors should monitor the post spinoff price action on the new News Corp, which is likely to be the less heralded business because it will be home to the newspaper and magazine assets, along with certain pay TV businesses and digital properties. If institutional investors throw the baby out with the bath water, investors may find a compelling value opportunity post spinoff.
Time Warner (NYSE:TWX) recently announced a spinoff of its magazine assets into a separately publicly traded entity, after it couldn't complete an asset sale with Meredith Corporation (NYSE:MDP).
With all the disruption going on in the digital media industry, there will likely be some opportunities to capitalize on spinoffs and other corporate actions. Investors should maintain keen awareness of the competitive landscape as the lines between content creator and distributor are being blurred as Netflix (NASDAQ:NFLX) and Amazon create their own proprietary content. That has competitive implications for Comcast (NASDAQ:CMCSA), Time Warner Cable (TWC), DirecTV (NYSE:DTV), and Dish Networks (NASDAQ:DISH).
Conclusion:
You can't lose what you don't put in the middle, but you can't win much either.
As investors, we are forced to play by the rules of the market, which are governed by irrational behavior and frustrated by incessant government intervention, not to mention infested by sharks that are looking for an easy kill.
The portfolio protection playbook says we should never forget these sets of circumstances by which we invest.
Know why others are selling securities to you at less than you estimate intrinsic value to be and take advantage of distressed or uninformed sellers.
Be aware and objective about overall market sentiment. But most of all, protect yourself by being risk-averse, pick your spots and be careful out there.
Disclosure: I have no positions in any stocks mentioned, and no plans to initiate any positions within the next 72 hours. I wrote this article myself, and it expresses my own opinions. I am not receiving compensation for it (other than from Seeking Alpha). I have no business relationship with any company whose stock is mentioned in this article.
Additional disclosure: I have limit orders set for TEX and AMZN.