In articles that I wrote here at the end of last year and at the very beginning of this year, I provided discussion of dividend stocks. This article will take a look at some great performing stocks that were highlighted in one of those articles. It will look at how and why the price has gone up since those articles, what dividend the stocks currently pay, and potential catalysts for continued positive performance.
In an article published on December 31, 2012, I presented 4 stocks that pay dividends that were oversold on a technical basis at the time. Those were found using a stock screen to potentially identify stocks that could see price increases. I would like to revisit three of those stocks here: Arthur J. Gallagher & Co. (NYSE:AJG), Darden Restaurants Inc. (NYSE:DRI), and Herbalife Ltd. (NYSE:HLF). Since the end of last year, these stocks have performed well.
The following is a chart of these three stocks' performances from January 1, 2013, through the current time [May 3, 2013], comparing them against the performance of the S&P 500 for that same time period.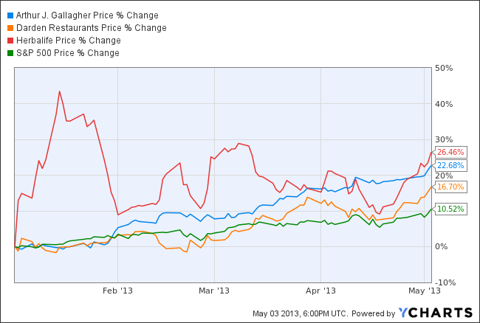 AJG data by YCharts
As the chart shows, every one of these stocks beat the performance of the S&P 500. They all have had a great year so far. When considering dividends, which for all of them is higher than the dividend rate of the S&P 500 index, this outperformance is magnified.
Arthur J. Gallagher is currently right near its 52 week high. So far this year, it is the second best performing stock of these four. It recently maintained its quarterly dividend of .35 per share, and has had earnings that have come in near analyst expectations. It has steadily been increasing in price since the end of January. It recently has been acquiring companies, including Advanced Benefit Advisors, Inc. on April 4, 2013 and more recently, Property & Commercial Limited on May 1, 2013. Expansion of its risk management business and successful implementation of these acquisitions could propel the stock to new heights. The dividend yield is currently at 3.3% for this company.
Darden Restaurants, the popular restaurant company which owns Olive Garden and Red Lobster, currently has a 3.9% dividend yield. In the quarter that ended in February of 2013, its earnings per share beat analyst estimates by a penny. The Street.com recently reiterated its "buy" recommendation on the stock. Its good earnings performance that was in line with what was expected, along with its healthy dividend yield, are two factors that have helped its share price. The stock market reaching new heights certainly has helped it as well. If the economy continues to rebound and more people eat out, it could see further growth in its restaurant business and it could help its earnings grow and thus, help to increase its share price in the future.
Herbalife has seen the biggest price increase so far this year. The stock price was lower, stemming from the highly publicized announcement that Bill Ackman shorted the stock. On January 3, 2013 the stock closed at $36.08, up from $31.96 the day before. This increase was aided by the fact that the company had come out with statements that Bill Ackman's reasons for shorting the company were unfounded. Its last four quarters of earnings reported have all exceeded analyst expectations. Continued strength in its business and earnings growth, as well as a continuation of paying a strong dividend (its current dividend yield is 3.1%), can help it to see further stock price increases.
Before deciding whether or not to invest in any of these stocks, please conduct your own research and due diligence.
Disclosure: I have no positions in any stocks mentioned, and no plans to initiate any positions within the next 72 hours. I wrote this article myself, and it expresses my own opinions. I am not receiving compensation for it (other than from Seeking Alpha). I have no business relationship with any company whose stock is mentioned in this article.