Dish Networks (NASDAQ:DISH) cannot easily buy their way into mobile network marketshare, Sprint's (NYSE:S) most important sustained asset.
Taking note of Softbank CEO, Son-san's recent presentation, we focus our attention on an aspect of the value of DISH's offer that is largely overshadowed by the speculative dollar value of Softbank's and DISH's offers: the value and leverage of Sprint's mobile marketshare. DISH proposes to leverage Sprint's networks, organization, technical skills and spectrum by infusing their 40MHz of AWS-4 spectrum, capital and satellite service capabilities. The critical factor for both acquisitions is how well Sprint's subscriber base can be leveraged.
Sprint must rapidly deploy 4G networks and devices to keep up with competition from Verizon (NYSE:VZ) and also AT&T (NYSE:T) within a relatively short 2 year window or they will face a precipitous drop in subscribers to the swifter rivals. Softbank provides a more harmonious and easily digested set of capabilities to help lift Sprint onto the more competitive field of competition that LTE-Advanced will create.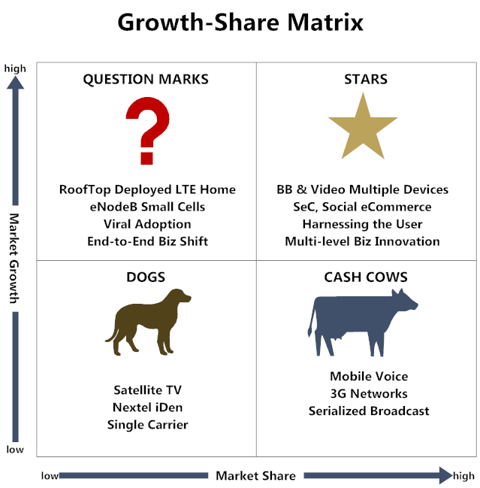 DISH, Softbank, Sprint Growth-share matrix, Copyright, Maravedis Group LLC, 2013
DISH's business is concentrated into segments, namely satellite TV and BB dependent home entertainment, that is now a cash cow and soon will become dogs. Softbank and Sprint have primary strengths in the emerging wireless broadband, broadband services, business services, mobile device, areas. DISH can build within the competitive environment by focusing from the local node up to serve multicast and broadband mix at competitive cost.
Softbank will provide capital while maintaining an acceptable 3X debt leverage ratio. DISH will require leveraging of Sprint's future revenue to finance the deal at over 6X debt leverage ratio.
Ergen is Over Reaching in a Winner Take All Card Game
In a recent interview, Charlie Ergen said that Softbank's Son was bluffing in stating that the company would not increase its offer for Sprint. Prior to Son's presentation outlining the relative value of Softbank versus DISH offers, our analysis showed that DISH's offer indeed came well short by placing too much value on leverage of future mobile TV markets and the highly leveraged nature of the debt structure. We also pointed out, but did not elaborate, on the time to development/market issue. Son's presentation points out that a deal with DISH would likely take well into 2014 to gain approvals and would be fraught with conflicts as well as the synergies DISH has proposed would result. Maravedis has posited that much of the market gains that may result will come only after a period of subscriber losses due to the lag in completing the acquisition and moving ahead with deployments.
DISH is selling a Pig in a Poke. DISH Networks' market is mature and is rapidly being eclipsed by the very mobile assets he hopes to acquire from Sprint, saddling the new company with a Dog to Cash Cow market segments. We like much about DISH's plans to use RoofTop small cells that have the promise to build at lower cost and with potential for greater user traction. However, DISH will overly depend on Sprint's cash flows and marketshare to bail out an otherwise end-of-life business model.
The combination of DISH and Sprint-Clearwire spectrum rises to become a heightened concern to the FCC and DOJ. This would kick the spectrum situation into being a new amalgamation that will almost certainly be subject to a fresh FCC spectrum screen, possibly furthering delays before networks can be deployed by an additional twelve to 18 months.
Furthermore, it is very likely that the FCC would require the spin-out of 40MHz-60MHz of DISH-Sprint-CW spectrum, most likely in the 2.6GHz band. This might potentially create a firestorm of contention among EBS license holders, DISH-Sprint-CW and competitors.
The acquisition of Sprint by DISH will have higher risks of timing of markets, uptake of technology, and conversion of existing subscriber bases to the combined services that complicit to the synergistic benefits that DISH has projected.
Disclosure: I have no positions in any stocks mentioned, and no plans to initiate any positions within the next 72 hours. I wrote this article myself, and it expresses my own opinions. I am not receiving compensation for it. I have no business relationship with any company whose stock is mentioned in this article.