The Perspective from which I write
I am an individual investor in the accumulation phase of investment. I am not a professional analyst. I am most interested in dividend growth stocks and currently reinvest all dividends into the stock that generates them. To find most of my stock ideas, I use David Fish's Dividend Champions Spreadsheet (link here) as a starting point to find stocks with a history of increasing their dividend. I then project future dividend income 5 and 10 years into the future based upon the current yield, a yield at which dividends will be reinvested, and a dividend growth rate. I take a closer look at stocks that achieve higher potential future dividend income streams. I write these articles to share my ideas, to receive feedback from the Seeking Alpha community, and to help myself maintain the discipline to examine potential portfolio additions closely. I hope that others will share their thoughts in the comments below.
I break my analysis into three components. First, I look for a commitment from management to maintain and grow the dividend at a high rate. Second, I look for evidence that the company's fundamentals are moving in a direction that will enable management to deliver future dividend growth. Finally, if I am still interested in the company, I try to value the company.
In this article, I take a look at Safeway Inc. (NYSE:SWY). Safeway recently disappointed in earnings, and the share price has dropped around 8.5% in the last month. I decided to take a closer look to determine if this warranted a buying opportunity.
Safeway Inc.
Safeway likely needs no introduction. It is a traditional dedicated grocery store. It is well established but has faced some struggles in recent years. Food-inflation has been a challenge as has achieving same store sales growth. Safeway has come under pressure from lower cost operators such as Costco (NASDAQ:COST), Target (NYSE:TGT), and Wal-Mart (NYSE:WMT) who have groceries as a single component of a larger store.
As I wrote this, the market price was $23.89. At the current quarterly dividend of .175 / share, the dividend yield is 2.93%. From 2008 to 2012, the dividend grew from .32 / share to .67 / share, representing a compound average growth rate of 20.29% over the 4 year period. The most recent increase was from .145 / quarter to .175 / quarter, which is about a 20% increase as well. If Safeway is able to deliver 15% compound average growth in the dividend over the next five years, this would result in an income stream worth 6.88% of the initial investment after five years if dividend reinvestment occurs at 2.07%, which is 90% of the 5-year average dividend yield of 2.3%. Under the same assumptions, the income stream would be 16.15% after 10 years.
Also, in 2008 the number of shares outstanding was 436 million, and the TTM number of shares outstanding is 238 million. Safeway has been very aggressive in returning cash to shareholders by growing the dividend at a strong rate and by reducing the share count. As we will see later, however, a lot of this has come at the cost of borrowing.
Business Fundamentals
Below is the earnings per share (EPS) and dividends per share (DPS) over the past ten years. On top is a linear regression for EPS, which shows a positive trend over this time period.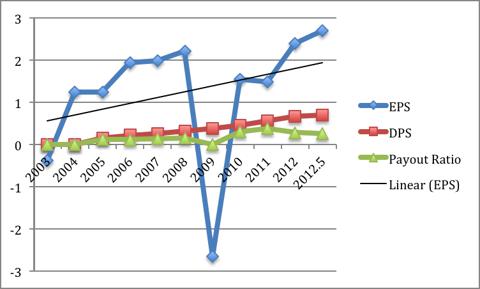 Next, I take a look at three metrics and how they have evolved over time: operating margin, asset turnover, and the current ratio. I look at the operating margin as a measurement of how well the business has been performing. The asset turnover ratio is a key measure that drives returns on assets and ultimately equity. I look at the operating margin and the asset turnover ratio to get a sense of whether SWY will be compounding my money at a stable or increasing rate over the future.
Ideally, we will see operating margins and asset turnovers that are trending up over time. I look at the current ratio over time as a gauge for how the financial condition has been developing. To meet my goals, I want to see an increasing current ratio, suggesting a strengthening financial condition, which I believe will enable an appropriately shareholder friendly management to continue to deliver the dividend. Below is a graphical look at each of these three measures over the last seven years with linear regressions over the top.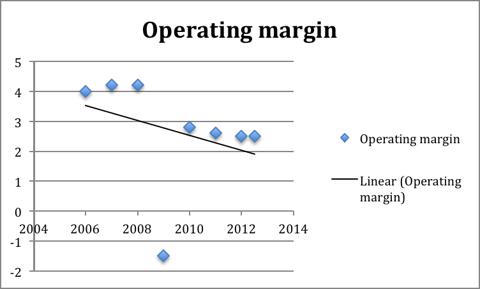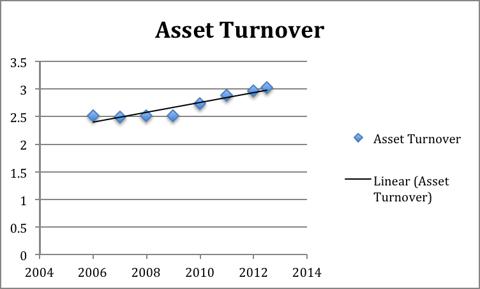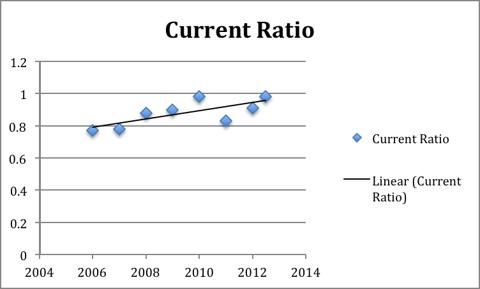 I am quite happy about the trends in both the asset turnover ratio and the current ratio. The trend in the current ratio suggests the near-term financial situation appears to be moving in an appropriate direction. The operating margin, however, is very concerning. I think this is reflective of the pressure on SWY from higher input food prices as well as from aggressive competitors.
The trend in the asset turnover ratio prompted me to look a bit deeper to see what is driving it. This ratio is computed as sales / assets. It can increase in two ways: by increasing sales or by decreasing assets (or a combination of both). To me, the ideal situation is a company that is growing its assets and achieving higher sales per unit of assets. This type of company would have great potential to compound wealth. Over time, Safeway has been decreasing its balance of assets. In 2008, Safeway's balance sheet reported $17,485 (billions) versus $14,657 in 2012. In 2008, Safeway had 1,743 stores versus 1,694 in 2011. It appears that Safeway has been reducing underperforming assets with the result that the remaining assets are generating more sales per unit.
Debt, Equity, and the Dividend
Here, I take a look at earnings per share, the dividend paid, the corresponding payout ratio, the amount of debt on the books, and the number of shares outstanding. I'm checking to make sure the dividend payout looks like it is being handled responsibly and sustainably. The relevant numbers for the past 5 years are:
| | | | | | |
| --- | --- | --- | --- | --- | --- |
| Year | Earnings per share | Dividends per share | Payout Ratio | Long-Term Debt | Shares |
| 2008 | 2.21 | 0.32 | 14.5% | 4,701 | 436 |
| 2009 | -2.66 | 0.38 | -14.3% | 3,874 | 413 |
| 2010 | 1.55 | 0.46 | 29.7% | 3,844 | 380 |
| 2011 | 1.49 | 0.56 | 37.6% | 4,165 | 344 |
| 2012 | 2.7 | 0.67 | 24.8% | 4,832 | 246 |
In addition, I look at three debt ratios: Long-Term Debt to Equity, Total Debt (Long-Term Debt + Current Liabilities) to Equity, and Times Interest Earned (Operating Income to Interest). For the past five years, these numbers are:
| | | | |
| --- | --- | --- | --- |
| Year | Long-Term Debt to Equity | Total Debt to Equity | Times Interest Earned |
| 2008 | 0.7 | 1.4 | 5.2 |
| 2009 | 0.8 | 1.6 | -1.9 |
| 2010 | 0.8 | 1.6 | 3.9 |
| 2011 | 1.1 | 2.5 | 4.2 |
| 2012 | 1.7 | 3.2 | 3.6 |
We see a very clear picture that management has shifted from equity financing to debt financing. Given the current low interest rate environment, it might make sense to utilize such a large amount of debt as part of the corporate financing structure. However, it makes me personally uncomfortable.
Conclusion
I don't believe that Safeway will meet my personal goals. I was originally attracted to Safeway for the history of the dividend, its current yield, its name recognition, and the recent price dip. Over a long time horizon, I don't see how Safeway can differentiate itself from its competitors, some of whom are selling groceries at a lower cost to bring customers into their stores to buy other things. While they have started a loyalty card program to incentivize customers to shop exclusively at Safeway, I don't see this solving the long-term challenge. I am also concerned about the shift towards large amounts of debt (even at low interest rates) and about the declining asset base.
Safeway might be a good stock to own. The management has been delivering very strong dividend increases and buying back massive amounts of shares. I'm just not sure I want to own the business.
Disclosure: I have no positions in any stocks mentioned, and no plans to initiate any positions within the next 72 hours. I wrote this article myself, and it expresses my own opinions. I am not receiving compensation for it (other than from Seeking Alpha). I have no business relationship with any company whose stock is mentioned in this article.
Additional disclosure: All data is sourced from Morningstar. Information about number of stores in 2008 and 2011 is from Safeway's FactBook on their Investor Relations website.