Disclosure: I have no positions in any stocks mentioned, and no plans to initiate any positions within the next 72 hours.
Business Relationship Disclosure: The article has been written by the Hedge and Mutual Fund Analyst at GuruFundPicks.com. GuruFundPicks.com is not receiving compensation for it (other than from Seeking Alpha). GuruFundPicks.com has no business relationship with any company whose stock is mentioned in this article.
In reviewing our article on Q3/2012 top small-cap biotech picks by guru fund managers last quarter, we can report that two of the three top buys are strongly up, another was acquired, and both top sells are flat-to-down, while the overall biotech index is up over 10% during the same period. While the article covered only the top ten widely held stocks in the group, a review of Guru fund manager's top buy and sell picks among the over 250 small-cap biotech stocks in the group reveals a strong correlation between their collective or consensus moves and the stocks' behavior over the subsequent three-month period.
The top ten guru fund consensus buy picks among the 250 small-cap biotech stocks are up an average of 13% during the past three months, since that article was published, while the top ten consensus sell picks are down an average of 12% during the same period. The small-cap biotech group is not unique, as we have observed a similar correlation in other industries as well during the past six to eight quarters during which we have been analyzing leading fund manager consensus picks' data. We believe that the astute investors can leverage this consensus picks' data, available only on GuruFundPicks.com, and combine it with their own unique research and insights to beat the markets just like guru fund managers have over the long-term.
In this article, we further explore this relationship between leading fund manager top consensus picks and stock performance, and we also give you a preview of their top small-cap biotech stock picks based on the latest reported Q4/2012 filings. Please note that while funds have started reporting Q1/2013, only about 10% have reported so far. You can view these latest 13-F filings for Q1/2013 by leading fund managers on our website, GuruFundPicks.com. But the vast majority typically file within a day or two before the May 15th deadline for this quarter, and accordingly, Q1/2013 consensus picks reports will be available about a week or two after that deadline on GuruFundPicks.com.
The biotech group as represented by the NYSE ARCA Biotech Index ($BTK) has been strong recently, up about 30% in the last twelve months, while the broader market indices are up about 13% during the same period. Among the top performers is Medicines Company (NASDAQ:MDCO), that we profiled as a guru top buy last quarter. MDCO is a biopharmaceutical company that provides products for the advancement of the treatment of critical care patients in hospitalized settings. The stock is up more than five-fold from its lows three years ago, and it is up about 50% in the past year.
We noted in our report for last quarter that guru funds had collectively been accumulating MDCO since at least the past year-and-a-half, including 2.4 million net new shares added in Q3/2011, another 0.3 million shares added in Q4/2011 and almost one million net new shares added during Q3/2012. The accumulation continued into Q4/2012 with guru funds accumulating another 2.1 million net new shares during the quarter, and it may also have continued into Q1/2013, as the latest 13D/G filings data indicates that the largest MDCO holders reported adding another 0.3 million shares post-end of quarter Q4/2012. Also, the latest available 13-Ffilings for 1Q/2013 quarter, including 7 of the 79 managers, indicate that those guru funds together added 1.5 million shares during the quarter. Also, from our database of collective fund holdings, we know that the world's largest or mega funds added 1.3 million shares in Q3/2012 and 0.2 million shares in Q4/2012.
MDCO reported its Q1 (March) earnings one week ago, in which it beat both revenue and earnings estimates. This is the sixth quarter in a row that the company has beat analyst revenue and earnings estimates, and the near three-fold rise in the stock over the last 18-months has been in response to this earnings out-performance as well as the advancement of their product portfolio. Specifically, the company announced positive phase 3 trial results of its blood-thinning drug cangrelor, being developed to prevent platelet activation and aggregation that leads to thrombosis (or blood clot formation) in the treatment of hospitalized heart patients undergoing percutaneous coronary interventions [PCI]. The trial met both the primary and secondary endpoints, and demonstrated a 22% reduction in ischemic events compared to an old competing drug Plavix, marketed by Bristol-Myers Squibb (NYSE:BMY) and Sanofi (NYSE:SNY), that has lost patent protection and is now available as a generic. Cangrelor is also quick in action and instantly reversible, and with commercialization targeted for later this year in both the US and EU, it is expected to play a major role in treating PCI patients, especially those who need to discontinue oral P2Y12 inhibitors ahead of surgery.
Besides cangrelor, the company has also reported positive developments in its product pipeline for its antibiotic candidate, oritavancin, for the treatment of acute bacterial skin and skin structure infections (ABSSSI) caused by susceptible gram-positive bacteria, and it plans for regulatory filings for approval of Oritavancin in both the US and EU in 2013/14. The company currently has three commercialized products, with annual revenues in the $500+ million range, and it also is projecting $800 million in peak sales from Ionsys from its December, 2012 acquisition of Incline Therapeutics. At just under $33, despite the recent surge, the stock still trades at an attractive 22 earnings multiple, at a discount to its peers in the small-cap biotech group. Also, Wall Street analysts are bullish on the stock, with eight of the ten analysts covering the company rating it at buy/strong buy and the remaining two at hold, with an average price target of $38. We believe that the stock is a bargain at current prices, but would wait for a retreat to the sub-$30 level near the middle of its current trading channel to accumulate the stock.
Besides MDCO, guru fund managers also accumulated the following small-cap biotech stocks in Q4/2012 (see Table below):
Guru funds collectively sold the following stocks in Q4/2012:
Questcor Pharmaceuticals (QCOR) is an integrated specialty pharmaceutical company focused on the development, acquisition and marketing of innovative, acute care and critical care hospital and specialty pharmaceutical product. Guru funds together sold 2.04 million net shares in Q4 from their 3.40 million share prior quarter position in the company.
Merrimack Pharmaceuticals (NASDAQ:MACK) is focused on developing therapies and companion diagnostics for cancer. Guru funds together sold 1.21 million net shares in Q4 from their 2.28 million share prior quarter position in the company. MACK shares have been in a steep decline recently after the company reported that its lung cancer drug failed in its phase 2 trial.
Guru fund activity in some other leading small-cap biotech companies include:
Arena Pharmaceuticals (NASDAQ:ARNA) is a biotech developer of oral drugs for cardiovascular, central nervous system, inflammatory, and metabolic diseases. Guru funds together hold a small 0.25 million share position or 0.1% of outstanding shares. ARNA shares dropped more than 5% on Friday after the company reported missing its earnings, and announced that it withdrew its application to the European Medicines Agency [EMA] for its weight-loss BELVIQ therapy.
Celldex Therapeutics Inc. (NASDAQ:CLDX), the first antibody-based combination immunotherapy company, is developing a pipeline of drug candidates for the treatment of cancer and other difficult-to-treat diseases based on its antibody focused Precision Targeted Immunotherapy Platform. Guru funds together hold a large 4.68 million shares or a $58.4 million position, equal to 5.9% of its outstanding shares.
PDL Biopharma Inc. (NASDAQ:PDLI) develops treatments for cancer and immune disorders based on proprietary antibody humanization technology. Guru funds together hold a large 17.29 million shares or 12.4% of outstanding shares.
There are hundreds of upcoming catalysts on small-cap biotech companies in the next few months, including PDUFA dates, and pivotal clinical and mid and early-stage clinical trial results, that could have a significant effect on the prices of the underlying stocks. These catalysts offer probably the best opportunities for out-sized gains for the not-so-risk-averse investor.
We believe that knowledge of how the best minds in the investment community, in the form of guru fund managers, are collectively positioning themselves in advance of these catalysts, can inform our investment decision-making, often clueing us in to a potential outcome, like in the examples cited above, and many more in our prior article on Q3/2012 small-cap biotech picks by Guru funds.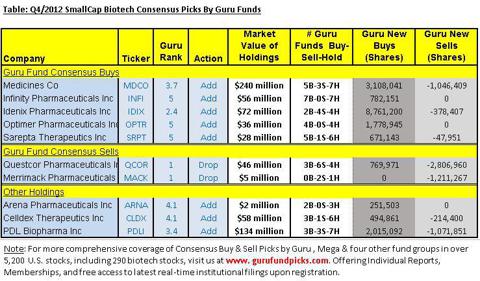 General Methodology and Background Information: The latest available institutional 13-F filings of 78 legendary or guru hedge fund and mutual fund managers, such as Warren Buffett, George Soros, Carl Icahn, Steven Cohen and Mario Gabelli, are analyzed to determine their capital allocation from among different industry groupings, and to determine their favorite picks and pans in each group. The hedge fund and mutual fund managers included in this select group include only high profile names who by virtue of their long-term market-beating returns have earned their standing in the investment community and are worthy of our attention. They include well-known names such as those mentioned above, as well as perhaps relatively lesser-known names that also have a stellar long-term history of beating the markets, such as Seth Klarman, John Griffin, Prem Watsa, Robert Karr and Lee Ainslie. Each guru has been carefully selected based on their long-term performance and standing in the investment community. Furthermore, the credentials of most of the 78 guru funds that justify their inclusion in this elite group were detailed in our previous articles that can be accessed from our author page
These legendary or guru fund managers number about 0.5% of all investment fund managers, and yet they control almost seven percent of the U.S. equity discretionary fund assets. The argument is that institutional investors have the resources and the access to information, knowledge and expertise to conduct extensive due diligence in informing their investment decisions. When high alpha generating or guru Institutional Investors by virtue of their fund performance, low volatility and elite reputation in the investment community, invest and maybe even converge on a specific investment idea, the idea deserves consideration for further investigation. The savvy investor may then leverage this information either as a starting point to conduct his own due diligence or even go as far as constructing a model diversified portfolio based on the guru funds best picks.
Credit: Fundamental data in this article were based on SEC filings, Zacks Investment Research, Thomson Reuters and Briefing.com. The information and data is believed to be accurate, but no guarantees or representations are made.
Disclaimer: Material presented here is for informational purposes only. Nothing in this article should be taken as a solicitation to purchase or sell securities. Before buying or selling any stock you should do your own research and reach your own conclusion. Further, these are our 'opinions' and we may be wrong. We may have positions in securities mentioned in this article. You should take this into consideration before acting on any advice given in this article. If this makes you uncomfortable, then do not listen to our thoughts and opinions. The contents of this article do not take into consideration your individual investment objectives so consult with your own financial adviser before making an investment decision. Investing includes certain risks including loss of principal.
Disclosure: I have no positions in any stocks mentioned, and no plans to initiate any positions within the next 72 hours. I wrote this article myself, and it expresses my own opinions. I am not receiving compensation for it (other than from Seeking Alpha). I have no business relationship with any company whose stock is mentioned in this article.