3D Systems (NYSE:DDD) reported earnings that inspired confidence, sending the share price sharply higher after the announcement. The rise was propelled further with the announced acquisition of Rapid Product Development Group and the intention of the company to integrate the capabilities into its Quickparts services as soon as possible. The organic growth was satisfying, and gross margins expanded with potential to increase further.
Earnings highlights
3D Systems reported a 24% increase in adjusted earnings over the same quarter last year on a 31% rise in revenue. The earnings increase was in line with analyst estimates, while revenue slightly exceeded analyst expectations. Gross margin improved 250 basis points from a year ago to 52.4%. CFO Damon Gregoire said in the conference call that there is still an opportunity to continue to expand margins on materials, as they have the highest profit margin. With more printers being placed into the market, the company will have an increase in materials revenue generation.
Printer sales were up 61% compared to one year ago and organic growth was 22%. Print materials revenue increased 16%, and services and healthcare revenue rose 18% each. Gross profit margins increased across all categories. Printers and other products' profit margin rose from 38.7% in the first quarter of 2012 to 44.9% in first quarter of 2013. Print materials margin increased from 68% to 72.7% in the same period, while services gross profit margin increased 10 basis points to 43.9%.
The company introduced various new products, including eight new ProJet® 3510 professional 3D printers, the second generation of Cube and the new Cubex 3D printer, supporting the consumer initiative.
New acquisition
A day after the earnings report, the company announced the acquisition of Rapid Product Development Group, and the intention of quickly rolling its capabilities into its Quickparts services. With the new acquisition, the company raised full year revenue guidance to $460-$510 million, and adjusted EPS to $1.05-$1.20.
Staples (NASDAQ:SPLS) announced on May 3rd that they will become the first major U.S. retailer to announce the availability of 3D printers. The Cube 3D printer is immediately available on Staples.com for $1,299.99 and will be available in a limited number of Staples stores by the end of June. The news translates well into the company's consumer market efforts. The management said in the conference call that the consumer products are selling "extremely well".
Group movement
Stratasys (NASDAQ:SSYS) and ExOne (NASDAQ:XONE) have benefited from the good news from 3D Systems. Both stocks rallied sharply last week, and ExOne reached new all-time highs. The next test for all three stocks will be when Stratasys reports earnings, and they are slated to report on May 13th. ExOne will report earnings on May 14th. Stratasys is expected to report a 36% increase in earnings on 118% rise in revenue. The substantial rise in revenue is due to the Objet merger. All three stocks have exhibited constructive price and volume action since early March, with higher volume on up days and lower volume on down days. 3D Systems broke through the 50 day moving average line shortly after I wrote my last article, where I said:
A decisive break above the 50 day moving average line on above average volume would be very positive for the stock.
After the sharp upside movement, a consolidation would not be surprising for the 3D printing group.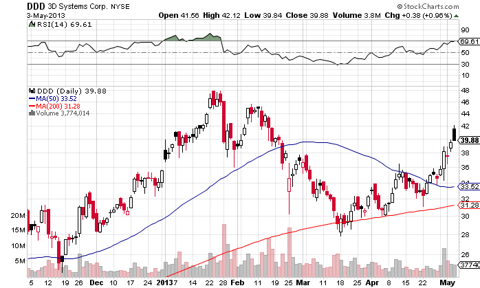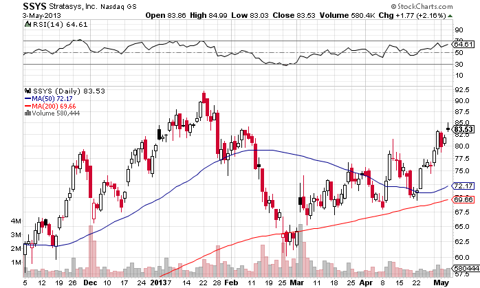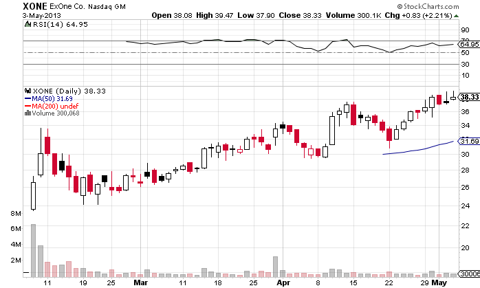 Source: Stockcharts
Short interest
The new short interest report reveals a further increase in short interest. The short interest increased by 800,000 shares to 27.3 million, representing 32.8% of free float. Since the latest report is from April 15th, there might have been a minor short squeeze with this latest move. We have to wait for the new data to confirm. The large short interest might cause a powerful short squeeze if the share price rises further, and 3D Systems keeps delivering high earnings and revenue growth.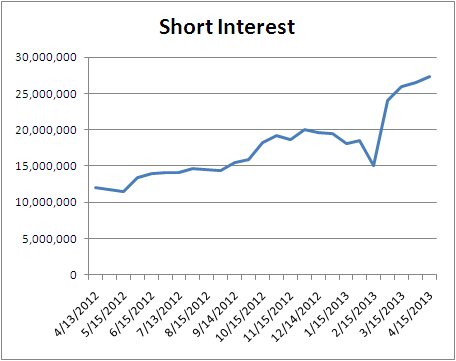 Source for data: Nasdaq.com
Conclusion
3D Systems is back on track, with share price and fundamentals agreeing with each other and growing together again. The consumer initiative is doing very well, with new products and the first deal with a major U.S. retailer. The company is managing to increase gross profit margins, and expects the trend to continue. 3D printing is here to stay, and the shorts might get squeezed if the buying pressure keeps the last week's pace. However, a price consolidation might be in order after such a strong move last week, and earnings reports of Stratasys and ExOne will certainly have an impact on 3D Systems' short term price performance.
Disclosure: I have no positions in any stocks mentioned, but may initiate a long position in XONE, DDD over the next 72 hours. I wrote this article myself, and it expresses my own opinions. I am not receiving compensation for it (other than from Seeking Alpha). I have no business relationship with any company whose stock is mentioned in this article.