On 5/28/09, Caraco Pharma (AMEX:CPD) reported its fiscal year 2009 (FY09) results and provided an update on the status of a recently completed FDA inspection of the Company's manufacturing facilities in Detroit, MI. Net sales for CPD declined by 4% for FY09 to a level of $337.2M (versus $350.4M for FY08). The Company cited lower sales of its manufactured products, price erosion for both manufactured + distributed generic drugs, and a voluntary product recall (of heart drug digoxin) during late FY09 for the revenue shortfall.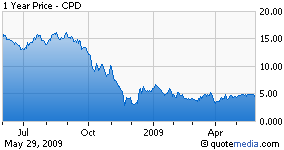 Net income decreased to $20.5M during FY09 compared to $35.4M in the previous year while gross profits declined by 20% to $67.8M from $84.7M during FY08. While CPD acknowledged that gross profit margins may come down due to generic drug price erosion, CEO Daniel Movens expressed confidence in the Company's ability to offset the long-term impact of declining margins by growing sales and expanding Caraco's product portfolio.
Caraco filed 10 Abbreviated New Drug Applications (ANDAs) relating to nine products with the FDA during FY09 as compared to seven products filed in the previous year. The Company has a total of 29 ANDAs (relating to 25 products) pending approval by the FDA, which includes four tentative approvals. CPD also submitted 10 other regulatory filings with the FDA related to new sources of Active Pharmaceutical Ingredients and alternative manufacturing sites in order to improve the Company's costs on certain products.
The CEO also provided an update on the status of a FDA inspection of the Company's Detroit manufacturing facilities stemming from an October 2008 warning letter. The FDA began its inspection of Caraco's quality control and production systems on 3/11/09 and concluded on 5/12/09. The FDA provided Caraco with a list of observations (Form 483) from the inspection and the Company has committed to provide written response within 30 days (6/11/09).
Caraco does not expect to receive any FDA approvals for new products from its Detroit facility until the FDA reviews the Company's written response to the Form 483 observations and makes a determination on the status of the facility. The Company noted that changes were made earlier this year to Caraco's leadership team for both manufacturing and quality control in addition to other steps taken to improve FDA compliance and quality systems. Also, the sale of products which are already on the market is not impacted by the FDA warning letter.
Importantly, Mr. Movens stated in the Company's earnings press release that, ". . . no deficiencies were identified during the FDA inspection in the Quality Control Laboratory which supports and tests all of our products before they are released to the market." Because of the uncertainty surrounding new product approvals from the Detroit facility, Caraco declined to provide sales growth estimates for the current fiscal year and also expects the digoxin recall to have a negative near-term effect on results.
Despite the near-term challenges and uncertainty over the timeline to resolve the outstanding FDA warning letter issues; the share price of $4.18 and market cap of $170M (fully diluted share count) presents a value opportunity for patient investors. Caraco has 40.6M shares outstanding on a fully diluted basis and still managed to post net income of $20.5M (EPS of $0.51) and revenue of $337M during FY09 despite significant headwinds, equating to a price/earnings (P/E) ratio of about 8X and a price/sales (P/S) ratio of about 0.5X.
Valuation parameters on a trailing 12-month basis for some other generic drug companies include the following:
Mylan Labs (NYSE:MYL): P/E – 19.5X, P/S – 0.75X, Market Cap – $4B
Hi-Tech Pharmacal (NASDAQ:HITK): P/E – 17.7X, P/S – 0.95X, Market Cap – $84M
Lannett Company (AMEX:LCI): P/E – 37.3X, P/S – 1.35X, Market Cap – $143M
In mid-May, Caraco announced that it launched oxycodone tablets for India's largest (with a market cap exceeding $5B U.S. Dollars) generic drug maker, Sun Pharma (BOM:524715) following that Company's recent FDA approval of an ANDA for the generic equivalent of the opiate pain reliever Roxicodone tablets in the 5, 15, and 30 mg strengths. According to IMS data, these three strengths of oxycodone posted U.S. sales of about $160M during 2008, and the timing is excellent since there is currently a shortage of the drug in the market.
Sun Pharma controls a majority stake (about three-fourths) of Caraco through stock ownership and product/technology transfer agreements between the two companies. Caraco has an extensive distribution agreement with Sun, accounting for about two-thirds of its sales compared to the higher margin, in-house manufactured products. Despite the lower margins for distributed products, Caraco benefits from its relationship with Sun Pharma by greatly expanding its product portfolio and providing diversification from risks such as the FDA warning letter from last year.
Given the low valuations of 8X earnings and 0.5X sales, Caraco presents a value opportunity in the generic drug industry which is poised for a turnaround. The fact that no deficiencies were noted by the FDA in the Company's Quality Control Laboratory bodes well for Caraco's chances to successfully resolve the outstanding Form 483 issues and begin receiving new product approvals (with 29 pending ANDAs) from the Detroit facility to restore sales growth and investor confidence.
Disclosure: Long CPD.