Many investors tend create a portfolio with little regard for risk management. High risk investors would generally select a basket of equities that they have either carried out fundamental or technical analysis of. Whilst this is not incorrect, you may expose yourself to unnecessary risks over the long term, especially if you are investing through economic cycles.
The following tips could help protect your portfolio from the downside, but will also allow you to capture rising markets.
Diversification
This is probably the most effective method of reducing risk within a portfolio. By holding a number of different asset classes, be they equities, bonds, property or commodities, you will be able to weather turbulent times during asset-specific downturns. For example, if you held an equal weighting in each of those four asset classes, and equities fell 10%, and all others remained level, the net effect on your portfolio would be only -2.5%.
Diversification is not only limited by asset class, but it can be used to diversify risk across sectors and geographically. It is not uncommon for equity markets in Asia to rise and fall in the US, by holding equities from both markets, geographical risk is reduced. This is the same for different sectors. This year, gold miners have suffered from heavy losses, however, having exposure to more than one sector would have prevented your portfolio from feeling the full effects.
The final step to fully diversify a portfolio is on the stock or security specific level. Holding more than one company in a given sector reduces stock specific risk. Diversification, therefore has a four-tiered approach for optimum success.
Asset Class -> Geography -> Sector -> Security
Correlation
This ties in somewhat to diversification principles. Most asset classes correlate differently to each other, and combining negatively correlated holdings can smooth out returns.
This method is identifiable right down to the stock level. Let's first look at the weekly returns of Google (NASDAQ:GOOG), AT&T (NYSE:T), McDonald's (NYSE:MCD) and Wells Fargo (NYSE:WFC).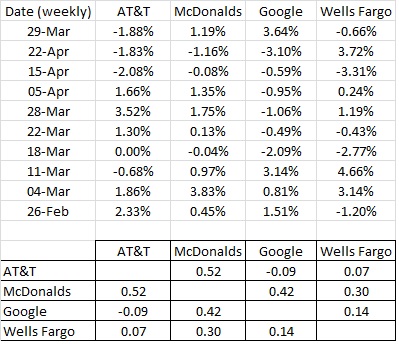 As you can see, these correlate very differently to each other. Some days, if Google falls, McDonald's will rise. Sectors correlate to each other very differently, and therefore, diversifying by sector naturally reduces risk. However, looking at it in detail will allow you to optimize your portfolio making sure you do not have a too high weighting in highly correlated equities.
The data above is calculated from weekly returns over a period of two months. I would recommend looking at returns over a longer period (1 year), as it will provide a more true representation of correlation over the long term. The two most noticeable relationships are between AT&T and Google and AT&T and McDonald's. McDonald's exhibits a reasonable correlation (+1 = exact correlation, -1 = exact negative correlation) with AT&T over this period, therefore holding a heavy weighting in these two would increase risk. Whereas, holding AT&T with Google would almost have provided a smoother return over that period, due to the lack of correlation.
The frequency for correlation data can be important, and using monthly data can be a bit more misleading. Hopefully, as investors, you choose good companies which all rise on a monthly basis. However, during the month, returns could have diverged significantly, only falling in line at the end. Daily and Weekly would be my choice.
Volatility
This is a common measure used within investment management to determine the historical, and projected risk of a portfolio. This factor will allow you to identify how successful your portfolio diversification is. Portfolios with 100% equity exposure would typically have a volatility of above 10% depending on risk reduction strategies. Applying the strategies above, volatility can be reduced down to 5-10% depending on the extent of diversification and weighting to higher volatile securities.
Volatility is calculated using the annualized standard deviation of returns (most commonly for monthly returns).
Summary
There are other methods that can be used to reduce risk; holding high yielding assets can smooth out returns and provide a level of capital protection within your portfolio. For the most effective risk reduction, these basic principles of diversification, correlation and measuring portfolio volatility will allow you to effectively reduce risk and identify how well you are doing it.
Disclosure: I have no positions in any stocks mentioned, and no plans to initiate any positions within the next 72 hours. I wrote this article myself, and it expresses my own opinions. I am not receiving compensation for it (other than from Seeking Alpha). I have no business relationship with any company whose stock is mentioned in this article.