With the growing popularity of hydraulic fracturing and horizontal drilling unlocking energy reserves previously untapped, there has been something of a double-edged sword when it comes to land-based rig service contractors. The same success unlocking reserves had also previously led the industry to a supply glut. The boom and bust cycle of 2009 has continued to leave many investors acutely concerned about another collapse in drilling activity. Yet with the proliferation of drilling service demand now underway around the globe, one energy play taking advantage of this growth is Key Energy Services (KEG).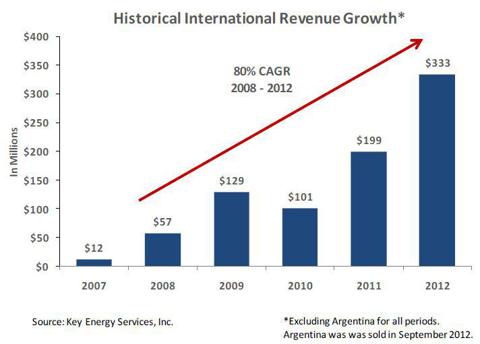 With over 9600 employees, Key Energy Services competes with other large land-based drillers, including Nabors Industries Ltd. (NBR) and Basic Energy Services (BAS). As seen in the table below, the company's growth hasn't fared nearly as well in relation to its market price when compared against Nabors in a look at the comparable PEG ratios. The company has only a slight advantage in regards to price-to-sales and in its quarterly revenue growth. All values below were taken from Yahoo! Finance on May 4, 2013.
| Name | Mkt Cap. | Qtr. Rev. Growth | Operating Mrgn. | Price/Sales Ratio | PEG Ratio | Price/Book Ratio |
| --- | --- | --- | --- | --- | --- | --- |
| Key Energy Services Inc. | $948 Million | (0.12) | 0.08 | 0.49 | 2.93 | 0.73 |
| Nabors Industries Ltd. | $4.47 Billion | (0.17) | 0.11 | 0.65 | 1.53 | 0.73 |
| Basic Energy Services, Inc. | $546 Million | (0.18) | 0.05 | 0.40 | 3.78 | 1.40 |
A look at the latest Q1 2013 earnings report revealed some of the following highlights:
The company fell short of Q1 earnings guidance, returning $0.01 compared to $0.02-$0.04.
Fluid Management Services business remains in an environment of chronic oversupply. A restructuring of the business is now underway.
A Principal customer in Mexico's North region is winding down operations. Management is winding down costs to match demand.
Key Energy Services bought out its joint venture partner in Russia for $14.6 million. Management believes the timing was ideal given the opportunities in the market.
Here are three other considerations regarding the company:
The company notes a value opportunity with its stronger presence in Russia. By exercising its option to buy out Geostream Services Group, management also believes it can leverage its purchase to provide a more complete solutions in shale opportunities around the world.
Roughly 75% of the reduction in International revenues was attributed to the slowdown in Mexico. However, rigs are being redeployed and international growth remains on track.
Multiple insiders have found it opportunistic to buy common shares on the open market. Along with CEO Richard Alario's $298,000 purchase, Directors William Fertig, William Owens, and Ralph Michael III have all made purchases totaling an additional $237,200. COO Newton Wilson and Controller Mark Alan Cox have also purchased shares totaling $78,525 as seen in the chart below.

Conclusion:
Overall, Key Energy Services appears to be approaching the lower end of a fair valuation. The company trades at a discount to its book value, yet the company does appear to be adequately valued in relation to its peers found in Nabors and Basic Energy Services. However, it could be that the industry overall has been discounted in light of ongoing investor concerns and relatively poor performance. Key Energy Services has failed to deliver an outstanding quarter, and yet its current share price may still warrant a speculative buy in the present.
The "cluster-buy" scenario by several insiders can often be a more telling sign to investors that share prices have become undervalued in the present. The last time insider purchases were witnessed was back in November 2012, when several directors and an officer purchased shares between $5.97-$6.16. With the disappointment in the latest quarter being relatively confined to two specific businesses within the company, the outlook of the company's shares appears modestly optimistic at these levels.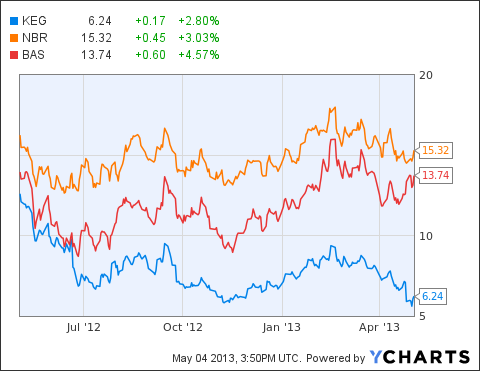 Disclosure: I have no positions in any stocks mentioned, and no plans to initiate any positions within the next 72 hours. I wrote this article myself, and it expresses my own opinions. I am not receiving compensation for it (other than from Seeking Alpha). I have no business relationship with any company whose stock is mentioned in this article.