Last week, American Capital Agency Corp. (AGNC), the second-largest mortgage real estate investment trust, or mREIT, declined after reporting first quarter earnings that included an 8.6 percent drop in its book value at the end of Q1 of 2012 compared to the end Q4 of 2012. The mREIT's book value declined by $2.71 to $28.93 per share. This is the second consecutive quarter where AGNC's book value declined after increasing substantially in mid-2012. See a recent book value performance chart for AGNC (source: AGNC):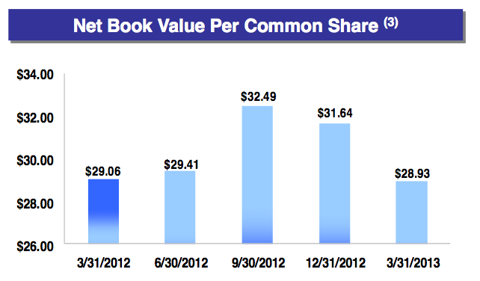 AGNC's President and Chief Investment Officer, Gary Kain, noted during the company's conference call that the securities that it acquired in order to protect itself from refinancing and prepayment risk performed "considerably worse than we anticipated."
In the second quarter of 2012, Kain noted that AGNC had "repositioned the portfolio during the quarter into lower coupon MBS and lower loan balance and HARP securities, which are less susceptible to prepayment risk, reducing the impact of the decline in long-term interest rates on the Company's prepayment forecast." The strategy appeared to be working in the second half of 2012, as peer mREITs that also held portfolios of agency-backed mortgage paper, such as Annaly Capital Management (NYSE:NLY), the largest publicly traded mortgage REIT, and Hatteras Financial (NYSE:HTS) sustained higher prepayment rates than AGNC.
The key issue for agency mREITs like AGNC and other agency RMBS investors is that the market has bid the paper up to a substantial premium because of declining yields and the perceived safety that comes with a government agency guarantee. Mortgage bond investors risk losses when buying debt for more than par, or the bonds call rate if above par. While these investors are able to sell this paper on the open market at that premium, this paper is often called by the issuing agency, causing the premium to that call valuation to evaporate. Prepayments have been generally high over the last several quarters due to homeowner refinancing and refinancing by the agencies, as they have been able to roll over older and higher yielding RMBSs into newly issued ones with lower yields.
AGNC previously reported having an unamortized net premium balance of $4.4 billion at the end of 2012. At the end of the first quarter of 2013, the mREIT's unamortized net premium balance as of March 31, 2013 was $3.8 billion. This still existing premium indicates that further similar reductions to book value could be forthcoming, and that a good deal of generally misunderstood risk still exists.
Through the last two quarters, Annaly, AGNC's primary competitor, sought to acquire CreXus Investment Corp. (NYSE:CXS), a commercial mREIT that it already owned 12.4 percent of and which is managed by FIDAC, a wholly owned subsidiary of Annaly. The acquisition is expected to complete this quarter or in Q3. The move is a highly unorthodox one for Annaly, as it will transition itself from an agency-only mREIT into a hybrid. The commercial mortgage backed securities (or "CMBSs") that compose CreXus' portfolio carry higher yields than agency-backed RMBSs because they are not considered default-proof, but they are also less likely to get prepaid at substantial reductions to current market valuations. The acquisition and corresponding change to NLY's structure will also make AGNC the largest agency-only mREIT.
While it is unlikely that AGNC will copy Annaly's move into commercial paper, it is becoming of increasing likelihood that the mREIT will have to make some substantial changes to its portfolio composition or risk profile in order to reduce its potential for future losses to book and market valuations. Moreover, these growing risks and the potential for future spread narrowing may cause AGNC to reduce its dividend in the next few quarters. As a result, the mREIT looks poised to remain weak in the near-term, as investors wait out AGNC's next move.
Disclosure: I am long NLY. I wrote this article myself, and it expresses my own opinions. I am not receiving compensation for it (other than from Seeking Alpha). I have no business relationship with any company whose stock is mentioned in this article.