I find it interesting that according to ETF Database, the S&P VIX Short-Term Futures ETN (NYSEARCA:VXX) ranks as the third most popular exchange traded product by volume, with average volume over the last three months coming in at around 53 million shares per day.
Check out the volume on this weekly chart. There's been a huge surge in trading activity in this fund over the past few months.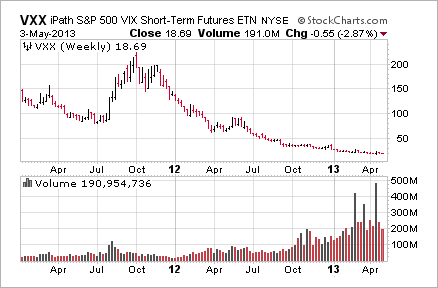 In fact, by my calculations, VXX has already traded more than 4 billion shares this year; impressive, considering that it only traded 3.6 billion shares during all of 2012.
Also interesting is that according to XTF.com, the short interest comes in at about 64.5%. Per The Wall Street Journal, that represents about 41 million shares, which would still take less than a day to cover at current volume levels.
I guess that's not surprising. Being short VXX has been a smart move so far this year, with the fund down about 33% since the first trading day in January. That's because the VIX futures, which the VXX fund trades, have been in a persistent contango.
Just to review, the VXX ETN buys front-month VIX futures contracts and then continually rolls them over to the next month's contracts. Unfortunately, when VIX futures are in contango, those longer dated contracts cost more -- with the extra money paid continually eating away at returns .
It would take a huge rise in volatility and a major change in the current VIX futures contango for this fund to make significant gains, which is kind of how this ETN is designed.
The VIX term structure over time
To see how this works, I put together a chart showing the VIX futures term structure going back a little over a year, along with a chart of VXX itself (split adjusted).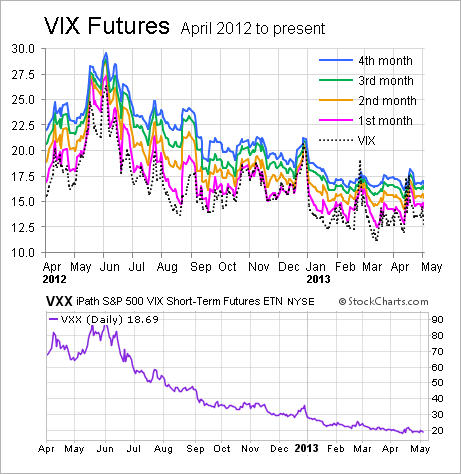 The top part of the chart is a little confusing, but it shows the first through fourth month VIX futures contracts (plus the spot VIX). The degree to which the lines are spaced apart reflects the contango in the VIX futures market, which is what drags down the value of VXX.
There are some exceptions. You can see that from time to time the VIX futures term structure gets "squished" with the front month contract rising closer to, or even exceeding, the more distant months. These are the conditions when VXX moves up, sometimes rather sharply.
In May of 2012, for example, the contango looked as if it would disappear, and VXX rose about 41% that month. Alas, however, the contango returned and VXX lost all those gains and more by the time summer came to an end.
But VXX can make some even sharper moves to the upside. For example, consider the VIX futures term structure back in 2011.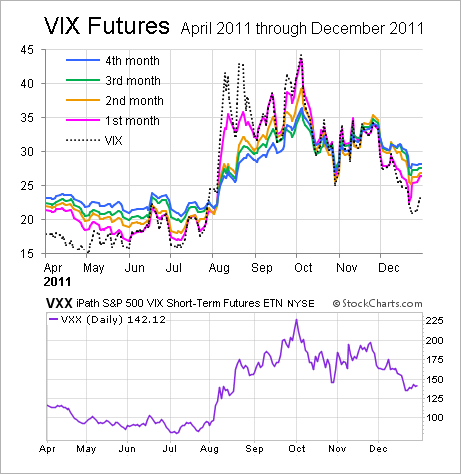 During August of 2011, the VIX term structure went into serious backwardation and VXX doubled in about two months as the S&P 500 corrected by about 15% over that same time period. Yet once the panic subsided, and even a mild contango returned, the VXX fund rolled over again.
The lesson here is that if you're trading VXX from the long side, don't overstay your welcome. Pay close attention, not just to the VIX level, but to the contango and backwardation in the market.
VXX is pretty much designed to approach zero because VIX futures rarely stay in backwardation more than a few weeks or months. Consider that since inception, VXX is down by nearly 99% as this log chart shows.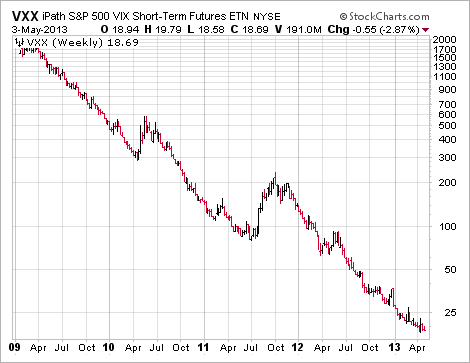 So whatever you do, don't use VXX as any sort of a long-term holding. It's really only suitable for short-term trading only. And from the looks of the surging volume lately, it appears as if a lot more people are doing just that.
Disclosure: I have no positions in any stocks mentioned, and no plans to initiate any positions within the next 72 hours. I wrote this article myself, and it expresses my own opinions. I am not receiving compensation for it (other than from Seeking Alpha). I have no business relationship with any company whose stock is mentioned in this article.