Gold and silver continued to trade up during last week. Will precious metals continue to rally this week? As I have stated in the recent precious metals weekly outlook, several publications, events and speeches will take place during this week that may affect gold and silver prices. These items include: Bernanke's speech, China's trade balance, German factory orders, Bank of England rate decision, Japan's current account, Reserve Bank of Australia's rate decision, China's CPI, and U.S jobless claims. On today's agenda: Australian Retail Sales, Spain's unemployment Change and ECB President's speech.
On Friday, the price of gold slipped by 0.23% to $1,464.2; Silver increased by 0.77% to $23.99. During last week, gold rose by 0.73%; silver, by 0.99%. Moreover, during last week, the SPDR Gold Shares (NYSEARCA:GLD) rallied by 0.84% and reached by May 3rd 142.09. Shares of Goldcorp Inc (NYSE:GG) also rose by 0.21% during last week.
In the chart below are the normalized prices of gold and silver for 2013 (normalized to 100 as of December 31st). The prices of gold and silver have increased in the past couple of weeks.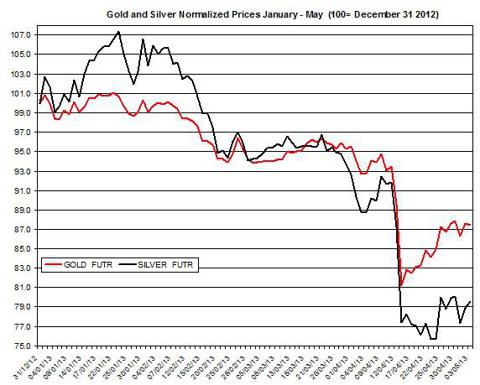 On Today's Agenda
Australian Retail Sales: The monthly update will pertain to March. In the last report, the seasonally adjusted retail sales rose by 1.3% during February;
Spain's unemployment Change: the number of people unemployed in Spain declined in March by 5k. This mean, the employment situation in Spain hasn't changed much last month. If in the upcoming report the number of unemployed will rise, this may adversely affect the Euro;
Mario Draghi's Speech: ECB President will give a speech at the LUISS Guido Carli, in Rome. Draghi might shed some light on the recent ECB rate decision, in which the ECB cut the rate by 0.25pp to 0.5% - its lowest level. If ECB President will talk about the rate cut or the future steps of the ECB, this speech may affect the Euro;
Currencies / Bullion Market - May Update
The Euro/ USD rose on Friday by 0.38% to 1.3114. During last week, the Euro/USD increased by 0.64%. Moreover, other currencies such as the Canadian dollar and Aussie dollar also appreciated last week against the U.S dollar by 0.42% and 0.86%, respectively. The appreciation of these "risk currencies" against the U.S dollar may have partly contributed to the slow recovery of gold and silver during last week. The correlations among gold, Canadian dollar and Aussie dollar remained robust and positive: during April and May the linear correlation between gold and USD/CAD reached -0.68 (daily percent changes); the linear correlation between the gold and AUD/USD was 0.61 (daily percent changes). These correlations suggest the recent rise of precious metals prices was partly related to the shifts in the foreign exchange markets.
Outlook
The strong demand for physical precious metals such as gold and silver is plausibly among the factors pushing precious metals prices higher. Nonetheless, the ongoing decline in GLD's gold holdings continues to serve as an indication for the drop in demand for gold as an investment. Last week, the FOMC didn't change its policy while the ECB lowered its rate. This week, the ECB President, Mario Draghi, will give a speech; he might shed some light on his recent rate cut. Bernanke will also give a speech this week; if Bernanke will refer as to whether the FOMC plans to cut down its asset purchase program in the near future; this news could pull down precious metals prices.
If BOE or RBA will decide to cut their respective interest rate, this could adversely affect their local currency and thus indirectly pull down precious metals prices. Finally, if the stock markets will continue to rally, this may further pull down the demand for precious metals as an investment.
For further reading: Gold and Silver Outlook for May
Disclosure: I have no positions in any stocks mentioned, and no plans to initiate any positions within the next 72 hours. I wrote this article myself, and it expresses my own opinions. I am not receiving compensation for it (other than from Seeking Alpha). I have no business relationship with any company whose stock is mentioned in this article.