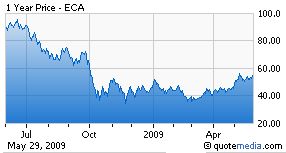 EnCana (NYSE:ECA) is a low cost operator, has a strong balance sheet, and has strong hedges in place for 2009 which puts it in a competitive advantage during this difficult business environment. The emerging resource plays at Haynesville and Horn River continue to show promise both in terms of improving production rates as completion techniques are perfected and in terms of cost structure.
I would place a 12-month target price of US$60.00, which is based on an estimate of net asset value using future strip pricing of $60.58. Investors need to be aware of the risks inherent in the oil and gas industry. These risks include: trading liquidity risks, geological, engineering, regulatory and environmental risks related to the exploration for and development of crude oil and natural gas resources, as well as the volatility in crude oil and natural gas prices that can materially affect financial performance and the accuracy of estimates for analysts and experienced investors.
The increase in capital spending to $580 million, from $290 million, in Haynesville is primarily tied to retaining acreage, expanding the knowledge base of the play and defining a resource base to satisfy commitments to deliver gas to market using third parties. For example, EnCana has announced shipping commitments as to 150 mmcf/d of capacity on the proposed Gulf South pipeline expansion and 500 mmcf/d of service on the proposed ETC Tiger pipeline, with expected start up in 2011.
EnCana offers the lowest 2009 operating cost structure for natural gas of ~$5.50/Boe ($0.92/Mcfe) vs. its peers at $12/Boe, which I believe, in accordance with analysts from CIBC World Markets, "is a key performance measure and indicator of the company's ability to weather the current fiscal and commodity environment."
Financials/Balance sheet highlights:
2009 year-end net debt/cash flow is estimated at 1.5x versus its senior peers at 1.8x and 32% of their lines unutilized after working capital adjustments (i.e. $1.3 billion in available capital).
ECA maintains its quarterly dividend of $0.40/share. ECA and Husky (OTCPK:HUSKF) are two of the top dividend (large cap) payers with yields of 3.5% and 4.0%, respectively (versus peers of 1.3%).
The stock is currently trading at 1.1x NAV and discounting long-term prices of $6.30/Mcf. While ECA appears fairly priced in this environment, it's worth noting that on a risk-adjusted basis, ECA offers the greatest upside (37%) versus its peer group (15%). It is also noteworthy to mention that with the drastic reduction in the US rig count (down ~50%), we potentially could see supply decrease by up to 5 Bcf/d Y/Y by Q1/10 – effectively rebalancing the market and supporting higher prices.
I will continue to favor ECA, continually accumulating the stock despite the small short-term upside, given its best-in-class low-cost operations, strong management team, attractive F&D costs, solid financial position and exposure to enormous gas and bitumen resources. For long-term investors with a bullish view on gas I believe the current environment offers an attractive entry point particularly considering its healthy 3.5% dividend yield and potential value capture related to the Cenovus & Encana split. Don't forget this company was once the largest in Canada, and may soon become the largest via market capitalization once again.
Disclosure: I hold ECA long in my stock portfolio on kaching. The portfolio is available for anyone to view or follow.