Summary
The market continued higher this past week on the back of better than expected employment data, the Fed's continuation of QE with no end in sight, and an ECB rate cut on borrowing rates. The market got the trifecta of positive news that we were talking about last week, which was very solid for the market. Bulls were able to crush bears/shorts last week, and now, the market will need renewed buying to keep going higher. This week, the market will unlikely drop strongly, but it will need continued positive news to break higher. The key to watch this week will be Chinese economic data, retail sales from companies on Thursday, Bernanke's speech on Friday, and earnings from sectors that have not had much reported yet.
Chart Overview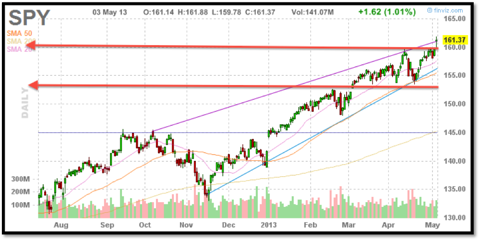 As we can see from the chart of the SPDR S&P 500 (NYSEARCA:SPY), we broke the key resistance line that had held since March, and the range we had been in since that started is now broken. Breaking that key resistance should signal more upside unless we quickly lose footing. With a light calendar this week, that type of move seems unlikely. For now, it's all hands on deck.
Economic Data
| | | | |
| --- | --- | --- | --- |
| Date | Data Report | Market Expectations | Previous Report |
| May 7 | Consumer Credit - March | $16.3B | $18.1B |
| May 8 | Crude Inventories - 5/4 | N/A | 6.7M |
| May 9 | Initial Claims - 5/4 | 336K | 324K |
| May 9 | Continuing Claims - 4/27 | 3019K | 3019K |
| May 9 | Natural Gas Inventories - 5/4 | N/A | 43 bcf |
| May 10 | Treasury Budget - April | N/A | +$59.1B |
As we can see, it's a very light week for the market. Consumer Credit on Tuesday will be interesting, as credit has been steadily rising over the past several months. Rising credit means that more consumers are okay with taking on debt to buy goods. A change in that type of attitude would be slightly negative for the market. Jobless Claims on Thursday is always important for the market, especially after last week was a multi-year low. Overall, though, economic data here at home is not going to move the market this week.
Foreign Markets
Outside of the USA, Europe and Asia will likely be the key to this week in the market. China has some important data that will be released this week along with Europe. On Monday, China will report its HSBC Services PMI, while PMIs will be released for France, Germany, Italy, and the Euro-Zone. Those reports will be a key to start the week. Europe needs to show signs of improvement to keep its market moving strongly, while China has looked weak in data, so it would be nice to see a solid report for them. Wednesday will be important, as Chinese Trade Balance will be announced. That announcement will likely be the key to the market this week as the last report was quite weak, and a hard landing for China is not going to be good for American markets. Finally, we get China's Money Supply and New loans information on Friday. Those reports are key to seeing how new business/consumer credit looks for the Chinese market. Overall, though, the reports are not large enough to move the needle for a market breaking out.
Earnings
| | |
| --- | --- |
| Date | Key Company |
| May 7 | DIRECTV (NYSE:DTV) |
| May 7 | Marathon Oil (NYSE:MRO) |
| May 7 | Mondelez (NASDAQ:MDLZ) |
| May 7 | TripAdvisor (NASDAQ:TRIP) |
| May 7 | Walt Disney (NYSE:DIS) |
| May 7 | Whole Foods (WFM) |
| May 7 | Zillow (NASDAQ:Z) |
| May 8 | AOL (NYSE:AOL) |
| May 8 | Green Mountain Coffee (NASDAQ:GMCR) |
| May 8 | Groupon (NASDAQ:GRPN) |
This week is a lull in earnings season as we are in the middle of January-March reporting season and February-April. We do have some key reports on consumer spending to watch. Reports from DTV, DIS, TWFM, GMCR, and GRPN are all important for gauging consumer spending. Yet, at the same time, the market will not be able to be moved by any of these reports individually. With a light week, they may end up being more in focus than they should be, but earnings will not break the trend this week.
Fed Outlook
The Federal Reserve continued their QE last week as was expected, and the market now expects QE to continue for some time. The continued QE puts a floor on the market and continues to provide catalysts for more upside. At the same time, Friday will be interesting, as Fed Chairman Ben Bernanke will be speaking in Chicago. His words will be parsed for any "newsworthy" comments. The only way the market gets derailed this week is if those comments show any signs that QE will end any time soon. Given the recent economic data outside of employment, we do not expect that to occur.
Conclusion
It is a very light week for the market, and for that reason, we should continue higher. There is not a lot to derail the market, and even if we get negative news from overseas, earnings, and more…it's still not enough to leave us more likely around flat for the week. The only way this market gets moved much lower this week is if Bernanke says the unexpected about QE. Look for a market moving slightly higher throughout the week.
Trades
Ticker: Yahoo! (YHOO)
One stock we like heading into this week is YHOO. The company looks ready to rip, and it has some solid catalysts to move higher. The company's latest quarter was solid, and we believe the company has a solid floor below it with the Alibaba IPO pending. YHOO's latest quarter was disappointing because revenue did not grow and display revenue for ads dropped 9%. CEO Melissa Mayer noted that the drop was due to a move to mobile that gives less revenue per ad. The promising parts of the report were a margin increase, EPS beat, and guidance remained the same. Operating margin increased from 13% to 16% due to traffic acquisition costs (TAC) dropping by over 50%. The company was able to maintain the same revenue but decrease costs, which is something a lot of people are ignoring.
EPS beat expectations at 0.36 versus 0.24. The company does need to see revenue making a positive move to the upside to show recovery, but we believe the company is doing such a major overhaul that it will take some time to get everything in place. Additionally, we believe that the future looks solid with the Alibaba IPO. The IPO is expected to raise $90B, and those proceeds will help buy back YHOO's share. That buyback is a major cash infusion for YHOO and while it is included in the market value, we believe that it also creates a floor to the stock, as it's an event that will happen for now and has a lot of promise for YHOO.
Look for the stock to break out if it can get over 25.50.
Buy Point: $25.50
Target: $27, $30
Ticker: Schlumberger (NYSE:SLB)
With the market making all-time highs, many are asking what can still be bought. The answer is likely energy. With oil not participating in the rally as well as many other portions of the market, energy stocks have lagged. SLB, for example, is down 5% for the last 3 months and only up 2.5% for the last year. The problem for SLB has been flat oil prices and a lot of volatility in prices. SLB, though, just reported great earnings and has very good value. Future P/E sits at just over 13, which shows a lot of value. We look for value under 15. Price/sales is at 2.3, which also shows good value.
The company is expected to see 8.5% revenue growth this year and over 11% growth next year. The latest earnings showed that growth is starting to pick up already. The company hit an EPS of 1.01 versus 0.96 one year ago. The company saw revenues up 8% in oilfield services, 9% in reservoir characterization, and 9% in drilling. The company has a positive outlook for the year with expectations for Gulf of Mexico business to improve as well as strong growth in Sub-Sahara Africa, the BRICs, and Australia. With a strong mix of growth and value, SLB is attractive. Along with that, energy looks like it will see a cycle of money coming back into it as employment improves and energy is a place where buying can happen.
A great way to play SLB is through an option spread. Even if the upside is not as strong as we believe, the stock has good value and should not decline with such great earnings just reported. We like the 70/67.50 bull put spread for Jun22 that is offering 15% potential.
Trade: SLB, Jun22, 70/67.50 Bull Put Spread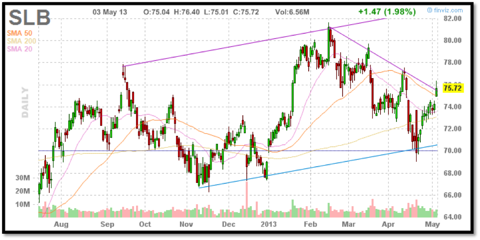 Another stock we like long is Monster Beverage (NASDAQ:MNST). We just updated our 2013 price target to $79, and we believe they remain a solid Buy for the year. MNST is currently valued with a 29.7 P/E and a future P/E of 20.6. Compared to the industry average, 18.9, MNST is overvalued. Looking at MNST's key ratios like ROA, ROE, and ROIC in comparison with market competitors will give us a good idea of this company's performance against the others. MNST reports ROA at 28.3%, ROE at 41.9%, and ROIC at 41.9%. PepsiCo (NYSE:PEP), one of MNST's market competitors, reported their ROA at 8.4%, their ROE at 28.7%, and their ROIC at 11.2%. Coca-Cola Company (NYSE:KO) reported ROA at 10.9%, ROE at 28.0%, and ROIC at 13.9%. MNST is the strongest company in this comparison, a factor that has contributed to their overvaluation.
MNST's decrease in P/E from current to future indicates that the company is predicted to grow in the coming fiscal year. MNST is predicted to grow 12.2% this quarter, 15.3% next quarter, and for the whole fiscal year they are predicted to grow 21.5%. These growth percentages are larger than numbers predicted for the industry in general: 7% for this quarter, 13.5% for next quarter, and 20.1% for the full year. We believe that these numbers indicate that even though MNST is overvalued, their growth potential and opportunity will allow the company to maintain its high valuation, leading us to rate this company as a "Buy".
MNST is the second largest company in energy drinks behind the Red Bull name. Even though right now MNST is offering its products in international markets the company is not yet seeing huge returns. Here is where MNST finds most of its opportunity moving forward. Making returns internationally would bring MNST large increases in revenue. Right now international consumers are given two main choices for American brand name energy drinks: Red Bull and Monster. MNST is systematically being offered at a lower price, which will likely bring consumers to consider MNST over Red Bull. 2013 should be a big year for international sales revenue for MNST.
Disclosure: I have no positions in any stocks mentioned, and no plans to initiate any positions within the next 72 hours.
Business relationship disclosure: The Oxen Group is a team of analysts. This article was written by David Ristau, one of our writers. We did not receive compensation for this article (other than from Seeking Alpha), and we have no business relationship with any company whose stock is mentioned in this article.