There is no doubting that the steel & iron industry has continued to endure a tough time over these last few years. Leading up to the Great Recession, these companies could do no wrong as share prices elevated into triple digit returns from just a few years prior. Yet the crash of 2008 brought about a grim reality that has still left the industry impaired and its share prices a mere reflection of their former glory as seen in the chart below.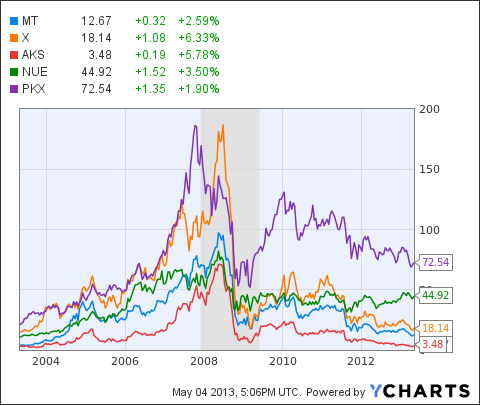 I recently opened several bullish positions in ArcelorMittal (MT), the world's largest steel producer with the intention of a long-term hold. As of May 3, 2013, the company's shares were priced at $12.67 a more than 88% drop off of its all-time highs. This last Friday, call options with a $10 strike and an expiration in January 2015 were being sold for a mere $3.85/sh. For a little over 1.5 year's worth of time, paying a $1.2/sh. premium for 70% less capital exposure continues to represents a lucrative offer in the present.
A quick comparison of the company against some of its fellow peers in this space can be found below. All values were taken from Yahoo! Finance on May 4, 2013.
| Name | Mkt. Cap. | Fwd. P/E | PEG Ratio | P/B Ratio | Current Ratio |
| --- | --- | --- | --- | --- | --- |
| ArcelorMittal | $19.63 Billion | 9.25 | 0.75 | 0.37 | 1.34 |
| United States Steel Corp. (X) | $2.62 Billion | 10.67 | (11.93) | 0.71 | 1.80 |
| AK Steel Holding Corp. (AKS) | $474 Million | 8.49 | (0.61) | N/A | 1.68 |
| Nucor Corp. (NUE) | $14.3 Billion | 12.24 | 3.31 | 1.83 | 2.79 |
| POSCO (PKX) | $22.4 Billion | 7.64 | 0.81 | 0.62 | 1.6 |
The vast differences noted above are likely in part to ArcelorMittal's more global exposure when contrasted against some more of the domestic producers found in the listed peers of US Steel, AK Steel, and Nucor. The valuation similarities with POSCO suggest that American companies continue to merit a premium when contrasted against their international peers.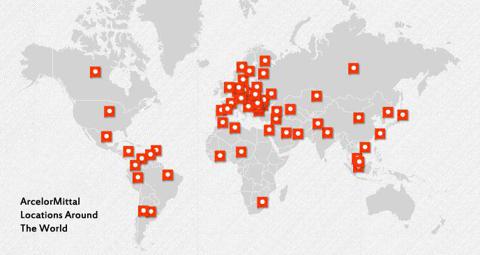 What stands out the most about ArcelorMittal remains its considerably low price-to-book ratio, a standard method of valuation when considering the company's assets from a cost perspective. While it's true that these assets may stand to be overvalued on the company's financials, to believe that the difference merits $0.37 for every $1 is likely a stretch. After all, consensus earnings estimates still give the company a relatively low 9.25 forward P/E ratio.
Here are a few additional reasons to consider ArcelorMittal in the present:
From late 2012 to the present, analysts have largely become more bullish for the company. Starting in November, there have been 8 upgrades and 2 downgrades varying from ratings of "neutral" to "overweight".
The company's own outlook remains positive as it plans to boost profit on each ton of steel in the next five years. Per-ton earnings are expected to rise to the level of $150 from an average of $87 over the last two years.
The company has been employing several cost cutting measures and raising capital through asset sales thereby fortifying their balance sheet and unlocking part of their book value. Early this year, the company sold a 15% stake in a premiere operation in Canada for $1.1 billion. The $7.3 billion price tag was a strong testament to book value accuracy as at least one analyst had pinned the mine to a value of $4 billion.
Although the company has cut its dividend from $0.75 to $0.20 in order to preserve capital, the fact that it continues provide one at all remains indicative that the operational situation has not deteriorated to an extreme.
With the market pricing the company at a 63% discount to book, investors reading into the ongoing operations must inherently question if the valuation remains fair. Thus far, the company has taken meaningful steps to reduce its debt load and the company's outlook remains profitable. Analysts continue to anticipate that the company will see growth going forward with the consensus earnings estimate being $1.37 for 2014.
With a series of analyst upgrades in recent months even as the company's stock falls to all-time lows, one must question if the drop remains merited. It's clear the company remains undervalued in terms of price and earnings growth by a look at comparable PEG ratios for its peers. The same can be said about book value, even as the company demonstrated valuation accuracy through its latest sale. Last of all, it's clear that ArcelorMittal continues to generate a steady flow of cash even as the company's price continues to fall. Ironically, the price-to-book ratio has now fallen to a point lower than that seen during the Great Recession.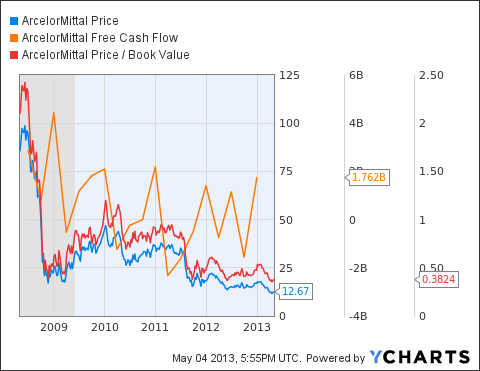 Disclosure: I am long MT, X. I wrote this article myself, and it expresses my own opinions. I am not receiving compensation for it (other than from Seeking Alpha). I have no business relationship with any company whose stock is mentioned in this article.