by Ramsey Su
Why short rather than long?
Picture yourself in a poker game with these rules. The cards are dealt up and you do not have to bet until you see the last card. If you have a bad hand, you do not have to bet at all. Home Builders may be offering such an opportunity.
The bar is set very high for the builders right now, and the current expectation is for them to clear the bar and then more. Most of the bets are currently on the long side of the table. So while there may be rewards for going long, the payoff odds are better on the short side.
Why now?
By now, I do not mean short now, but rather start watching the cards. The game has started. Most builders have reported fantastic earnings this season. From the trough of August-September 2011, all the home builders have arisen from the grave, many with >100% gains. This may be a very tough act to follow.
What is the good news?
Every builder reported higher sales, a higher backlog, improved profit margins and rising prices. The comps going forward is not going to be as easy for the builders. The good news is these are very easy metrics to follow. The perfect setup would be for these metrics to show a slow down while the stock prices of the builders continue to climb.
Mortgage rates are so low, you cannot afford not to buy, right?
In January 2011, the 30 years fixed rate mortgage was 5.00%. September 2012, at the launch of QE3, the mortgage rate was 3.38%. Last Friday, May 3rd, it was 3.49%. The cumulative effects of all QEs drove rates down 1.5% in the last 2.5 years. QE3 has proven to be totally ineffective in driving mortgage rates down further, in spite of being the biggest and the most mortgage directed purchase program. In fact, when taking into account the number of HARP refinances and the rise in mortgage insurance costs for FHA and PMI, rates may even be higher than they appear. Home builders should be concerned whether there will be buyers tomorrow, not with the buyers of today. In my opinion, low mortgage rates are already considered a norm in the market place. For rates to have a stimulating effect, they have to be lowered further. That may not be easy, if not impossible.
What else can the Government/Federal Reserve do to stimulate the real estate market?
Bernanke has already laid all his cards on the table. However, we may get a new Fed Chairman with a much bigger helicopter next year. This is always the unknown. On the White House side, the ground work is being laid for even more bailouts, including debt forgiveness in the form of principal reduction. There is no precedent for these insane policies. I would like to see how these wild cards are played before placing my bets.
What about the "smart money" buying single family real estate?
There are three ways to make money in a bubble. First, buy on the way up and be smart enough to exit before it bursts. Second, short on the way down, like those who made money off the bursting of the sub-prime bubble. Finally, just use other people's money (OPM). Let the suckers take all the risk and the smart money collect fees, regardless of outcome. Assuming that there is a way to determine a fair value for housing at any given time, the original REO-to-rental smart money plan is to buy at a discount, say at >20% of this imaginary fair value. Right now, listings are bid up by multiple cash offers, no one is buying at discounts. More likely, they are already paying a premium using OPM. Wall Street money has been a major driving force on the upside. If Wall Street stops buying, I suspect all price momentum will stop. If it actually liquidates, I cannot imagine how policy makers can "TARP" over the avalanche this time.
Who has placed their bets?
The rules of this poker game are different for the home builders. The building cycle is long, even for buildable lots. They have to place their bets early and hope the remaining cards will give them a winning hand. So far, they have been among the winners. Land that they bought cheaply a few years ago is paying off big today, and yet the builders are only marginally profitable. There are builders like Beazer Homes (NYSE:BZH) that are still in the red and just promising a return to profitability in the near future. Home builders are now buying up land at very high prices. If the market trend continues, the higher land costs can easily be absorbed by higher home prices. If home prices do not appreciate, margins will obviously be compressed and the home builders won't appear as attractive as they are now. If home prices depreciate, then the home builders are going to be stuck with illiquid investments and a new round of write offs will begin. Maybe the government won't gift them a retroactive tax loss carry-back this time.
In my opinion, shorting the home builders may be a very lucrative idea. The question is only when. Recall the sub-prime lenders: they were partying for a few years before finally hitting the iceberg. The builders have no choice but to continue making financial commitments. Flush with cash from the easy money Wall Street sources, the builders are their own worst enemy. They try to outbid each other not only for land, but also for labor and material in the same markets.
In closing, here is a link to a rather interesting report on housing affordability. I highly recommend looking at some of the data, and think about how to incorporate the numbers into future housing demand. It is a relative short report with a number of simple charts such as this one on where a severe housing cost burden pertains:
---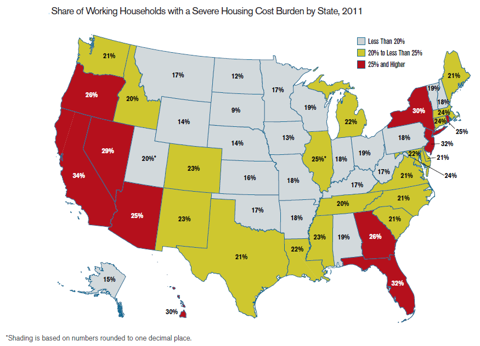 Share of households with severe housing cost burden per state
---
While I try to digest its validity and implications, bulk investors should probably be concerned about where they have been, and still are buying single family REO-to-rentals.
---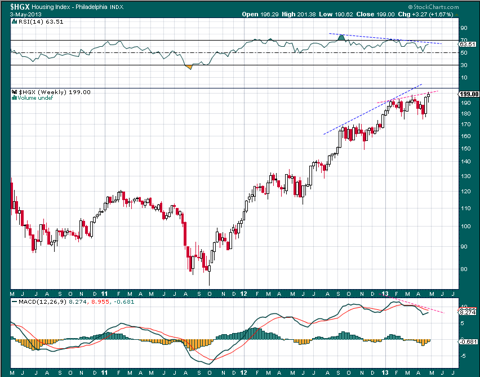 HGX Index, weekly chart - a few warning signs in the form of momentum indicator divergences with price are in evidence

---
Charts by: Center for Housing Policy, StockCharts