While many investors think of dividend-paying companies as slow and often boring investments, the power of dividend growth can often be a more rewarding prospect in the long run when contrasted against more volatile small-cap growth investments. The consistent return, along with the possibility of share price appreciation, often yields a favorable total return for investors. Likewise, the power of dividend growth can often serve a compounding effect on the return on investment.
Take for example, an illustration of The Coca-Cola Company (KO). If an investor had held on to the company's stock beginning in 2000, the appreciation in share price amounted to a respectable 39% as the stock rose to the current price of $42.24. However, the investor would also have received $8.51 in dividends per share over these last 13 years. Of these consistently growing dividend payments, 70.5% of these payments would only have been distributed after the start of 2006, largely in part to dividend growth.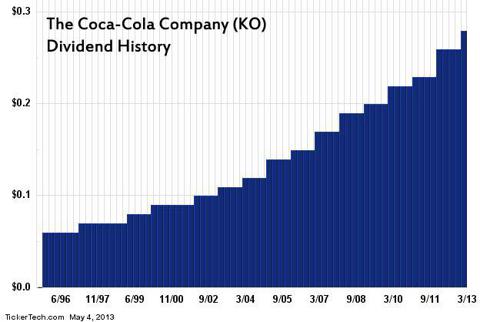 The entry into a dividend growth status for a company is often most rewarding when conducted early on in the company's life, as its transitions into a more stable phase of development. This allows for the greatest amount of time for dividend payments to increase, thereby boosting the income return for investors. When companies reach the point in which their cash is better suited to being returned to the investor, the possibility for steady dividend growth can often be expected. The following three companies represent technology enterprises that appear to be reaching that point in their lives in which returning value to shareholders takes priority:
Apple, Inc. (AAPL)
Although the company has lately had one of the shortest histories of returning wealth to investors, it has also accumulated one of the largest war chests of cash and cash flows on the market. Last year, the consumer hardware giant broke its 17-year hiatus from issuing dividends. Now priced at $449.98, the company's annual dividend represents a 2.7% yield and a 15% increase from the prior year.
The company recently made history by issuing the largest bond sale ever by a non-banking firm, as it raised $17 billion. In part by using these proceeds, it is also conducting the largest single share-buyback ever. This serves a practical effect for income investors. By bumping its share-buyback up to $60 billion, the company can theoretically reduce 10-15% of the company's outstanding shares. The inherent consequence of this is that it will also increase the earnings-per-share and reduce cash outflow from dividends by a similar percentage as well. This helps to set the stage for increased dividends in the years to come.
Corning (GLW)
Although often dismissed as a mere glass manufacturer, Corning's growth in specialized glass entitles it as a technology company advancing the field of display technologies, telecommunications, environmental sciences, and specialty materials. Interestingly enough, even while the company's stock appreciated over 15% in the last month, the company still trades at a price-to-book ratio of only 0.99. The company also carries a forward price-to-earnings ratio of 10.70 and a low price/earnings to growth ratio of only 0.94. The company recently reported cash and cash equivalents of $4.8 billion and currently supports a healthy current ratio of 5.16.
The company began raising its dividend in 2011 after holding it steady for more than 15 years. In the last two years, it has raised the quarterly payment by $0.025 and $0.015, representing an annual increase of 50% and 20% respectively. Most recently, the company announced that it would be raising its payment by another $0.01 representing an 11.1% increase. This places the current annual yield at 2.69% at the current price of $14.87. At the same time, the company has also been utilizing its cash to buy back shares. The latest $2 billion stock buyback represents nearly 9% of the outstanding shares under current share prices.
Seagate Technologies Ltd. (STX)
As essentially one of the last hard disk drive manufacturers after massive consolidation, Seagate Technologies virtually exists in a duopoly with Western Digital Corporation (WDC). The company now trades with a price of $41.23 and offers a hefty annual dividend of $1.52, representing an annual yield of 3.7%. With essentially no room left for consolidation in the hard disk drive space, much of the company's cash flows has been diverted back to shareholders. According to the conference call found here, Seagate has returned 75% of its operating cash flow back to shareholders over the first 9 months of 2013.
As seen in the chart below, Seagate has been very aggressive over the last few years, as it buys back its shares. Interestingly enough, the company continues to trade at a low forward price-to-earnings ratio of 7.48. In the same conference call Executive VP Dave Moseley reminded investors that the company still maintains the goal of reducing the company's share count to 250 million shares by 2014. This represents a 30% decrease from the current 358 million now outstanding. With such aggressive efforts being geared towards improving shareholder value, the growth in the company's yield has come from increased payments, part of which has also resulted from reduced share counts and the correlated cash outflow savings.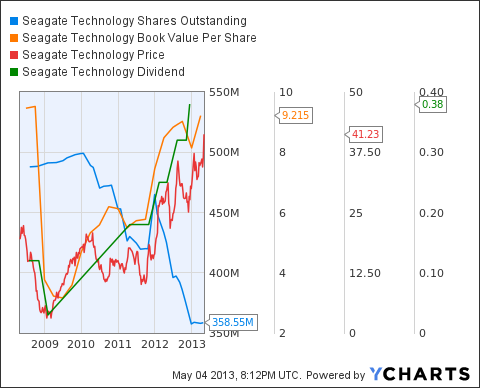 STX Shares Outstanding data by YCharts
Disclosure: I am long AAPL, GLW, STX. I wrote this article myself, and it expresses my own opinions. I am not receiving compensation for it (other than from Seeking Alpha). I have no business relationship with any company whose stock is mentioned in this article.