I don't know for how much longer the price of silver (NYSEARCA:SLV) can continue to lag behind the other major strategic commodities but so far in 2013 it has been beaten down from both sides of its dual-nature. Silver exists in a unique space in the markets as it is both an industrial commodity and a monetary instrument. So, while its day-to-day price movements track nearly perfectly with gold (R2 = 0.9704 for monthly data going back to 1992), the magnitude of the changes are exacerbated by the underlying inflation/deflation argument with respect to the general economy and its industrial demand.
These cross-currents create violent activity in the silver market - along with the extreme position concentration that exists on the COMEX which the CME Group (NASDAQ:CME) not only turns a blind eye to-- but encourages. You can see this in the beta number between the SPDR Gold Trust ETF (NYSEARCA:GLD) and the iShares Silver Trust ETF SLV . GLD carries a 3 year beta versus the S&P 500 (NYSEARCA:SPY) of 0.50 while SLV's beta is 1.60.
Year to date, silver has been hit harder than all of the major strategic, risk-on correlated commodities. The dual meme of slack global growth (real) mixed liberally with the Federal Reserve ending Quantitative Easing before the end of the year (fantasy) has created a perfect storm in silver prices, allowing the paper market to over-play the short side of the market and push the price down near its cost of production.
| | |
| --- | --- |
| | YTD performance |
| WTI Crude | 2.7% |
| Brent Crude | -7.4% |
| Copper | -9.4% |
| Gold | -12.1% |
| Silver | -20.4% |
| S&P 500 | 10.4% |
If this were nickel, coal or even copper (NYSEARCA:CPER) we were talking about I wouldn't be at all surprised or suspicious. All three of those commodities have documented soft supply and demand fundamentals which have been reflected in prices struggling to either rally (nickel and coal) or getting completely routed (copper). But investment demand in silver has exploded with premiums running at record highs and dealers refusing to drop prices for 4-6 week delivery much below $30 per ounce.
Currently silver is struggling to maintain a price above $24 per share after the historic smack down both metals took in mid-April. Conversely, gold has rallied more than $150 off its spike low. This has sent the gold-to-silver ratio back above 60. When this ratio is rising, silver is acting more like a commodity than a currency and vice versa. So, if there is a change in the sentiment in the commodity markets, there should be a change in the silver market.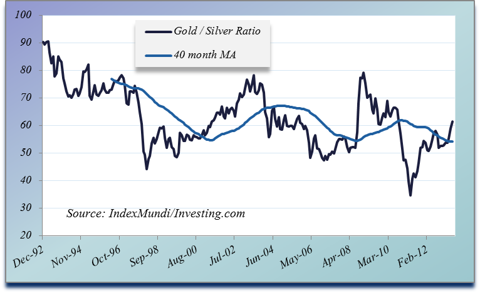 We have been witnessing an extremely weird market, wherein commodities are signaling contraction but equity markets are making all-time highs. This can easily be explained by money printing forcing capital to chase the only yield on the board right now, stocks. The gold and silver bears are notorious for trying to point out that both metals were going up simply because sentiment was driving them higher. They were rising because momentum was carrying them higher. This is an attempt at making a bubble argument for the metals.
This is patent nonsense.
So little money - less than 1% -- is actually allocated to the metals as investments that it is ludicrous to make that argument, and yet people do… in public no less. The mind fairly boggles at the concept.
If anything, the equity markets are the ones rising because momentum is taking them higher; chasing yield because everyone else is and because there is nowhere else to put your money. Now that the ECB has joined the Fed and the Bank of Japan, there is no longer a credible argument for commodity price deflating in the face of this new money.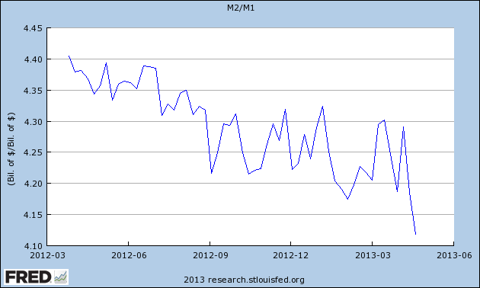 Moreover, the central banks' efforts to stamp out savings has the M2/M1 ratio falling dramatically, this is telling us that they may be successful in generating money velocity, or at least inflation. This may be the reason we are now seeing stronger bids coming into the commodity markets. WTI crude was up $2.64 per barrel last week. Brent has rallied more than $5.00 off its recent low and looks like it wants to move back to $110 per barrel. Copper saw a massive short squeeze on May 3rd which took it back over $3.30 per pound.
While none of these commodities have thrown off long-term buy signals, their reaction to the ECB's rate cut has been predictable and could be throwing off early signals of a change. WTI crude, in particular, is interesting because inventories are still very high and yet prices are rising. This leads to the fundamental argument that oil is over-priced and will correct, but if it is rising because of liquidity and hot money flows then that is a story with a much different ending.
We cannot continue to have an equity rally based on hot money without a rise in commodity prices. The market cannot have it both ways for long. Either stocks have to crash or money has to begin flowing into commodities and the precious metals.
With global politics beginning to heat up - Israel's attacks on Syria and Lebanon come to mind --- continuing to bet on deflation seems dangerous. Silver stands at the cross-roads of these issues and looks like it represents good value at these prices. With more than 16 million ounces standing for delivery so far this month, the supply/demand picture looks even tighter than it did right after the crash.
Disclosure: I have no positions in any stocks mentioned, and no plans to initiate any positions within the next 72 hours. I wrote this article myself, and it expresses my own opinions. I am not receiving compensation for it (other than from Seeking Alpha). I have no business relationship with any company whose stock is mentioned in this article.
Additional disclosure: I own physical silver, gold, a few dairy goats, some dogs to protect them and what is left of my sanity.