Friday was a very good day for the portfolios as oil and natural gas related shares rallied sharply and helped propel the markets to new highs. Dow 15,000 was reached and the headline number is but another talking point which shall bring in new investors to the market. This is the bullishness we have been saying is on the sidelines right now and we shall continue to see it forced onto the field over the next year or so. Our goal is to continue to position ourselves ahead of the curve in areas as yet undiscovered by the masses, and in the process leading readers to those same watering holes.
Commodity prices this morning are as follows:
Gold: $1475.80/ounce, up by $11.60/ounce
Silver: $24.18/ounce, up by $0.166/ounce
Oil: $96.29/barrel, up by $0.68/barrel
RBOB Gas: $2.8391/gallon, up by $0.0137/gallon
Natural Gas: $4.006/MMbtu, down by $0.035/MMbtu
Chart of the Day:
We were worried about Australia earlier, but after it found support and retested it we have bounced back up to the highs. Resistance has been hit, and it looks 'toppy' but we shall see a test of the highs set in March and just how real this worldwide recovery is. America may be the breadbasket for the world, but Australia is most certainly the home-improvement store as it has everything from gold, silver, uranium, iron ore, etc, etc to sell to those wanting to build.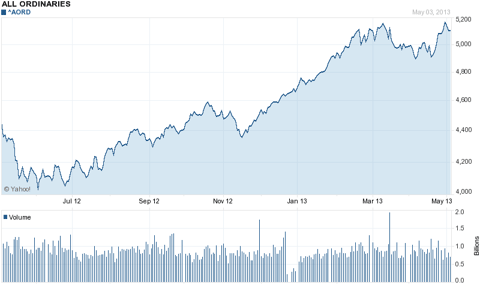 Chart courtesy of Yahoo Finance.
Oil & Natural Gas
On Friday we were forced to sell out of our position in PDC Energy (NASDAQ:PDCE) which we held in the new retirement account set up this year. When a stock is up over 21% in less than 20 trading days since you bought it, and bought it with retirement funds nevertheless, it is time to take profits and say your thanks. It was a fantastic trade for the retirement account, a trade which was meant to last far longer and be more of an investment, but sometimes these things are beyond one's control. We sold in the morning and redeployed the funds not long after into EV Energy Partners, LP (EVEP), which was hitting new 52-week lows. Readers should remember that we are seeking value in this market and have no qualms rotating out of those names which have gotten ahead of themselves in order to buy those which we see opportunity.
We literally bought at the lows here, so after a run such as this we absolutely had to take profits, especially due to the fact that it is in a retirement account. Remember, take what the market gives you and move on.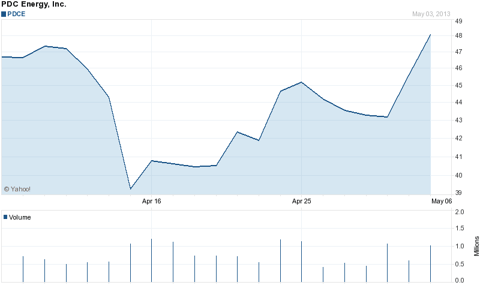 Chart courtesy of Yahoo Finance.
In other good news for that particular retirement account, we saw Halcon Resources (NYSE:HK) rally along with its peers after having a rough week on the back of what the market determined were weak production numbers. Shares rose $0.63 (11.11%) to close at $6.30/share on volume of 12.6 million shares, so we are getting close to breakeven on the initial investment but certainly not stressing it, as we view this as a long-term investment and were lucky enough to add to our position on the sell-off after the earnings report.
The market rally was strong of Friday and very broad, so broad in fact that even Magnum Hunter Resources (MHR) put in a strong day with shares rising $0.21 (7.81%) to close at $2.90/share on volume of 5.8 million shares. Yes the shares have been beaten down, but for good reason and to see the name perform so strongly displays a strength in the market which gives us added confidence. When names which have been beaten down sharply and for good reason rise and rise sharply with the general market and their peers, we take notice. Maybe not for that individual name but at a minimum for the general market and its industry.
The Indicator
We have used Cheniere Energy (NYSEMKT:LNG) as one of our barometers of the risk-on/risk-off trade within the oil and natural gas market for some time now. The stock itself has made investors a tremendous amount of money but it has served us well in order to achieve returns even higher than that. We did notice on Friday however one issue which we want to point out as it might be an indicator that the indicator is either telling us to watch out or that it is time to find other indicators to use. During Friday's session shares peaked early in the morning and then sold off into the close. A new 52-week high was hit, but shares ended up only marginally and it is never bullish to see a leading indicator not participate in such a broad based rally, especially when it is its sector leading the way higher. Pay attention here.
Not what one wants to see from a leader, especially the tail end heading into the close.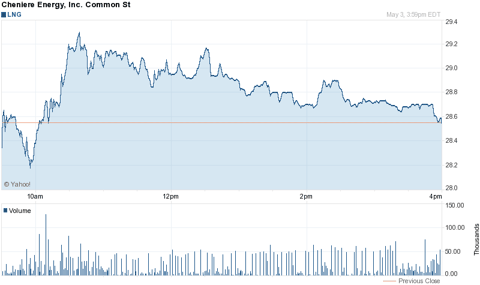 Chart courtesy of Yahoo Finance.
Transportation
Although one indicator is making us cautious, we are still seeing bullish signs from the others, such as the railroads like Norfolk Southern (NYSE:NSC). Yes the railroads ship more than just commodities, but in reality they ship nothing but commodities. Whether they ship iron ore, coal, oil, petrochemicals, automobiles, tractors, etc they are always shipping some type of commodity in either an unfinished state, semi-finished state or finished state. That is fact. The key is how in demand these products are and how quickly they are needed, which is based on the strength of the economy. So although Cheniere has drawn our attention for the wrong reasons, other indicators are telling us that everything is alright, the next few months will tell.
Disclosure: I am long HK, EVEP. I wrote this article myself, and it expresses my own opinions. I am not receiving compensation for it (other than from Seeking Alpha). I have no business relationship with any company whose stock is mentioned in this article.