According to the American Heart Association, approximately 715,000 Americans suffered heart attacks in 2012. Of these, 525,000 were first-time heart attacks and 190,000 occurred in people who had already experienced a heart attack. If detected early, damage to the heart muscle can be minimized through the placement of stents in the obstructed coronary artery allowing better blood flow to the heart muscle. The 2 types of coronary stents on the market are Bare Metal Stent and Drug Eluting Stent.
The coronary stent market is approximately $6 billion worldwide. Compared to open heart surgery, coronary stents have less surgical risks, and utilizing them is the preferred treatment option currently. This option becomes more important as our society ages and our lifespans increase.
In this $6 billion coronary stent industry, $4.2 billion worth of stents are implanted for "stable angina" or chest pain. These are patients with clogged arteries who typically do not experience heart attacks. In stable angina, the coronary plaques are less likely to break off ("stable") and head downstream in the artery to cause occlusion and heart damage.
The "unstable" plaques create the remaining $1.7 billion stent market. These are the plaques that break off from the lining of the coronary arteries ("unstable"), travel downstream to occlude the smaller arteries, and cause an acute myocardial infarction (heart attack).
The stent industry largely consists of multi-billion dollar pharma companies: Medtronic (NYSE:MDT), Abbott (NYSE:ABT), Boston Scientific (NYSE:BSX), and Johnson & Johnson (NYSE:JNJ).
One of the issues facing cardiologists who perform stent implants in patients with heart attacks is the risk of "dislodging" an unstable plaque during the procedure and causing it to travel downstream to occlude the smaller arteries and worsening the heart attack. This event is considered a Major Adverse Cardiac Event (OTCQX:MACE).
Until recently there have been no significant solution to prevent this "downstream embolization" from unstable plaques. Neither the Bare Metal Stent nor Drug Eluting Stent is capable of preventing the disruption of unstable plaques heading downstream.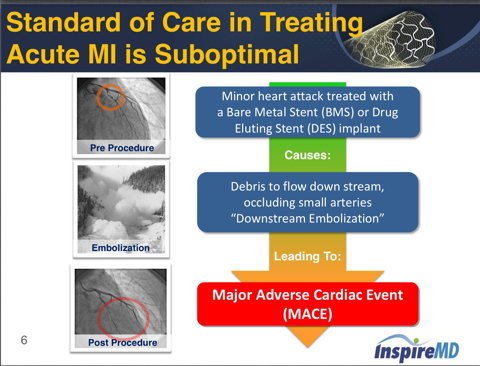 InspireMD (NYSEMKT:NSPR) is a medical device company that has created a solution to this dilemma. The company has a patented, proprietary stent platform technology call MGuard. MGuard is essentially a stent that is wrapped with an expandable micro net (mesh). This net expands during stent deployment with the goal of reducing the risk of plaque rupture and embolization during and post procedure. The photos below were obtained from the InspireMD website.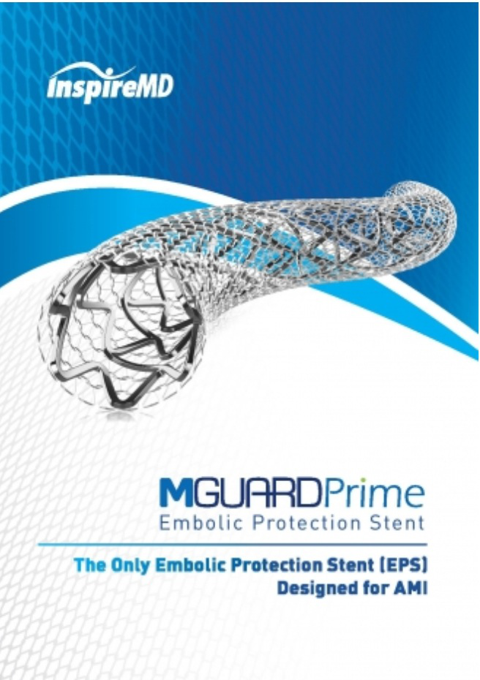 The MGuard Cardiac stents may be a new concept in the U.S., but the company has sold over 25,000 stents throughout the world. Its stents received CE Mark clearance in 2007 & 2010 and are currently selling in 30 countries. MGuard's MicroNet technology was designed to capture small "unstable plaques" in heart attack patients, and this represents $1.7 billion of the $6 billion stent market.
InspireMD already has a list of published clinical trials showing the efficacy of MGuard in reducing Major Adverse Cardiac Event (OTCQX:MACE).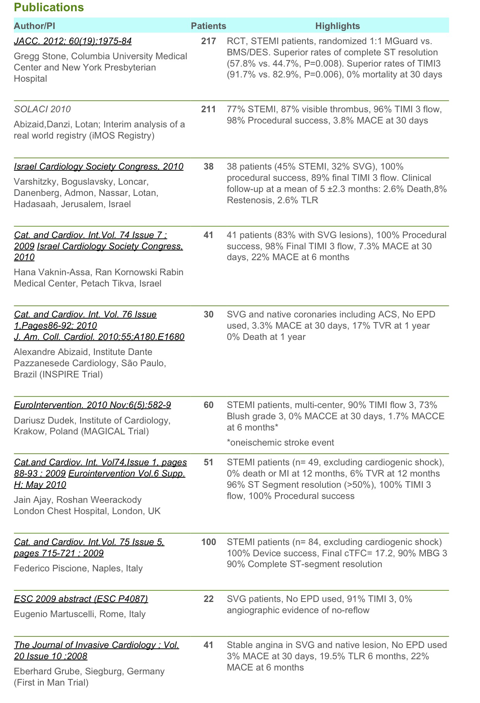 Highlights of some published articles:
The following two charts below show MGuard outcomes with "blush grade" and ST-segment resolution achievement time. Results were published by the Society for Cardiac Angiography & Intervention. Blush Grade is the amount of blood flow that returns to the damaged heart area after the stent is implanted. ST-segment is an EKG finding that indicates an active heart attack. These are measurements to evaluate Major Adverse Cardiac Event (OTCQX:MACE). Data derived from MGuard's MAGICAL and iMOS studies.
Evaluation of Blush Grade
The MICAMI MGuard Trial compared MGuard to bare metal stents in patients with acute ST-elevation myocardial infarction (STEMI) heart attacks. The study showed STEMI heart attack patients who underwent coronary angioplasty with MGuard exhibited statistically significant improvement in microvascular reperfusion criteria compared with those treated with traditional bare metal stents.
Landmark Clinical Trials
MASTER Marketing Trial 432-patient randomized trial concluded that the MGuard stent compared to conventional metallic stents resulted in statistically significant superior rates of epicardial coronary flow and complete STR (Resolution of EKG changes in acute heart attacks). Results were published in the Journal of American College of Cardiology and announced at the 24th Annual Transcatheter Cardiovascular Therapeutics (TCT) scientific meeting in Miami on October 24, 2012.
MASTER II FDA Registration Trial has just received FDA Approval to begin U.S. Regulatory Trial. This study is intended to both validate the effectiveness of the MGuard EPS platform, as well as achieve registration with the appropriate regulatory authorities worldwide. If successful, MGuard may lead competitors in lowering the incidence of adverse events and prolong the survival of patients suffering from acute myocardial infarction (heart attacks).
MGuard's stents do not end at coronary artery occlusion treatment. A view of its platform below shows promise for multiple conditions in which this MicroNet technology may be applicable and superior to current stenting protocols. As a matter of fact, the company is moving forward with stroke prevention; InspireMD recently received CE Mark Approval for Carotid Embolic Protection Stent, another multi-billion dollar market.
With a product that is a "game changer" in the multi-billion dollar field of stent treatment, it is important to note the level of confidence executive management team has in the company.
On April 16, the company announced the closing of a public offering of 12.5 million shares at $2.00 per share (Net proceeds of $22 Million):
Insider BUYING in the month of April was the following: 895,000 shares with No Insider Selling.
On April 22, 2013, OrbiMed Advisors reports 6.99% stake in InspireMD
The company has 2 analyst ratings; both are BUYS with a Price Target of $10.50.
As of this writing, InspireMD's stock price sits in the $2 range. With significant insider buying, a track record of positive clinical trials, a product already selling in 30 countries, and a pipeline that addresses multi-billion dollar markets, InspireMD is worth considering.
Disclosure: I am long NSPR. I wrote this article myself, and it expresses my own opinions. I am not receiving compensation for it (other than from Seeking Alpha). I have no business relationship with any company whose stock is mentioned in this article.