Riocan REIT (OTCPK:RIOCF) is the largest Canadian REIT, with a portfolio of 49.8 million square feet of leasable area primarily in retail leasing space. Riocan's properties are primarily located in Canada, with the majority in Ontario and Quebec, and a smaller portion of the portfolio in Alberta and British Colombia. 23 properties in Canada are held through joint venture arrangements with Tanger (NYSE:SKT), Trinity, Kimco (NYSE:KIM), Kingsett and Allied Properties REIT (AP.UN), as well as the Canada Pension Plan Board.
Another 14 % or 50 properties of Riocan's portfolio are located in the Northeastern United States and Texas, where Riocan has been involved in an expanding portfolio of retail properties. 22 if these properties are operated through joint venture arrangements with Retail Properties of America, Kimco, Dunhill Partners and the Sterling organization.
Property Transactions
In March 2013, Riocan completed a series of dispositions of five Canadian properties for an aggregate value of $374 M CAD, and announced another five properties were in negotiations for sale. Riocan's intent with these sales is to allow it to recycle capital invested in properties into new projects in the enclosed mall and urban portfolio in desired urban markets.
Capital raised from these dispositions, as well as financing on properties taking advantage of low interest rates, is used in a series of acquisitions. Riocan's Canadian property acquisitions are focused on enclosed format retail properties and the urban retail centers in what it calls the 6 high growth markets: Calgary, Edmonton, Montreal, Ottawa, Toronto and Vancouver. In 2012, Riocan completed acquisitions of 1,257,000 square feet of net leasable area in Canada, and another 2,216,000 square feet in the U.S.
Beyond acquisitions, Riocan's expansion plans include a strong emphasis on asset intensification, whereby existing properties are redesigned to increase the density of occupied space, or to add to the available space with the overall goal of increasing rental revenues.
Target Expansion
The replacement of Zellers properties by Target in its Canadian expansion continues to progress with eight locations opened by March 2013. Riocan properties previously housed 34 Zellers locations of which 23 have been converted or are scheduled to be converted to Target locations by the end of 2013. This move overall will create a significant advantage for Riocan as the previous Zellers locations were leased at below market rates. Conversion of these locations will help revitalize the entire property and generate more revenue for Riocan from existing properties.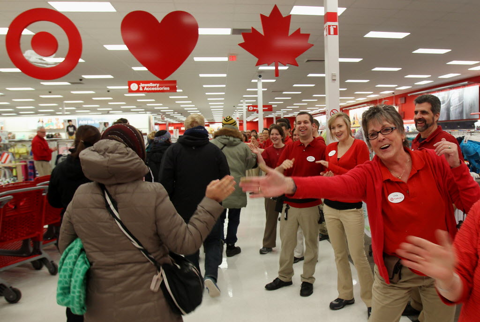 Tanger Joint Ventures
Riocan entered into a joint venture with Tanger Outlets for the development of outlet shopping centers in Canada similar to those Tanger currently operates in the U.S. These shopping centers consist of a tenant mix of designer and brand-name manufacturers, and the current arrangement calls for as many as 10 such centers to be owned evenly by both parties and to be branded as Tanger centers.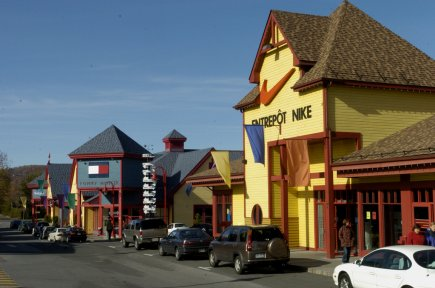 This joint venture has so far resulted in 3 such locations, one in Cookstown, Ontario, and two outside of Montreal, Quebec, for a total of 439,000 square feet of leasable area. Further development plans call for an additional 88,000 square feet of space to be added through the use of excess density in the two Quebec locations, and the development of a 50 acre site in Kanata, Ontario.
Outlook for 2013
The continued low interest environment has given Riocan the ability to raise funds at exceptionally low rates, allowing it to refinance existing debt and raise capital for acquisition projects. This environment however has resulted in a very competitive acquisition market, and caused commercial property values to increase.
Riocan has identified a trend of U.S. retailers expanding into Canada, such as the expansion of Target, which will lead to a more competitive environment for desirable retail space. This trend is expected to improve rental rates, particularly in the high growth areas on which Riocan's expansions are focused.
Riocan has a strong portfolio of properties, and a disciplined approach to expansions. It has a strong position heading into 2013 and will provide investors with a strong and stable dividend to contribute to your dividend investment portfolio.
Quick Facts as at March 31, 2013:
49.8 M square feet of leasable area and 3.96 M under development
97.0 % occupancy rate
Funds From Operations for the year ended 2012 increased to $1.47 from $1.28 in 2011
Unit Price $29.19 - dividend yield of 4.8%
Disclosure: I am long OTCPK:RIOCF. I wrote this article myself, and it expresses my own opinions. I am not receiving compensation for it (other than from Seeking Alpha). I have no business relationship with any company whose stock is mentioned in this article.
Additional disclosure: I am long Riocan through the TSX listing REI.UN and XRE