Stocks have been in a bull run since the first half of 2009, and have been moving in a straight line upward for about six months now, reaching new all-time highs. While many who sat on the sidelines during the rally are throwing in the towel on their bearish outlook, one has to wonder if this is a good time to get in to the market and whether stocks deserve to be where they are.
| | | | |
| --- | --- | --- | --- |
| | Current | Previous Peak | % Change |
| S&P 500 Price | $1,614 | $1,576 | +2.41% |
| S&P 500 Earnings TTM | $86.51 | $84.92 | +1.87% |
| S&P 500 Revenue TTM | $1,092.37 | $1,042.46 | +4.79% |
| S&P 500 Book Value | $666.97 | $529.60 | +29.93% |
| S&P 500 Dividend TTM | $32.11 | $28.85 | +11.30% |
| US GDP | $16t | $14.4t | +11.11% |
While earnings and revenue are comparable to the change in price from the 2007 peak, the real strength shows in book value and dividends. Balance sheets are much stronger post-crisis than they were pre-crisis. Companies are sitting on large amounts of cash and returning some of it to investors through increased dividends and share repurchases. Although the dividend yield may look low by historical standards, it is still larger than the 10-year Treasury yield. Economic growth in the U.S. continues to be weak, but the fact remains that the economy is growing. The economic fundamentals are improving slowly at a subdued pace, to use a Bernanke-ism.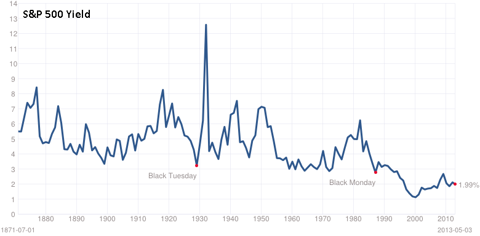 How did we get here?
Central Banks keep shoveling cheap money into financial markets. This money has to find a home somewhere. Earlier in the bull market, this home was safety plays: bonds, gold, and bond-like equities. Now it appears as if investors are finally coming back to the equity markets according the ICI's Estimated Long-Term Mutual Fund Flow data. After a long period of negative flows from stock funds, stock fund flows have been decidedly positive since the beginning of 2013. The retail investors are back after missing a historic rally, and in typical fashion, they sold when they should have been buying. But now that they're buying, does that mean you should be selling?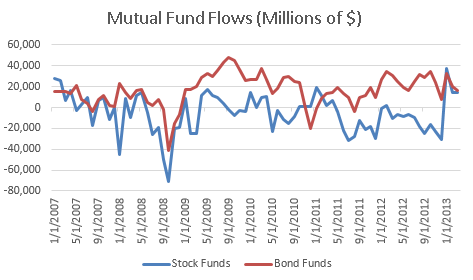 How are stocks valued?
Looking at the past 10 or 15 years stocks may appear cheap, however the picture changes when you zoom out. While stocks don't appear outrageously valued, they are above median PE and Shiller PE10 ratios and a lot closer to the top of the historical range than the bottom. With this in mind, it may be a good idea to go the route of a stock picker rather than an index fund investor. Investors need to stay cognizant of the fact that markets do move in two directions and that it is better to buy low than to buy high, something that we often forget when faced with a missed opportunity.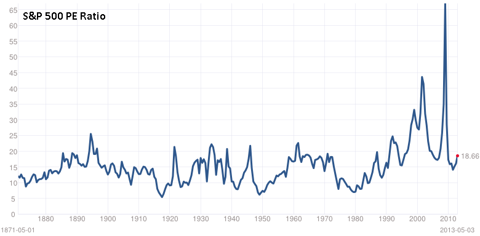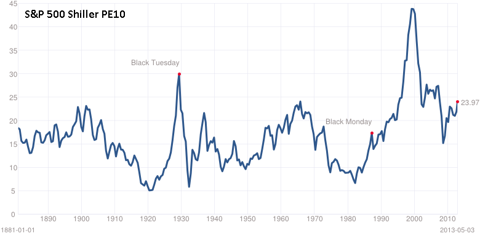 Technicals
The trend beginning in 2009 remains intact. The trend for the last six months remains intact. The resistance levels at the previous peaks are now support levels, but there are reasons for caution. Should these trends break, we may be in for a significant drop.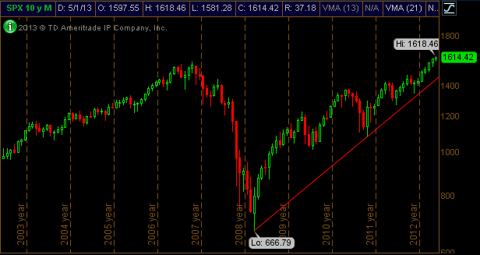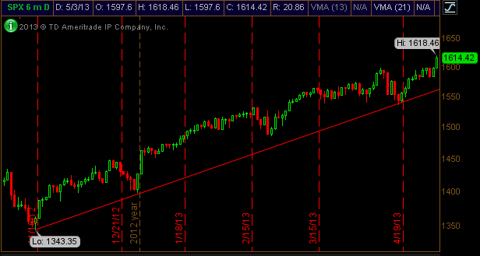 The VIX is low at under 13, possibly showing some complacency in the stock market. On both monthly and weekly charts, this market is overbought according a 14-period RSI. If stocks continue to rise, we will become overbought on daily charts as well. Also, many of the high beta sectors, which signal robust growth (VIS, VAW, VGT) are underperforming. At the same time, the high-yielding and comparatively safe, low beta sectors of telecom and utilities (VOX, VPU) have recently started to outperform again, indicating investors may be looking for a place to hide if there is a pullback. While the S&P (NYSEARCA:SPY) and Dow (NYSEARCA:DIA) continue to set new highs, the Dow transports (NYSEARCA:IYT) have failed to surpass their mid-March high and small-cap stocks (NYSEARCA:SLY) have been moving sideways, which may be reasons for caution. The tech-heavy Nasdaq (NASDAQ:QQQ) has been consistently underperforming as well. While this is usually bearish, much of it can be chalked up to Apple's (NASDAQ:AAPL) heavy weighting combined with its recent struggles. (Charts at bottom)
Should You Buy?
Investors need to exercise caution. This market is neither a clear buy nor a clear sell. This certainly doesn't look like the worst time you could buy stocks. It's not the best either. Consequently, this may not be the best time to go charging headlong into the equity markets as either a buyer or seller. Should you already own stocks, you may wish to take advantage of this rally to take some money off the table or rebalance your portfolio. Remember the old Buffett saying, "Be Fearful When Others Are Greedy and Greedy When Others Are Fearful." Sometimes it pays to be a contrarian.
For those with idle money they are looking to put to work, the question becomes more complicated. Stocks don't appear to be a great buy, but neither does anything else. If you stay in cash, you make nothing. If you go to Treasuries, yields are negative in real terms except at the long end, which incurs sizable interest rate risk. Precious metals have been dealing with the hangover from their spectacular decade-long run and offer no yield. Remaining in the equity space, you can pick individual stocks in search of better value or growth than the index, or pick different regions of the world (VGK, VPL, VWO), which have been left out of this rally, but this approach requires faith in your ability as a stock picker or faith that the rest of the world will join the rally (or at least not fall as hard during a pullback).
If you need to remain in U.S. equities, it is important to remember not to chase returns. "When you miss the bus, you don't chase after it. You wait for the next one." If you must get in to stocks now, it may be wise to average in to your positions slowly so you have the cash and flexibility to take advantage of any future pullbacks, and if stocks continue to rise, at least you got your foot in the door at lower prices.
Charts
S&P 500 RSI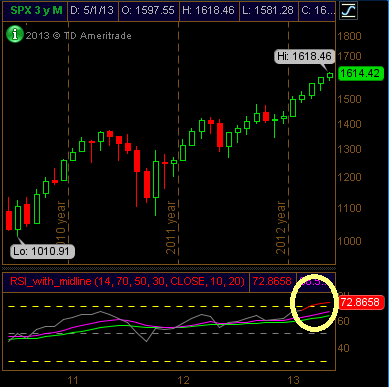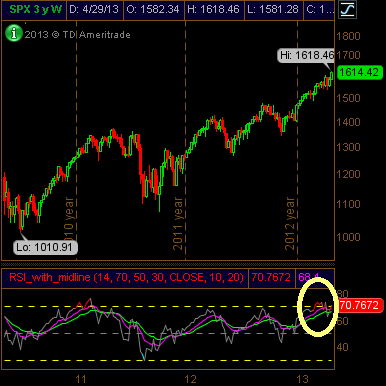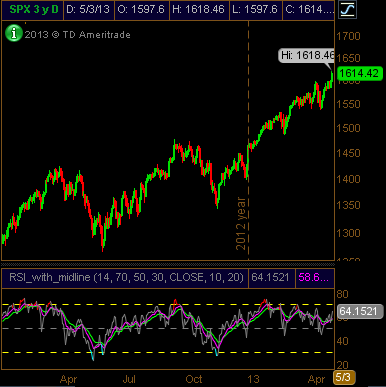 Industirals vs. S&P 500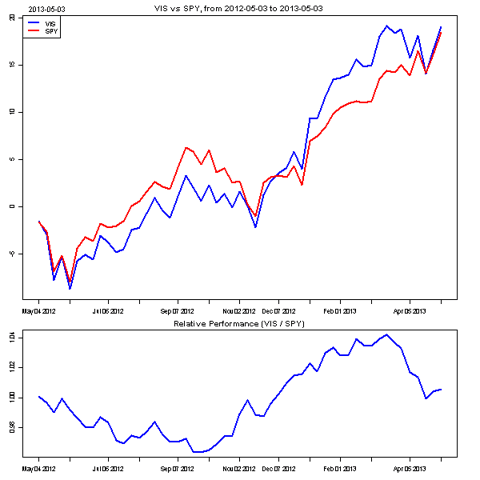 Materials vs. S&P 500
Technology vs. S&P 500
Utilities vs. S&P 500
Telecom vs. S&P 500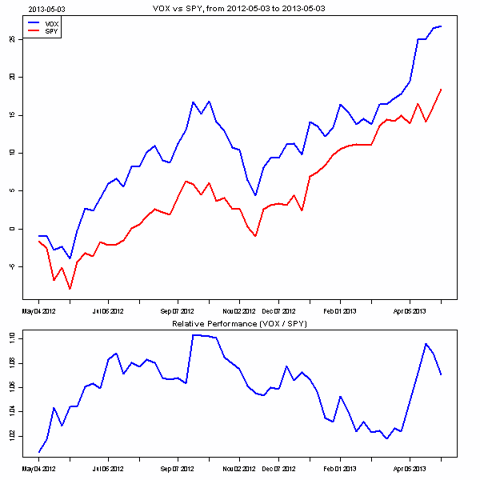 Dow Transports vs. S&P 500
Small Caps vs. S&P 500
Nasdaq vs. S&P 500
Disclosure: I am long VIS, VAW, VGT, VPU, VOX, VGK, VPL, VWO. I wrote this article myself, and it expresses my own opinions. I am not receiving compensation for it (other than from Seeking Alpha). I have no business relationship with any company whose stock is mentioned in this article.