Thoratec Corporation (NASDAQ:THOR) is focused on developing device-based mechanical circulatory support therapies to treat advanced heart failure patients. The need for therapy for those suffering from heart failure has remained high, and THOR stock has generally done well over the years despite some predicting that it would suffer a hit to its market share as newer competitors arose. However, THOR has recently suffered a slight drop upon releasing their Q1 2013 results. Upon releasing the latest results, THOR CEO Gary Burbach commented as follows:
Although we faced some expected challenges in the first quarter, our team is responding well to our near-term priorities while also staying focused on key longer-term growth drivers, giving us confidence in Thoratec's outlook for 2013 and beyond … We continue to achieve important milestones in terms of product and market development for our established commercial platforms. Additionally, we are focused on our longer-term initiatives and remain on track to begin pivotal clinical trials later this year for both HeartMate III" and HeartMate PHP".
In comparing THOR's Q1 2013 results with Q1 2012, it is worth mentioning that Q1 2012 was a very strong quarter for THOR (its best in 2012). Q1 2013 saw revenues of $117.1 million and GAAP net income of $18.2 million, compared to revenues of $126.8 million and GAAP net income of $25.5 million in Q1 2012. As before, the vast majority of THOR's revenue was generated from its signature HeartMate product line, which brought in revenue of $102.9 million (a decrease of 8 percent)
THOR shareholders should be aware that despite the fact that THOR stock dropped about 10% on the day revenue was announced, its results were roughly in line with management guidance (although The Street, an independent website, had forecasted higher revenues). A look through the past 10 quarters of THOR revenue show that Q1 2013 was not a particularly bad quarter, unless compared with Q4 2012 and Q1 2012: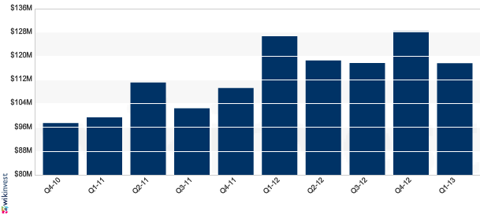 (Source: Wikinvest)
Future Outlook
THOR management appears to be optimistic regarding the potential for growth in the future, and I am inclined to agree. From a very long term perspective, I believe the chances are fairly good for THOR's HeartMate line to generate better revenue in future years, as the market for Ventricular Assist Devices (VAD) like THOR's primary HeartMate product line has been forecasted to grow significantly. An aging population, together with the fact that there will always be a limited number of heart donors, means that the demand for VAD will always exist. THOR is currently in the process of testing HeartMate III (currently final qualification testing is taking place), with the pivotal clinical trial likely to take place later in 2013. We also know that HeartMate PHP (a catheter-based heart pump) has so far had encouraging results. It will take a significant amount of time before HeartMate III and HeartMate PHP come to market, but this is certainly a catalyst to look forward to for long term investors.
THOR also has numerous opportunities beyond its primary market in the United States and its primary HeartMate product line. International markets, plus THOR's CentriMag product, saw very positive growth for THOR in Q1 2013. In particular, Japan may represent a substantial revenue booster for THOR in years to come, with management predicting revenue in Japan of $3 to $6 million for 2013 alone. CentriMag (which had revenue of $10.4 million in Q1 2013, an increase of 20% from Q1 2012) may also be set for substantial further revenue gains, as THOR is currently in the process of gaining FDA approval to apply CentriMag for 30-day use in patients.
Final Thoughts
I do not regard THOR's Q1 2013 earnings as particularly surprising or disappointing, and after dropping 10% on May 3 it would appear that the stock is fairly well priced. I do not expect explosive growth to take place throughout the remainder of 2013, but would rather regard THOR as a stock that has significant upside potential and opportunities for expansion in the coming years. For patient investors who believe in the growth of the VAD in future it would therefore seem that THOR is a solid choice.
Disclosure: I have no positions in any stocks mentioned, and no plans to initiate any positions within the next 72 hours. I wrote this article myself, and it expresses my own opinions. I am not receiving compensation for it (other than from Seeking Alpha). I have no business relationship with any company whose stock is mentioned in this article.