We previously analyzed and evaluated R.R. Donnelley & Sons Company (RRD) last November because we were taking a second look at it after its share declined by 50% relative to when we were apprised of it. As we previously mentioned, a local registered investment advisory firm tipped us off to the "potential surrounding RRD" back in 2011. Thank G-D we demurred back in 2011 because although RRD has been able to maintain its $1.04/share dividend, its share price has declined steadily until recently. We were quite surprised to see its share price pop recently after it released its results because its adjusted income in Q1 2013 declined by 13.6% versus the prior year's comparable period.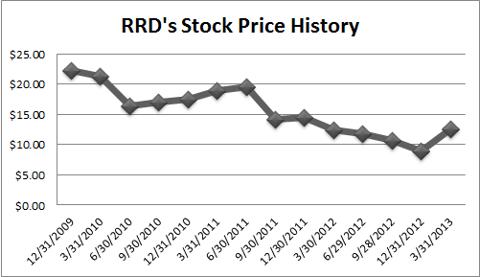 Source: Morningstar Direct
Assuming the economy does not take a spill thanks to the impending implementation of ObamaCare, we think RRD may have reached a near-term bottom of $8.30/share in January. We were and remain apprehensive of taking a capital position in the company even though it has an 8% dividend yield. The good news for RRD shareholders is that the company's total revenue increased by 54bp year-over-year. The bad news is that it had to spend $127M on acquisitions in order to achieve this lofty achievement. The worse news was that the gross margin gains it obtained from acquiring smaller service oriented companies was not enough to offset its declines from its core printing products operations.
RRD's gross margin percentage declined by 100bp in the Q1 2013 period versus the Q1 2012 period. 60 basis points of the decline was due to the customer rebate adjustment in 2012 and 50 basis points was due to the impact of pass-through postage revenue related to its recent logistics acquisition of Presort Solutions, both are factors that RRD noted on its earnings call in February. RRD's organic revenue growth (after adjusting for the impact of acquisitions, changes in foreign change rates and pass-through paper sales and the 2012 customer rebate adjustment) declined by 1.2% in Q1 2013 versus Q1 2012. At least this was better than the 2.1% organic revenue decline posted in Q4 2012 versus Q4 2011.
After taking a second look, we think that the reason why RRD recently popped was because investors were pleased that RRD incurred less restructuring and asset impairment charges in Q1 2013 versus Q1 2012. We believe investors were content that the company was making progress in rationalizing its operations and that the amount of "non-recurring charges" was coming to an end. Although RRD's loss on debt extinguishment charge went up, we believe that investors view that as discretionary and a "start-up cost" in pursuing potentially opportunistic management of its outstanding debts (in RRD's case, refinancing now while it can still access credit, even if RRD has to pay a higher interest rate on its new debt versus its old debt). Although RRD's operating cash flows in Q1 2013 declined by $43.8M and its free cash flows declined by $30.6M (due to reduced CapEx and investing expenses), we think investors gave RRD a free pass because nearly of the decline in free cash flows was due to timing shifts of working capital payments and receipts.
Although we still prefer to redact the name of the local RIA firm and employee that previously shared with us the "hot tip on RRD" (because it is someone we know) we can see that it is but one of many firms that have a significant stake in the company. We were surprised that our friendly local RIA sold 22.6% of its stake in Q4 2012 however it still has all of its original position that it entered into a few years ago (it sold a portion of the shares it acquired after the quarter in which it acquired its original stake). Columbia Management is another local active manager in our town that owns a significant stake in RRD and it owned 2.65% as of Q4 2012. Putnam Investments used to own 3.08% of RRD in H1 2012 but it sold off the bulk of its shares in Q3 2012 and the rest of its position in Q4 2012. The largest shareholder of RRD is The Capital Group Companies and its affiliates (including the American Funds Mutual Fund Family), which owns 20% of R.R. Donnelley's stock. Granted, The Capital Group is the ninth largest money manager in the world and it has $1.1T in AUMs, but at least it isn't an index shop. SunAmerica Asset Management owns 6% of RRD as of its most recent quarter reporting, LSV Asset Management has 3.88%, Epoch has 3.13% and Elm Ridge has 1.93%. New investors in RRD during the most recently reported quarter include Brandywine (1.89%) and Alpine Woods (0.91%).

Source: Morningstar Direct
RRD is expected to incur $200M-$225M of CapEx during FY 2013 and generate $400M-$500M in free cash flows. RRD paid $187M in cash dividend payments in FY 2012 and is expected to pay a similar amount in FY 2013. Although RRD has a dividend payout cushion of $2.13-$2.65 in free cash flows for each $1 of dividend payments, that doesn't necessarily mean that it will commit to maintaining its dividend. Unlike bond interest payments, cash dividends to shareholders are not an ordinary and necessary business expenditure. Not only are businesses unable to deduct cash distributions to shareholders as a tax-deductible business expense, but shareholders must also recognize that dividends are declared and paid at the discretion of the board of directors. Even a company that has a cushion of $3 in free cash flows for $1 of dividend payments can cut its dividend payment in half and then eliminate it two years later (despite carrying a $5/$1 cushion) if they have a bad quarter.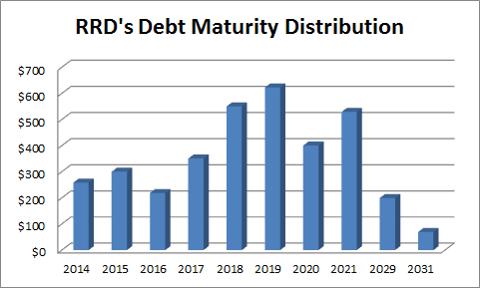 Source: RRD's Q1 2013 10-Q
As we previously mentioned, RRD is expected to generate $400M-$500M in free cash flows and pay $187M in cash dividends during FY 2013. This will leave $213-$313M in unencumbered cash flows that could (and should) be used to meet a portion of its upcoming debt maturities over the next nine years. The good news for RRD is that its ROE for 2013 is expected to be around 300%. The bad news is that RRD's projected ROE of 300% is due to its heavily leveraged balance sheet and slim shareholders' equity position. RRD's slim book value position is due to the $3B in asset impairments it has taken since the beginning of FY 2008. Investors will want to keep an eye out to see if RRD decides to cut its dividend payment in order to accelerate its debt repayment schedule in order to boost its credit rating.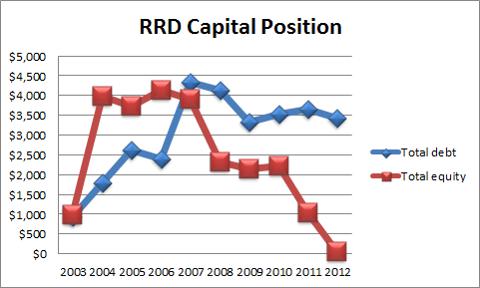 Source: Morningstar Direct
In conclusion, we've kept a loose file on RRD since we received an email from a local RIA touting it. However, we're not ready to join the RIA and other asset managers who have a position in the company. We like the high dividend and free cash flow yields that the company has and we like that well-regarded asset managers are putting their client's money in the company. However, we don't like the secular decline of the company's primary business as well as the acquisition related spending that the company has made in order to give itself a new lease on life. At least this whole episode teaches us that just because large and famous institutions have a position in a company, doesn't mean that investors have to jump right into it. It is important for investors (especially professional investors like us) to take the time necessary to conduct (y)our own research especially when someone seems to have fallen in love with a stock.
Disclosure: I have no positions in any stocks mentioned, and no plans to initiate any positions within the next 72 hours. I wrote this article myself, and it expresses my own opinions. I am not receiving compensation for it (other than from Seeking Alpha). I have no business relationship with any company whose stock is mentioned in this article.
Additional disclosure: This article was written by an analyst at Saibus Research. Saibus Research has not received compensation directly or indirectly for expressing the recommendation in this article. We have no business relationship with any company whose stock is mentioned in this article. Under no circumstances must this report be considered an offer to buy, sell, subscribe for or trade securities or other instruments.