In my article of April 15th, about selling the price difference between North Sea Brent oil (Brent) and West-Texas Intermediate (NYSE:WTI), I described why the price spread between the two most important crude oil types should go back to "normal." Normal in this case means an at least higher price for the American WTI crude oil because of its superior quality.
It could be just luck but recently the spread has decreased significantly. Look at the picture below: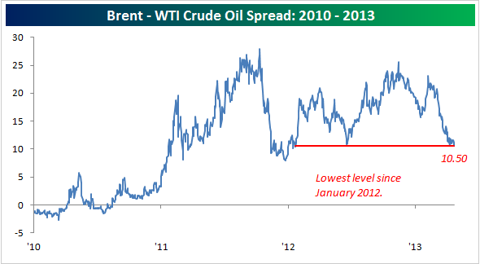 Source:www.bespokeinvest.com
The lowest level since January 2012 has been broken last week. Brent closed Friday at $104.10 and West Texas Intermediate closed at $95.61. Hence, the spread closed at $8.49, which is a decrease of $3.5 since mid April.
On the 15th, I wrote also: "Right now, the spread is getting back to normal. Americans are investing in a new oil pipeline from Cushing to the West Coast, which makes it easier to export the WTI oil."
Good evidence of the higher export volumes of oil can be found in the monthly trade balance numbers. The last few months we see a clear and present decrease in the trade deficit, mainly due to oil. Roughly, the deficit decreased from $60 billion to around $40 billion. With the U.S. full steam ahead to become a net exporter, it could only take a couple of years before the deficit turns into a surplus.
What to do with the spread?
It is tempting to lock in some profits for those who have been lucky enough to sell the spread around the $15-20 level. But, looking at the reasons for selling this spread in the first place, none of the parameters have actually changed:
1. The U.S. are fully dedicated to become a net exporter of oil: WTI will quickly become more available for a lot of foreign countries;
2. No sign of a pick-up of economic activity in Europe yet; on the contrary, economic figures from Germany suggest that the overall recession in Europe might deepen further.
If one had to choose a side of this spread with a gun against his head, logically the same choice would be made. Therefore I suggest to sit back and relax. Remember, the hardest part for an investor is to let profits run.
For Americans, it's not all good news about WTI oil getting easier to export. It pushes the American oil price higher and hence the price per gallon at the pump. But, to put things into perspective, with a $3.50 gallon price, oil in the U.S. oil is still affordable: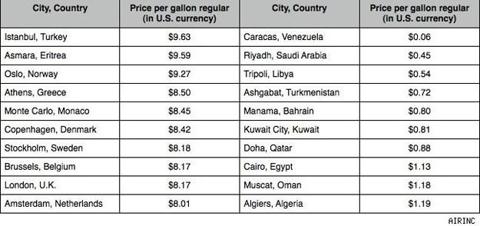 And of course, there's nothing like Venezuela ...
Disclosure: I have no positions in any stocks mentioned, and no plans to initiate any positions within the next 72 hours. I wrote this article myself, and it expresses my own opinions. I am not receiving compensation for it (other than from Seeking Alpha). I have no business relationship with any company whose stock is mentioned in this article.