TeraGo (OTC:TRAGF): The cheapest communications cash cow you've never heard of:

TeraGo offers fixed wireless Internet, voice and cellular backhaul services to small and medium enterprises throughout much of Canada. It's a small-cap stock that trades on the Toronto Stock Exchange under the symbol TGO. The shares have seen a sharp sell-off recently due to the company concluding a strategic review process without finding a buyer that was willing to transact at their ask price. At its current share price, I believe TeraGo offers compelling value as little has fundamentally changed with the underlying dynamics of the business. It currently trades at just 5.7x EV to TTM EBITDA with a free cash flow yield of 12.6% (on a maintenance capex basis). My target price for the stock is $12.50 or 80% upside from current levels.
(Please note I would advise those looking to purchase shares to do so on the TSX and not the pink sheets due to lack of liquidity there.)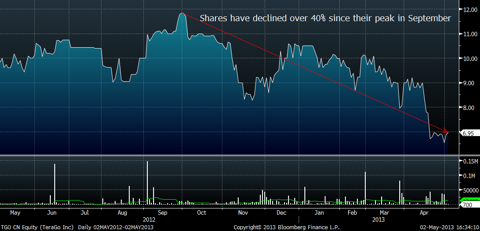 Source: Bloomberg Financial - http://www.bloomberg.com/
Investment Thesis
Attractive Business Model - Not many businesses have forward visibility on nearly all of their revenue, but TeraGo does. 98% of its revenue is recurring, subscription revenue based on multi-year contracts with its customers (with automatic renewals). The business is also highly scalable, with almost all incremental revenue dropping straight to the EBITDA line as evidenced by EBITDA margin expanding from 14.3% to 32.5% from 2009 to 2012.
I believe there is further opportunity for margin enhancement as the business continues to scale. Another key advantage of its model (which utilizes fixed wireless technology) is that network expansion capex is only spend on a "pay as you go basis" meaning they only need to spend capex once a customer is signed up and do not need to commit a large upfront amount of capital that may or may not prove out.
Continued Avenues for Growth - TeraGo has a new strategy to roll-out fiber from its hub sites to customers that require additional capacity. I view this as a very low risk capital deployment strategy as the majority will be spent on current customers and will provide an opportunity to enhance ARPU (average revenue per user) from current levels. This expansion is expected to be entirely funded through internally generated cash flow. The company also recently received an expansion on their credit facility to allow for potential tuck-in acquisitions, which they have been successful at doing in the past.
Dirt Cheap Valuation - Certainly one of the most attractive features of the stock at current levels is the valuation. You would expect a company with TeraGo's revenue stability, strong historical performance and solid prospects for future growth to trade at a premium multiple, yet TeraGo trades at under 6.0x TTM EBITDA and under 5.0x EBITDA on a forward basis.
Strong Management - The management team is led by Bryan Boyd, who has been with the company since it began operations in 2000. Bryan has a strong track record of delivering growth while still maintaining capital discipline. As an indication of this, all growth since 2008 has been funded from cash on hand an internally generated cash flow rather than relying on issuing dilutive equity or taking on significant amounts of debt.
Loyal Customer Base - A key selling point for customers is TeraGo's reliability and superior customer service relative to the incumbent teleco's. This is evidenced by TeraGo's industry leading customer churn rate, which has been around 1% over the past five years.
Recent Catalyst for Value Creation - Second Alpha Partners, who control over 28% of the shares, recently announced they had elected two members to TeraGo's board with a goal of "maximizing shareholder value." While they obviously won't be putting the company up for sale anytime soon, I do expect they will be able to add value by continuing to keep management disciplined with their growth plans.
Quick Company Background
TeraGo was founded in 1999 following the purchase of 70 Industry Canada spectrum licenses, primarily of the 25GHz and 38GHz bandwidth range. Since then, TeraGo has deployed wireless broadband services in over 45 cities across Canada including the major cities of Toronto, Montreal, Ottawa, Winnipeg, Calgary, Edmonton and Vancouver as well as many smaller secondary cities across the country. In 2011, the company began offering voice services as a complement to their Internet service.

Source: Company Reports - www.terago.ca/corporate-facts.html
In June of 2007, the company completed an IPO at a price of $11.75 during very frothy market conditions and well below the current price. Though I will not contest that the IPO was at a fairly outrageous valuation, the company has generally done what it said it would, growing revenue at a CAGR of 12.2% from 2008 to 2012, while EBITDA grew from nil to ~$16 million. Much of this growth was organic with the company making only one small acquisition in 2011 from MetroBridge Networks, which helped expand its footprint in Vancouver.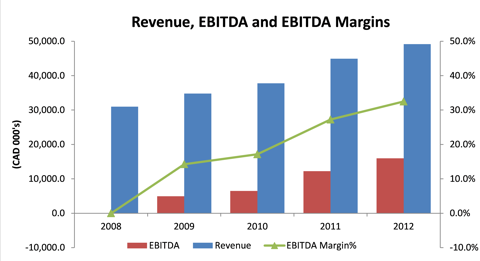 Source: Company Reports - www.terago.ca/corporate-facts.html
In July 2012, the Canadian government amended the Telecommunications Act and removed foreign ownership restrictions on telecommunication companies with less than 10% market share, including TeraGo. With the elimination of foreign ownership restrictions, TeraGo announced a review in September to identify, examine and consider a wide range of strategic options available to enhance shareholder value, effectively putting the company up for sale. On April 16, the company announced it had concluded the strategic review without finding a buyer.
On the conference call management was tight lipped about why the process was unsuccessful, though I believe there are several potential reasons for this: 1) The incumbents, Bell (NYSE:BCE), Telus (NYSE:TU) and Rogers (NYSE:RCI) each have EBITDA well over a billion dollars. An acquisition of a company the size of TeraGo, with EBITDA of ~16 million, just doesn't move the needle for them 2) TeraGo is focused on fixed wireless Internet services while the incumbents' infrastructure for enterprise is mainly fiber so there was unlikely much in the way of synergies on a deal. 3) TeraGo was IPO'd at a price of $11.75, so it is likely the board wanted a price well above this, which no buyer was willing to pay. Regardless of the reason, TeraGo remains an extremely well run business with a strong track record and plenty of opportunities for growth going forward.
Why such a sharp sell-off?
Though it is not a surprise the shares sold off post announcement, the severity of the sell-off is given the shares are now trading well below where they were even before the company announced the strategic review. I believe much of this can be attributed to fast money/merger arbitrage guys that were hoping to make a quick profit off the potential acquisition of the company who bailed as soon as that didn't happen. This was likely compounded by the fact that the shares are extremely thinly traded due to the lack of float available. This lack of liquidity may create a very short window to be able to get these shares at such a cheap price.
Product Offering
TeraGo's main product lines include:
Internet Services - The Company's wireless broadband network provides Canadian businesses with high performance Internet access with upload and download speeds from 1.5 megabytes per second ("Mbps") to 100 Mbps, depending on the plan. All of the company's services are symmetrical (allowing customers to experience the same high-speed broadband performance when uploading or downloading) unlike DSL services offered by many of the company's competitors, which are asymmetrical.
Data Connectivity - The Company's data connectivity services provide businesses with the ability to connect multiple sites within a city or across its geographic footprint through a Private Virtual Local Area Network ("VLAN"). The company's VLAN services are available with speeds from 1.5 Mbps to 100 Mbps, catering to companies with multiple offices and large inter-office data requirements. Campus VLAN services between two customer locations are available at speeds up to 1 Gbps. All services are symmetrical
System Redundancy - For businesses with existing wireline service, TeraGo provides system redundancy, since it operates on a different network than wireline-based service providers. This allows customers to augment their existing connection and ensure that critical applications are run when, or if, they lose their wireline connection.
Voice Services - In 2010, the Company began offering voice services over their network.
Cellular Backhaul - TeraGo has been able to utilize their network to provide cellular backhaul services which provides additional network capacity to three of the new entrant wireless carries in Canada including: Wind Mobile, Public Mobile and Mobilicity, though backhaul services currently account for less than 10% of the company's revenue.
Business Model
TeraGo has an extremely attractive business model that generates stable and predictable recurring revenue on a subscription basis. Customers typically sign one, two or three-year contracts with automatic renewal provisions. For the year ended December 31, 2012, approximately 87% of new customers signed contracts for three years or more compared to 85% in the year ended December 31, 2011. Approximately 98% of the company's revenue was considered recurring in 2012.
Historical customer churn has also been very low, averaging roughly 1% since 2008. Management has stated that their churn has generally related to business bankruptcy and bad debts as opposed to unsatisfied customers.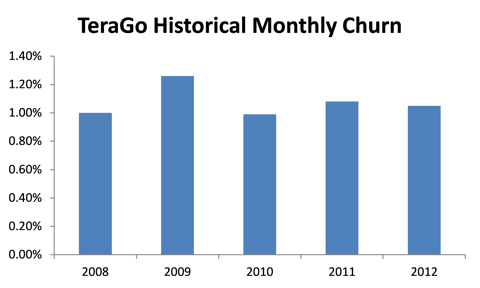 Source: Company Reports - www.terago.ca/corporate-facts.html
Company Strategy
TeraGo's strategy has been to focus on small and medium business that operates outside of large urban core centers, primarily targeting the commercial and industrial areas that surround the urban areas as well as smaller communities where it is generally more difficult to get access to higher Internet speeds.
In terms of the rollout of high speed fiber, the incumbents have been primarily focused on doing so in urban areas where they get the fastest payback on their capital spend due to economies of density. This has created an opportunity for TeraGo, which utilizes high capacity fixed wireless technology that tends to lend itself to less densely populated areas. Once a fixed wireless network is in place it becomes very scalable with very little incremental capex needed to add new customers (generally involves putting a wireless radio on a customer's rooftop along with an Ethernet switch or router). New customer capex is generally paid back within 8 months of deployment.
To date, TeraGo has gained roughly 80% of their new customers from the incumbent teleco's, Telus and Bell Canada. The primary differentiator for TeraGo has been superior customer service and quick installation of the product. Though this may seem overly simplistic, anyone that has used the incumbents' services know they have a horrible track record of customer service, but unfortunately given their near monopolistic position, there is very little in the way of alternatives for customers. This lack of focus on the customer by the incumbents will continue to offer an opportunity for TeraGo to take share from the incumbents. In talking with industry contacts that have had the opportunity to speak directly with TeraGo's customers, superior customers service was generally the primary reason in them switching to TeraGo.
In terms of market opportunity, the sky is really the limit for TeraGo. According to data from statistics Canada there are ~1 million small and medium business that operate within TeraGo's network range. TeraGo currently has 6,575 customers which represents less than 1% penetration of their target customer base.
Quick Technology Primer
TeraGo utilizes fixed wireless technology and both licensed and license-exempt spectrum that supports commercially available equipment for the delivery of broadband wireless services. The Company can quickly offer a range of diverse Ethernet-based services over a 128-bit encrypted secured wireless connection, to customer locations up to 20 kilometers from a hub. The technology relies on "line of site" between a customer location. If no line of sight exists, then TeraGo will add an additional hub site that allows for line of sight. To date the company has not had any major issues in deploying this technology.
Each geographic location relies on TeraGo's access to spectrum, and broadband technology to create a private network that can handle Internet and data traffic. Within each geographic location, TeraGo sets up:
Core Hub Sites, which are equipped with fiber-optic equipment, routers, uninterruptible power supplies, and server equipment. These sites are the main interconnection between geographic markets.
Hub Sites, which are equipped with wireless base stations, Ethernet switches and routers, backhaul radios and uninterruptible power supplies. Hub antennas are within 20 kilometers of the customer's location.
Customer Locations are set up with broadband wireless radios and an Ethernet switch or router.
When a customer is set up, wireless traffic flows between a customer's location and a local hub site antenna. Traffic then flows from that hub site to other hub sites or core hub sites, which moves the data to other customer locations. This creates a secure, private network for each customer. The graphic below outlines a typical network system for a geographic market. The network layout eliminates the risk of any single point of failure stopping Internet and data traffic.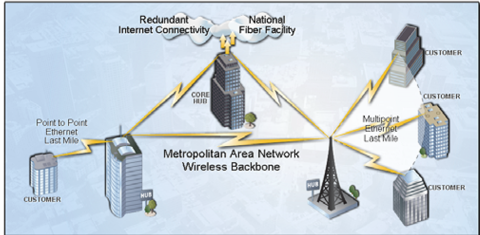 Source: www.cibcwm.com, www.terago.ca/corporate-facts.html
Another key feature of the company's technology infrastructure is that it relies on minimal use of third party infrastructure. The company's entirely independent within the markets it operates in and only relies on third party networks for intercity connections and Internet peering.
Fiber Growth Opportunity
As part of the conclusion of the strategic process the company announced they would be embarking on a new capital spending program to help drive growth. This initiative came about as a result of some of their larger customers requiring greater capacity than TeraGo was currently able to deliver on their network. To take advantage of this opportunity, TeraGo will begin to rollout fiber from their hub sights to further expand capacity for these customers. In my view, this is a very low risk capital deployment strategy given it will serve to fill an existing need for customers. Though it is not expected that this will drive materially new customer growth it will certainly have an impact on ARPU of the existing user base that chooses to upgrade their capacity. The fiber rollout is expected to take place over the next two years.
Share Ownership
As you can see from the chart below the shares are very tightly held with the top three holders accounting for more than 50% of the shares outstanding. Note Second Alpha Partners is a spin-out from the original backers of the company, which speaks to its continued commitment to the company. This can also be seen by the fact the Second Alpha recently appointed two of its own members to the board.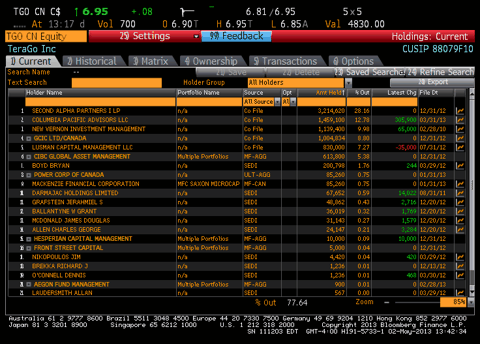 Source: Bloomberg Financial - http://www.bloomberg.com/
Financial Analysis & Forecast
TeraGo has had very strong historical growth driven by increasing customer penetration as well as from increasing ARPU by offering additional value added services to its customers. As you can see from the chart below SG&A costs have essentially been flat from 2008 to 2012. This speaks to the significant operating leverage in the company as they have been able to expand their revenue without having to materially add to their sales force, which has held fairly steady between 30 and 35 individuals over that time period.
Though capex has historically been high, the majority of this spend has been related to growth capex. As mentioned earlier, the company generally only spends on expansion capex when they have signed up a customer. Maintenance capex is estimated at 10% of revenue.
Forecast 2013-2016
With less than 1% customer penetration of their network coverage, I do expect growth to continue over the next several years. To be conservative I have modeled net customer additions at 300 per year, which is in line with 2012, but below prior strong years. As a result of the fiber rollout, capex is expected to expand materially between 2013 and 2015, before falling back in 2016. As much of this capex is focused on offering greater capacity to existing customers, the majority of the growth impact will be from ARPU as opposed to customer additions. SG&A growth is forecast at just 1% annually, consistent with the company's historical ability to scale. It should be noted that because of NOLs built up from prior losses in the business, the company does not expect to pay cash taxes until 2018.
This forecast results in a 2012-2016 CAGR of 5.8% and 11.9% for revenue and EBITDA respectively, while EBITDA margins are expected to expand from their current levels of 32.5% to 40.6% over the same period. Though free cash flow is expected to remain strong over the forecast period, the extent of the company's free cash flow generating ability really becomes apparent when the company finishes its fiber rollout.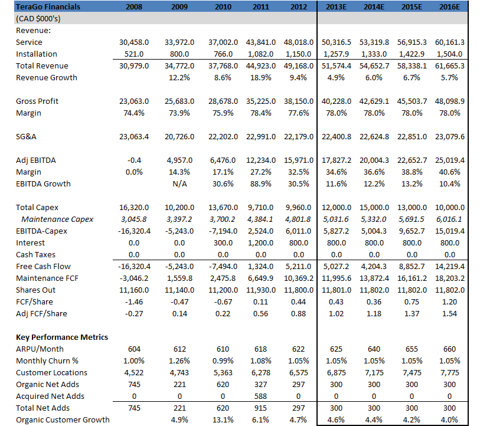 Note: Adjusted Free Cash Flow is calculated using maintenance capex rather than total capex
Key Risks & Caveats (variant view)
Competitive Threats - Though TeraGo has not experienced much difficulty in competing with the incumbent teleco's/Cableco's, BCE, Telus, and Rogers Communications, there is a chance they could become more aggressive on pricing if TeraGo continues to make inroads in the market. I think the likelihood of this is low given TeraGo's relative size and their dominant market share there is little incentive to compete on price.
With the change in foreign ownership rules for telecommunications in Canada there is also a chance you could see large foreign players enter the market such as AT&T (NYSE:T) and Verizon (NYSE:VZ). I also put low probability on this though given that the large geographic area and lack of population density in Canada make the market far less attractive than the US.
Technology Risk - There is a risk that new technologies could displace TeraGo's or could require them to spend additional capital in order to stay competitive. At the moment I do not see this as a risk as there does not seem to be any commercially viable alternatives that offer any greater speed or reliability than TeraGo's
Lack of Liquidity - The lack of liquidity in the stock can make for very violent price movements. YTD the average volume on the shares is ~11,000/day.
Valuation
From a historical valuation perspective the current price offers an extremely attractive entry point trading at just 5.7x EBITDA compared to the historical 4-year average of 11.3x.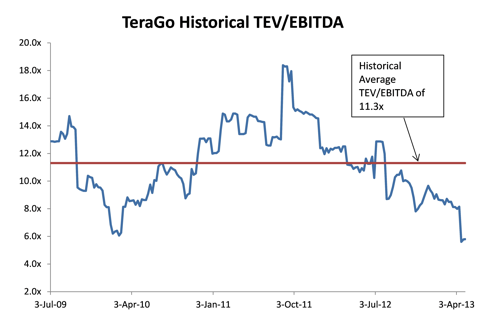 Source: Bloomberg Financial - http://www.bloomberg.com/
In terms of the comps, TeraGo is also trading very attractively on a relative basis. It's important to note that TeraGo does not have many of the legacy land line issues, which are negatively impacting growth of the incumbents, which means it could arguably trade at a higher multiple.
There is only one pure play comparable, Towerstream Corp. (NASDAQ:TWER), which offers similar fixed wireless Internet services to TeraGo in the US. However, it has had execution issues and has not been able to scale up to the same extent as TeraGo, and has yet to generate any meaningful EBITDA.

Source: Bloomberg Financial - http://www.bloomberg.com/
Target Price
I have derived my 1-year target price by applying an 8.0x multiple to next year's EBITDA. I believe the 8.0x is reasonable given the highly stable, recurring nature of the business. It also seems to be in line with where the comparables are currently trading at. My target price of $12.50 offers roughly 80% upside to the current share price.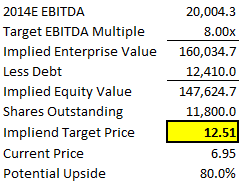 Bottom Line
TeraGo is an "under the radar," high quality business with a stable recurring revenue base and solid future growth prospects. You would expect a quality business like this would trade at a premium, but instead TeraGo trades at a steep discount. I recommend aggressively accumulating at these levels.
Disclosure: I am long OTC:TRAGF. I wrote this article myself, and it expresses my own opinions. I am not receiving compensation for it (other than from Seeking Alpha). I have no business relationship with any company whose stock is mentioned in this article.