The share price of New York-based International Business Machines (NYSE:IBM) increased in recent weeks following a sell off that occurred because of disappointing first quarter earnings. Technology stocks have been laggards during the recent intermediate-term advance after outperforming the market for most of the bull market.
With the first quarter in the books, what should investors do with their shares of IBM? To answer that question, analysis of recent news, analysis of IBM's operating segments, and analysis of IBM solvency will be conducted.
The facts suggest investors should take profit on part of their long position.
Recent IBM Press Releases
MessageSight was introduced; the appliance helps organizations communicate with millions of mobile devices and sensors. MessageSight is part of the Smarter Plant strategy and is ideal for governments and industries such as healthcare, automotive and finance.
WestJet Airlines, Canada's lost-cost carrier, will leverage IBM technology to keep customers updated on their flight's schedule and status.
IBM increased its quarterly dividend $0.10 to $0.95/share; this is the 18th consecutive year the quarterly dividend grew. Also, the share repurchase program was supplemented with $5 billion; the total buyback authorization stands at $11.2 billion. The dividend may be augmented once more at the October 2013 board meeting.
The dividend news comes following a report of the firm's first quarter earnings that disappointed investors. Shareholders have seen the market capitalization of the New York-based IBM rebounded sharply after bottoming April 22nd.
Innovation and capital distributions should keep IBM investors bullish for the foreseeable future.
Slowing Hardware Sales
IBM and Oracle (NYSE:ORCL) compete in the systems (hardware) industry; both firms manufacture servers. When IBM reported disappointing server sales, was that IBM specific or part of an industry slowdown?
The chart below suggests Oracle's hardware sales also declined during the observation period. The refresh cycle for servers is typically longer than the software refresh cycle. Also notable, IBM's hardware segment is about three times larger than Oracle's.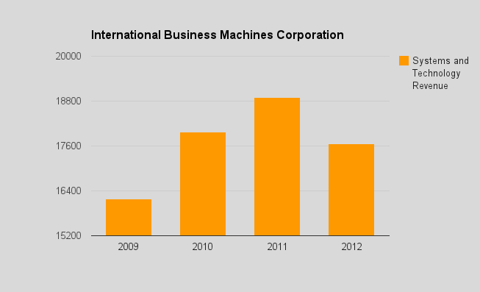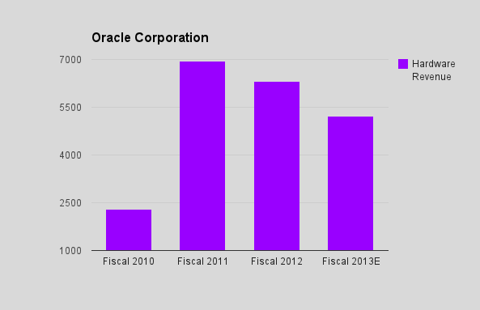 Thus far, this article covered recent favorable news releases and IBM's declining hardware sales. The next section covers the other operating segments.
Operating Segments
Besides the hardware segment, there are three more major operating segments. There is the software segment, and the two global services segments. The revenue of the operating segments is the focus of this section.
Software revenue grew in 2011 and 2012. Global technology services revenue declined in 2012, but not by as large a margin as global business services' revenue. Management is focused on growing the global technology and software segments.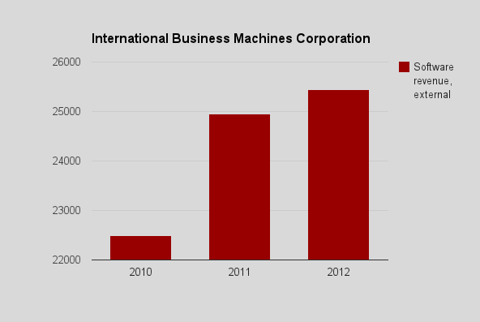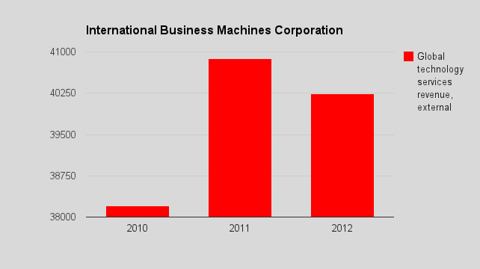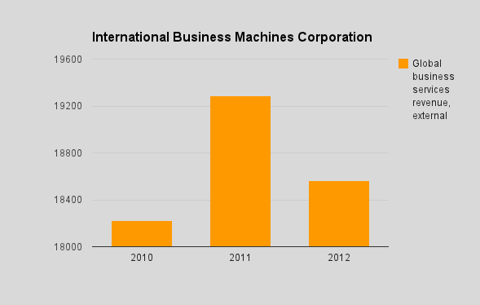 There was some weakness in the operating segment revenue growth. That weakness may continue in 2013. The operating segments are painting a bearish picture.
Less Solvent
There are several solvency and liquidity ratios. In this section is the current ratio, cash ratio, long-term debt-to-equity ratio, total debt ratio, and financial leverage ratio. Readers are reminded that IBM runs a customer finance division. Consequently, the leverage and debt ratio are higher than they otherwise would be.
The trend is towards IBM being less solvent. In this case, that is a positive sign. Because IBM runs a customer finance division, during an economic expansion, its solvency ratios will deteriorate.
| | | | | | |
| --- | --- | --- | --- | --- | --- |
|   | Current ratio | Cash ratio | Long-term debt-to-equity | Total debt | Financial leverage |
| Year-end 2010 | 1.19 | 0.29 | 0.95 | 1.24 | 4.90 |
| Year-end 2011 | 1.21 | 0.28 | 1.14 | 1.56 | 5.75 |
| Year-end 2012 | 1.13 | 0.26 | 1.28 | 1.76 | 6.28 |
| Q1 2013 | 1.16 | 0.28 | 1.29 | 1.75 | 6.10 |
The increase in the financial leverage ratio is a sign that IBM shares may be closer to a top than a bottom. Liquidity remains solid and debt levels aren't excessive. Investors should pay attention to the firm's financial leverage: I consider 8.5 to be the top of the safe zone.
Conclusion
The analysis of the operating segments and solvency suggested investors reduce their long positions. Longer term, I am bullish on the future of IBM. There could be a broad market decline in the coming weeks.
Disclosure: I have no positions in any stocks mentioned, and no plans to initiate any positions within the next 72 hours. I wrote this article myself, and it expresses my own opinions. I am not receiving compensation for it (other than from Seeking Alpha). I have no business relationship with any company whose stock is mentioned in this article.