In January 2013, I began authoring a monthly series on momentum strategies within the fixed income universe. In past articles, I have highlighted momentum strategies across asset classes that have produced excess returns per risk borne, or alpha, over long-time intervals. Momentum switching strategies between 1) Treasuries and high-yield bonds; 2) investment-grade bonds and high-yield bonds; 3) between the highest quality (Ba/BB) and lowest quality speculative grade bonds (Caa/CCC); and 4) between short-duration and long-duration bonds have historically produced elevated risk-adjusted returns. This is the fifth edition in the series, and will examine April returns and implications for May portfolio positioning. I apologize for the slight delay in posting this edition and related articles as I have been traveling abroad, and will continue to try and post these articles in the first few trading days of each month.
The purpose of this series of articles is to demonstrate the long-term success of these strategies, and give Seeking Alpha readers with differing risk tolerances tips on how to employ these strategies themselves to improve the performance of their respective fixed income portfolios. These are useful strategies for Seeking Alpha readers, especially those who allocate dollars to their investment plan on a subscription-like basis like 401(k) investors making automatic payroll deductions. These switching strategies can be used to adjust periodic allocations to capture the momentum effect and improve portfolio returns, especially in tax-deferred accounts.
In January, the leg of each trade with the highest level of credit risk outperformed, signaling that higher returns would continue in February for the higher beta portion of these trades. February produced positive, yet anemic, returns for each leg of each trade, but gave mixed signals about how fixed income investors should be positioning in March. March's outperformance by risky assets signaled that investors would want to tactically position out the credit curve in April. Investors were rewarded in May as credit spreads tightened, but Treasuries rallied concomitantly, sending mixed signals about the directionality of fixed income markets in coming periods that will be vetted more fully in the discussion below.
Tailoring Your High-Yield Allocation
Treasuries and High-Yield Corporate Bonds
The most basic momentum strategy in fixed income is between Treasury bonds and high-yield bonds. The monthly strategy switches between the two asset classes, owning the asset class that performed the best in the trailing one month.
In difficult market environments, Treasury bonds rise in value as a flight-to-quality instrument while risky assets sell off as credit spreads widen. In improving economic environments, speculative grade credits improve while Treasury bonds often weaken due to rising inflation that lowers real returns. Momentum strategies work under the principle that markets are slow to react to new information. Below is the historical performance of this strategy.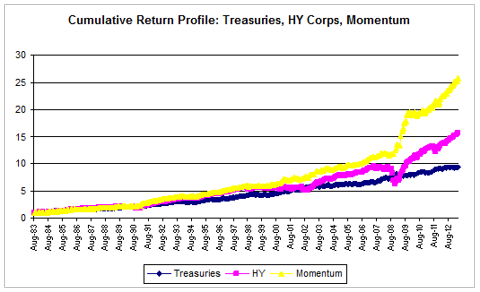 In January, the Barclays U.S. Corporate High Yield Index, replicated through the ETF JNK, returned 1.34%, and the Barclays U.S. Treasury index, replicated through the ETF GOVT, returned -0.81%. As these momentum strategies own the leg of the trade that outperformed in the trailing one month forward for an additional month, investors employing a momentum strategy would have overweight high-yield allocations in February given this trailing outperformance. Returns for high yield bonds and Treasuries were each 0.5% in February as high yield bonds saw credit spreads widen just enough to offset their higher carry relative to Treasuries. The small 2bp relative underperformance of HY versus Treasuries marked the first time in eight months that the momentum strategy did not correctly allocate to the outperforming sector.
For the purposes of documenting this trade, Treasuries were purchased in March given the small relative outperformance in February. This led to a modest underperformance in March as high yield bonds outpaced Treasuries (1.02% vs. 0.10%). High yield was again the chosen leg in April given March's outperformance relative to Treasuries, and investors overweight high yield were rewarded with a 1.81% return in April, besting Treasuries by 92bps. The momentum strategy has correctly predicted the leg of the trade that would outperform in the next one-month period in nine of the last ten months.
While high-yield returns in 2012 were historically high, the momentum strategy still outperformed both on an absolute basis and especially when adjusting for the strategy's lower risk by missing the 300bp underperformance of high yield to Treasuries in May.
Investment Grade Corporate Bonds and High-Yield Corporate Bonds
For Seeking Alpha readers with a higher risk tolerance, momentum strategies are also available between investment grade corporate bonds and below investment grade corporate bonds. Below is the historical performance of this strategy.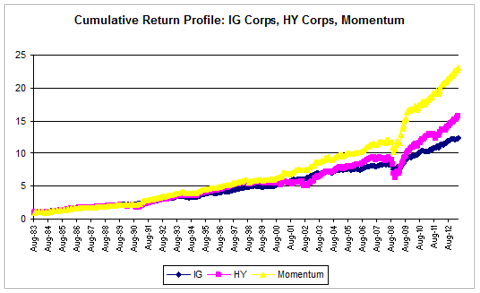 Investors should be cognizant of the fact that while adding investment grade corporate bonds instead of Treasuries increases the credit risk of this trade; historically, investors would not have been compensated with incremental returns. The lower correlation coefficient between Treasuries and high-yield bonds over the sample period (r=0.05) than between investment grade bonds and high-yield bonds (r=0.53) demonstrates that the individual return profiles move together less often, creating a more efficient switching strategy. Investors who have decided to eschew Treasuries altogether given historically low rates may still be interested in an IG/HY momentum portfolio, which has still generated average returns in excess of speculative grade credit alone, but with risk more closely reminiscent of an IG portfolio. While the IG-HY momentum strategy marginally underperformed in 2012 on an absolute basis, it did produce alpha when adjusting for risk. Historically, this trade has produced returns equivalent to a high-yield fund levered an additional 15%, but with variability of returns of only 70% of that equivalent return profile.
In January, the Barclays U.S. Investment Grade Corporate Index, replicated through the ETF LQD, returned -0.89%, underperforming both the high-yield corporate index and Treasuries as rumors of corporate re-leveraging pressured investment grade corporate spreads. Investors employing a momentum strategy would have overweighted high yield allocations in February given January's outperformance, and modestly underperformed in February. Like the aforementioned UST/HY switching strategy, momentum suggested that the lower risk IG leg of the IG/HY trading strategy should be held in March. Like with the Treasury switching strategy, holding the lower risk leg underperformed in March as high yield bonds bested investment grade bonds by a full percentage point. Investment grade bonds lagged both high yield bonds and Treasuries as concerns around re-leveraging events given recent leveraged buyouts (e.g. Dell, Heinz) weighed modestly on investment grade credit spreads. Returns in April for both high yield bonds and investment grade corporate bonds were strong with returns of 1.8% apiece. While credit spreads rallied more for the more speculative credits, rallying Treasury spreads boosted the returns on the longer duration investment grade corporate bond index to slightly above that of its high yield counterpart (IG 1.83%; HY 1.81%).
The roughly equivalent returns of the investment grade and high yield corporate bond indices sets up an interesting decision in May. For documentation of this strategy, the momentum trade will own IG bonds and hope that a rate rally or spread widening of the lower rated cohorts will be sufficient to offset the roughly 25bp/month carry advantage of the high yield market.
BB-Rated Corporate Bonds and CCC-Rated Corporate Bonds
For Seeking Alpha readers with an even higher risk tolerance, toggling between the highest and lowest rated cohorts of the high-yield segment of the market based on momentum has also produced alpha over long-time intervals.
While there are no specific exchange traded funds that target BB or CCC-rated bonds specifically, funds regularly publish the ratings distribution of their investments. Understanding positive momentum in high-yield bonds should help Seeking Alpha readers know when to dip down in quality to higher-yielding single-B and triple-C rated bonds. More importantly, understanding momentum will help investors miss big negative swings in performance of these risk sub-sectors when credit losses begin to eat into portfolio returns. Below is the historical performance of a momentum switching strategy between BB and CCC-rated bonds.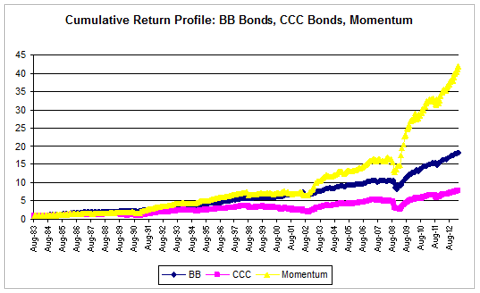 Historically, this momentum switching strategy would have outperformed owning high yield outright by 368bps per annum. Investors should also note from my article in late January that BB-bonds tend to outperform CCC-bonds over long-time intervals due to their lower default rates, so earning alpha by going to the bottom of the credit spectrum must be done tactically.
The outperformance of CCC (+2.90%) bonds in January relative to BB bonds (+0.85%) signaled that CCC bonds should be overweighted in February. The higher risk leg outperformed as CCCs bested BBs by 55bps in February. These returns suggested that CCC bonds would continue to outperform in March. CCC bonds did indeed outperform, returning 1.85% versus BB bonds 0.72% return. This trend continued to hold in April as the larger spread compression of CCC-rated bonds modestly produced a higher total return than the more rate-sensitive BB-rated index, which benefited from the Treasury rally to enhance the smaller relative spread compression. Seeking Alpha readers following this strategy should position themselves in bonds and bonds funds with higher levels of credit risk in May as the most speculative portion of the high yield bond market continues to outperform.
Adjusting Your Portfolio Duration
Intermediate Duration Treasuries and Long Duration Treasuries
All three of the aforementioned trades have used momentum to opportunistically time entry points to increase or decrease credit risk. The trade below demonstrates that momentum is also useful in timing bets on another key component of fixed income returns: interest rates.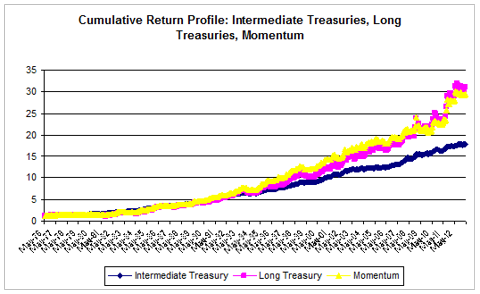 While this momentum strategy has not outperformed on an absolute basis over the entirety of the 40-year sample period, the momentum switching strategy has produced alpha. The average annual return of the momentum strategy is only 0.16% lower than the long Treasury-only strategy, while exhibiting only about three-quarters of the volatility.
In February, the intermediate part of the curve (+0.42%) underperformed the long part of the yield curve (+1.26%) as rates rallied modestly, benefiting longer duration securities. Long bonds failed to sustain this momentum, modestly underperforming intermediate securities in March. This would suggest that long bonds continue to underperform in April, which is consistent with my longer term strategic view. As I wrote recently, the long end of the Treasury curve is a tough place to invest given ultra low expected real returns and trailing volatility that mirrors that of the S&P 500 (NYSEARCA:SPY). Weaker than expected economic data, political uncertainty in Italy, and the looming sequestration put a bid into long Treasuries in February after January's poor performance, but a more bullish attitude risk in early March reversed these gains before the Cypriot-led rally at the end of the month brought the market back towards flat. In April, there was no ambiguity about which portion of the curve outperformed. Several weak economic data points, both domestically and in Europe, coupled with aggressive monetary accommodation from Japan that sparked the belief that money would rotate from long JGB's to long Treasuries saw a sharp rally for the long Treasury index. This momentum strategy, which owned intermediate Treasuries given their relative outperformance in March, missed this trade, marking the largest underperformance of this momentum strategy in nineteen months. The outperformance of the long end signals that it should continue to outperform in May, paradoxical to the rallying equity markets.
There has been a great deal of interest in the long part of the Treasury curve with ETFs providing exposure in unlevered form (TLT, TLO), levered form (NYSEARCA:UBT) and inverse unlevered (NYSEARCA:TBF) and inverse levered form (TBT,TMV, TTT). Understanding momentum in rates movements can help Seeking Alpha readers position their portfolio appropriately, or give insight to tactical traders making bets on the long duration parts of the curve. Momentum signals that long Treasury bonds continue to outperform in May.
Summary
April was an interesting month for fixed income returns as both corporate credit spreads and Treasuries rallied. The Treasury/HY trade has been a markedly consistent indicator of outperformance, and continues to favor below investment grade bonds. Within the below investment grade universe, CCCs are again favored for the sixth straight month, although this rating cohort's outperformance versus BBs lessened in April. While these two trades signal a "risk-on" attitude for global markets, the best returns were seen in long duration Treasuries, the traditional flight-to-quality instrument of choice. I would continue to bias towards high yield relative to investment grade corporate bonds and Treasuries given the carry advantage and likelihood for modest further spread compression in the highest spread assets given the likelihood of continued monetary accommodation and the continuation of a low default rate environment. However, the asset class formerly known as "high yield" is offering yields (5.21% yield-to-worst at month-end) inside the pre-crisis Fed Funds rate of 5.25%. Today, you are getting paid roughly the same to lend money to highly levered companies as you were in your FDIC-insured bank account in 2007. Monetary policy has pushed investors further out the risk curve for palatable yields, and Seeking Alpha readers can use these momentum strategies as a tool to help time a tactical shift into fixed income asset classes with lower credit risk in future periods.
As always, I appreciate reader feedback and will attempt to incorporate reader ideas into next month's edition.
Disclosure: I am long SPY. I wrote this article myself, and it expresses my own opinions. I am not receiving compensation for it (other than from Seeking Alpha). I have no business relationship with any company whose stock is mentioned in this article.