Biotech has always gotten my attention. I follow a handful of authors on Seeking Alpha and some other websites who write about this subject. I personally like to write about the biotech market and put money where my mouth is.
Looking for the next gem is hard work, and investing in the biopharmaceutical sector is not for investors with weak hands because you can end up losing your money. That said for those with the risk tolerance investors in this sector can help benefit patients enrolled in the thousands of research programs worldwide who often do not have another treatment option.
After reading several articles (here and here) on Seeking Alpha about DelMar Pharmaceuticals (DMPI.OB), I wanted to learn more about the company myself.
Investment Thesis
DelMar Pharmaceuticals is a clinical & commercial stage oncology company that has a well-validated lead drug candidate VAL-083, that holds commercial rights to their lead product in China. The management has a history of successful exits: Matrix and Chemgenix.
VAL-083
The company has a lead product candidate called VAL-083. VAL-083 is a bi-functional alkylating agent, with potential antineoplastic activity. VAL-083 crosses the blood brain barrier (BBB) and appears to be selective for tumor cells. This agent alkylates and crosslinks DNA which ultimately leads to a reduction in cancer cell proliferation. In addition, VAL-083 does not show cross-resistance to other conventional chemotherapeutic agents and has a long half-life in the brain.
The product has been marketed in China for over 20 years, primarily for the treatment of hematologic cancers and lung cancer. VAL-083 also benefits from an established North American safety and efficacy dossier comprising more than 1,000 patients and an investment of more than $50 million by the National Cancer Institute in the United States. VAL-083 is supported by numerous preclinical and more than 40 U.S.-based clinical research publications demonstrating efficacy as a potential treatment for glioblastoma multiforme (GBM) and other cancers.
What is Glioblastoma Multiforme (GBM)?
Glioblastoma multiforme (GBM) is the most common and deadliest of malignant primary brain tumors in adults and is one of a group of tumors referred to as gliomas.
Classified as a Grade IV (most serious) astrocytoma, GBM develops from the lineage of star-shaped glial cells, called astrocytes that support nerve cells. GBM develops primarily in the cerebral hemispheres but can develop in other parts of the brain, brainstem, or spinal cord.
Because of its lethalness, GBM was selected as the first brain tumor to be sequenced as part of The Cancer Genome Atlas (TCGA Website), a national effort to map the genomes of the many types of cancer. In this effort, researchers discovered that GBM has four distinct genetic subtypes that respond differently to aggressive therapies, making treatment extremely difficult and challenging. Parallel research at Johns Hopkins University also contributed to the expansion of genomic information on GBM.
The National Brain Tumor Society states that the incidence, or the number of new diagnoses made annually is 2 to 3 per 100,000 people in the United States and Europe. GBM accounts for 12% to 15% of all intracranial tumors and 50% to 60% of astrocytic tumors.
Standard treatment is surgery, followed by radiation therapy or combined radiation therapy and chemotherapy. If inoperable, then radiation or radiation/chemotherapy can be administered.
GBM's capacity to wildly invade and infiltrate normal surrounding brain tissue makes complete resection impossible. However, improvements in neuroimaging have helped to make better distinctions between tumor types and between tumor and normal cells.
After surgery, radiation therapy is used to kill leftover tumor cells and try to prevent recurrence.
Treatments to Date
(identified by generic names)
Temozolomide
FDA-approved in 2005 for treatment of adult patients with newly diagnosed GBM
Temozolomide (brand names Temodar and Temodal and Temcad) is an oral alkylating agent used for the treatment of Grade IV astrocytoma - an aggressive brain tumor, also known as glioblastoma multiforme - as well as for treating melanoma, a form of skin cancer. Temozolomide is also indicated for relapsed Grade III anaplastic astrocytoma and not indicated for, but as of 2011 used to treat oligodendroglioma brain tumors in some countries, replacing the older (and less well tolerated) PCV (Procarbazine-Lomustine-Vincristine) regimen. The medicine is marketed by Merck (MRK).
Bevacizumab
FDA-approved in 2009 for treatment of patients with recurrent GBM and prior treatment
Bevacizumab (trade name Avastin), is an angiogenesis inhibitor, a drug that slows the growth of new blood vessels. It is licensed to treat various cancers, including colorectal, lung, breast (outside the USA), glioblastoma (USA only), kidney and ovarian.
Bevacizumab is a humanized monoclonal antibody that inhibits vascular endothelial growth factor A (VEGF-A). [1] VEGF-A is a chemical signal that stimulates angiogenesis in a variety of diseases, especially in cancer. Bevacizumab was the first clinically available angiogenesis inhibitor in the United States. The medicine is marketed by Genentech/Roche (RHBYY.OB)
Prolifeprosan 20 with Carmustine Implant
FDA-approved in 1997 for treatment of initial occurrence GBM, an alkylating agent that is surgically implanted as a wafer after surgical resection and allows for drug delivery directly to the tumor site
TTF Device
FDA-approved in 2011 approved as a medical device for adult patients with recurrent GBM after surgery and chemotherapy treatment to deliver electric tumor-treating fields to the brain to physically break up the tumor cell membranes
DelMar's lead product VAL-083 has been assessed in multiple NCI-sponsored clinical studies in various cancers including lung, brain, cervical, ovarian tumors and leukemia. Published pre-clinical and clinical data from the late 1970s and 1980s suggest that VAL-083 may be active against a range of tumor types; however, further research was not pursued in the United States due to an increased focus by the NCI on targeted biologic therapies during the era. VAL-083 is approved as a cancer chemotherapeutic in China for the treatment of chronic myelogenous (or myeloid) leukemia ("CML") and lung cancer.
The mechanism of action of VAL-083 is understood to be a bi-functional alkylating agent. Alkylating agents are a commonly used class of chemotherapy drugs. They work by binding to DNA and interfering with normal processes within the cancer cell, which prevents the cell from making the proteins needed to grow and survive. After exposure to alkylating agents, the cancer cell becomes dysfunctional and dies. There are a number of alkylating agents on the market that are used by physicians to treat different types of cancer.
Based on published research, the functional groups associated with the mechanism of action of VAL-083 are understood to be functionally different from commonly used alkylating agents, including Temodar®, which is commonly used as a front-line chemotherapy against GBM, the most common and aggressive form of brain cancer. VAL-083 has previously demonstrated activity in cell-lines that are resistant to other types of chemotherapy. No evidence of cross-resistance has been reported in published clinical studies. Based on the presumed alkylating functionality of VAL-083, published literature suggests that DNA repair mechanisms associated with the leading brain cancer therapies, including Temodar® and nitrosourea resistance may not confer resistance to VAL-083. Therefore, DelMar believes that VAL-083 may be effective in treating tumors that have failed or become resistant to other chemotherapies.
DelMar has presented new research at the American Association of Cancer Research (AACR) demonstrating that VAL-083 is active in patient-derived tumor cell lines and cancer stem cells that are resistant to other chemotherapies. Of particular importance is resistance to Temodar® due to activity of the repair enzyme known as MGMT, which results in resistance to front-line therapy in many GBM patients. At AACR, the company presented data demonstrating that VAL-083 is active independent of MGMT resistance in laboratory studies
VAL-083 readily crosses the blood brain barrier where it maintains a long half-life in comparison to the plasma. Published preclinical and clinical research demonstrates that VAL-083 is selective for brain tumor tissue.
VAL-083 has been assessed in multiple studies as chemotherapy in the treatment of newly diagnosed and recurrent brain tumors and other cancers. In general, tumor regression in brain cancer was achieved following therapy in greater than 40% of patients treated and stabilization was achieved in an additional 20% - 30%. In published clinical studies, VAL-083 has previously been shown to have a statistically significant impact on median survival in high grade glioma brain tumors when combined with radiation vs. radiation alone.

The main dose-limiting toxicity related to the administration of VAL-083 in previous NCI-sponsored clinical studies was myelosuppression. Myelosuppression is the decrease in cells responsible for providing immunity, carrying oxygen, and those responsible for normal blood clotting. Bone marrow suppression is a common side effect of chemotherapy There is no evidence of lung, liver or kidney toxicity even with prolonged treatment by VAL-083. Commercial data from the Chinese market where the drug has been approved for more than 15 years supports the safety findings of the NCI studies.
DelMar notes that the dose-limiting toxicity of VAL-083 was established prior to the development of medicines now available to manage myelosuppression. Various types of medications and other forms of therapy are now available for management of myelosuppressive side effects. The company believes this offers the potential of increasing the dose of VAL-083 in the modern patient population thereby providing a potential opportunity to improve the drug's already established efficacy profile.
The company presented initial data from its clinical trial in November 2012 at the Society for NeuroOncology annual meeting. A summary of these data is shown in the table below. The data support that VAL-083 is safe and well tolerated with no drug-related adverse events ("AE") observed to date. An overall response rate of 28.5%, where tumor growth had stabilized or regressed, has been observed at doses investigated to date. In the past, the FDA has approved drugs to treat GBM with a response rate of less than 20%.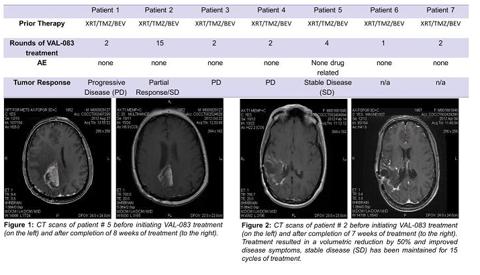 While this data with VAL-083 are interim in nature, the company believes the results to date demonstrate a strong potential for successful development of VAL-083 as a chemotherapy for the treatment of GBM. DelMar plans to continue working with their clinical investigators to determine an optimal dosing regimen for future registration trials.
VAL-083 Target Markets
DelMar is targeting cancer indications which it believes represent market opportunities in the hundreds of millions of dollars in North America and potentially in the billions of dollars worldwide. The pharmaceutical industry, in general, is a highly profitable, highly innovative industry. In 2006, the global pharmaceutical industry generated over $640 billion dollars in revenue. According to published reports, global pharmaceutical sales are highly stratified by region, with North America, the European Union and Japan accounting for 55% of global pharmaceutical sales in 2009; however, the most rapid growth in the sector is from developing countries, particularly China.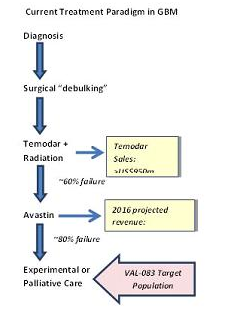 Final Note
DelMar Pharmaceutical is a low liquidity stock that has a price tag of $1.95 and a market capitalization of approximately $60 million. The company has many catalysts that could fuel growth and the stock price going forward. One of the catalysts is the company's unique commercial and development partnership in China.
Disclosure: I have no positions in any stocks mentioned, but may initiate a long position in DMPI.OB over the next 72 hours. I wrote this article myself, and it expresses my own opinions. I am not receiving compensation for it (other than from Seeking Alpha). I have no business relationship with any company whose stock is mentioned in this article.