The Bank of Japan is determined to spark inflation and weaken the yen to prop up the stagnant economy and help exporters. Many currency traders and hedge funds have made a killing by siding with the BOJ.
Billionaire investor and Dallas Mavericks owner Mark Cuban has also profited by betting against the yen.
Currency trading is notoriously dangerous but investors can use ETFs to position for more yen weakness.
Cuban stated that he is betting big against the yen, reports Joe Weisenthal for Business Insider.
"In early December, I went and took every penny of debt that I had - with the Mavericks, and personal debt, and everything - and converted it to a yen loan, when I think [the yen] was in the mid 80s [against the dollar]," Cuban said on CNBC. "So, I've been really happy with it."
When borrowing against a given currency, an investor is essentially shorting the currency since one would pay less upon maturity once the weaker yen-denominated debt is converted to the U.S. dollar.
"The Central Bank of Japan wants to create inflation and push the value of the yen down. Given what is at stake for them, I thought they would be able to at least have some directional success, which would provide me a return," Cuban said in the article. "In addition the actual interest rate on the note was lower than what I could borrow in dollars."
Currency traders have also utilized the low Japanese rates to execute carry trades where they would borrow the Japanese yen and invest in another country with higher yields. With the depreciating yen, this type of carry trade is becoming more popular once again.
Currency ETF investors who still believe that the Japanese yen has further room to depreciate can bet against the yen by shorting the CurrencyShares Japanese Yen Trust (NYSEARCA:FXY). Additionally, traders can take a more aggressive approach through a leveraged inverse yen fund, the ProShares UltraShort Yen ETF (NYSEARCA:YCS).
As a leveraged inverse fund, YCS is a trading vehicle rather than a long-term investment. It can be extremely volatile.
ProShares UltraShort Yen ETF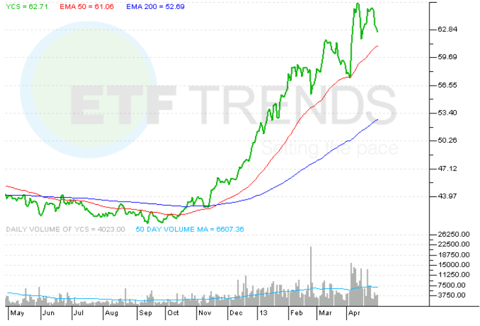 Max Chen contributed to this article.
Disclosure: I have no positions in any stocks mentioned, and no plans to initiate any positions within the next 72 hours. I wrote this article myself, and it expresses my own opinions. I am not receiving compensation for it. I have no business relationship with any company whose stock is mentioned in this article.
Additional disclosure: Mr. Lydon serves as an independent trustee of certain mutual funds and ETFs that are managed by Guggenheim Investments; however, any opinions or forecasts expressed herein are solely those of Mr. Lydon and not those of Guggenheim Funds, Guggenheim Investments, Guggenheim Specialized Products, LLC or any of their affiliates.